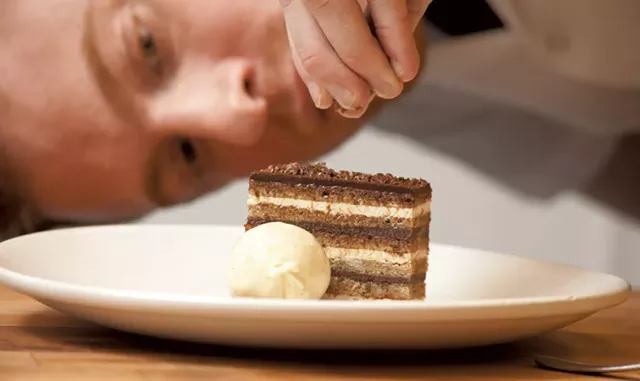 File Photo: Matthew Thorsen
Andrew LeStourgeon completes an opera cake at Hen of the Wood
After months of recipe testing, tweaking and perfecting, Burlington's
Monarch & the Milkweed
soft-opened Monday, August 15 in the St. Paul Street space formerly occupied by Guild Fine Meats. The "fine diner" will serve breakfast every day this week, and will add lunch and dinner in the next couple weeks.
The project is the brainchild of chef-owner
Andrew LeStourgeon
, formerly of
Hen of the Wood.
He's working with pastry chef
Amanda Wildermuth
, drink experts
Nick Roy
and
Jeff Baumann
, and plenty of other local talent.
The eatery will offer "very simple stuff done at an elevated level," says LeStourgeon. In the morning, that means hash browns, biscuits and gravy, and even a homemade equivalent to Golden Grahams. Later in the day, diners can order patty melts, wedge salads, corn dogs, and a barbecued smoked-pork-belly sandwich on brioche. Chef and butcher
Frank Pace
has been helping the crew dial in the 'cue.
The décor, LeStourgeon says, is eclectic and handcrafted. Furniture comes from
Vermont Farm Table
. Artist
Duncan Johnson
has contributed 40 of his works, and
Champlain Leather
made the upholstery and parts of the staff uniforms. Complementing their works are marble bars, vintage chandeliers and a painstaking recreation of the tin ceiling that adorned in the space in the 1930s and '40s.
That attention to detail continued in the development of the cocktail menu. Working from multiple classic recipes for each drink — 15 for the Manhattan alone — the team sipped, evaluated and re-envisioned until they'd created a perfect permutation. "We've tested the cocktails for six months now," says LeStourgeon. "We made them over and over and over."
Opening a restaurant can be incredibly stressful, but that part, at least, sounds like fun.