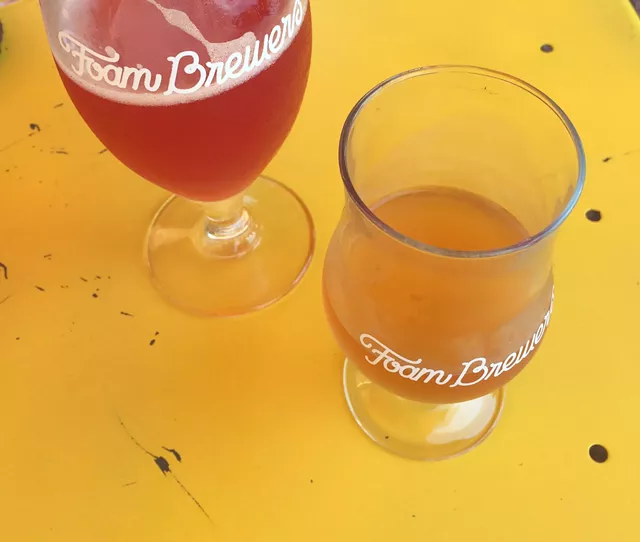 Julia Clancy
The Purple One and Mellow Gold at Foam Brewers in Burlington
My first taste of
Foam Brewers
was a mauve-colored pour of the Purple One, a black currant saison that's lush, dry and extraordinarily bright with fresh berries. Its gentle sourness and effervescence countered the soupy August humidity clinging to foreheads and water glasses outside. I took my draft to a shaded corner of Foam's patio, letting the breeze from the nearby waterfront cut the heat of a 90-degree afternoon. For the first time, I was in love with a fruit beer.
Before Foam, I'll admit I wasn't into fruit-forward brews. My avoidance was probably sparked from a room-temperature cup of Pêche Mel' Bush sipped sometime during college, when the resident Belgian beer devotee popped a bottle of the strong, syrupy ale sent from a brother living abroad. It was poured in a red plastic cup, and subsequently followed by an equally tepid glug of a framboise lambic that tasted a bit like an opened bottle of Manischewitz. Did I mention it was warm?
Those dual sips left me believing that fruit beers were too cloyingly sweet for my taste. The sentiment held true until Dani Casey gave me a taste of the Purple One while helming the bar at Foam.
Since opening last April in the former space of San Sai Japanese Restaurant, brewery partners Casey, Todd Haire, Sam Keane, Bobby Grim and Jon Farmer have been crafting brews and pulling pints that wholly reflect the virtuosity behind the ales. Built to Spill, a tangerine-tart double IPA, is high in alcohol at 8 percent ABV, but exceptionally light in body. The Mellow Gold oat pale ale is so fresh that I've begun to crave it as a thirst quencher regardless of the time of day.
Last Wednesday, there were also spent-grain donuts from
Miss Weinerz
piled on a cake stand. Their deep blueberry icing was enticing even those who, ahem, think they don't gravitate toward sweets.
But I keep returning to that purple brew — the black currant saison. Cast in a violet hue against the yolk-yellow table outside, it was as indicative of summer as a clear swimming hole or just-squeezed lemonade.