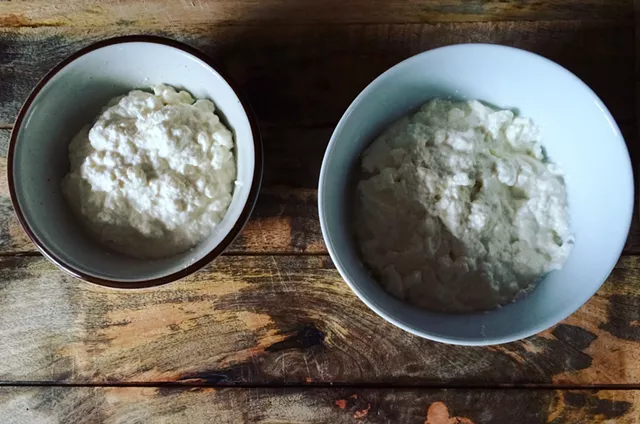 Julia Clancy
Homemade goat's milk ricotta
I'm a toast person, though it must be thick-cut — that's my only requisite. Toppings might range from a rubbed clove of garlic and a couple fried eggs to a smear of peanut butter (creamy) and jam (raspberry). Depending on my mood and the weather, the toast may be decked with butter and honey or kept plain to dunk in coffee and cream. It's a breakfast staple I've clung to since elementary school, when I'd eat white-bread toast — center first, crusts last — before the early morning walk.
Lately, my favorite way to dress a slice is with a few spoons of tender, homemade ricotta curds. I learned how to make ricotta from a friend's Sicilian grandma, and it's dead simple. There are just four factors: whole-fat milk, salt, acid and heat. After that, you need a saucepan, a cheesecloth and 20 minutes.
If you have ever tasted supple, just-made ricotta curds still warm in their cloth basket, you most likely understand their power to propel you out of bed faster than the promise of dark roast.
This time, I used raw goat's milk from
Ice House Farm and Creamery
in Addison County, but full-fat cow or sheep's milk will also work well. Place four cups of milk in a heavy-bottomed saucepan with one teaspoon of salt. If you'd like to replace one cup of milk with a cup of heavy cream, I'm on your side.
Heat milk just below boiling, and then add two tablespoons of acid — I suggest white-wine or Champagne vinegar, or lemon juice if you don't mind a slight citrus note. Turn off the heat and let the milk and acid mixture rest for two minutes. You should see the curds start to form. If they don't, add one more tablespoon of acid and let the milk simmer until it reaches a piece-y, lumpy texture.
Then line a bowl or mesh strainer with cheesecloth, allowing the ends to drape over the lip. Place the bowl in a sink and pour in your milk. Tie up the ends of your cheesecloth over the sink handle, so your lovely new curds are hanging hammock-style. Let it strain for at least 20 minutes, or longer if you like a dense ricotta texture. While you wait, put on some music and drink your first cup of tea or coffee.
Taste the ricotta alone, and add a pinch of salt if need be. Enjoy on a slab of toast with a drizzle of olive oil or a couple of whole raspberries. Or, hey, eat straight with a spoon.
Breakfast Club is a series that explores what we eat in the morning. Do you have a favorite? Drop us a line at food@sevendaysvt.com.