Julia Clancy
Cave-aged clothbound cheddar at the 2016 Grafton Food Festival
"I don't mind mist, but please don't pour," said Angela Comstock, innkeeper at the
Grafton Inn
, as she watched slate-colored clouds shift across the skyline. It was Saturday, July 9, and the inn was hosting its fourth annual
Grafton Food Festival
. For an hour or two, the weather seemed to heed her request. Then the sky cracked open, raining buckets.
For another all-day food festival, a washout could have been a disaster. But, luckily, the inn's field was sheltered by an enormous tent, making a cozy enclave for festival-goers and 25 vendors hanging out within its barriers. Also luckily, the Grafton Inn was filled with stalwart folks who didn't mind a little water.
Julia Clancy
Backyard views at the Grafton Inn
One of them was
Sara Moulton
, an acclaimed American chef with many accolades from her 30 years' experience. To cherrypick a few: She's a protégé of Julia Child, cofounder of the New York Women's Culinary Alliance, an inductee to the James Beard Foundation's Who's Who of Food and Beverage, and she was for 20 years the executive chef of
Gourmet
magazine.
Moulton was also one of the original stars of the Food Network during its first decade of television, and she has authored several best-selling cookbooks, including her latest,
Sara Moulton's Home Cooking 101: How to Make Everything Taste Better
. It's an opus of home cooking, applicable to those with and without experience in the restaurant world.
(Side note: I'm especially thankful she hashes out the importance of a whetstone. A couple fingernails will be salvaged, I think).
I was lucky to chat with Moulton in one of the inn's main sitting rooms; we settled into two deep armchairs by the fireplace before beginning our respective tasting tours. I'll release the full interview later this week. For now, back to the Grafton Food Festival.
As I mentioned: Mist, pouring rain and temperatures that barely crept past 60 degrees might have deterred an inn less well staffed than Grafton's. Tents were procured, rain jackets donned, and general good humor supplied, allowing the event not just success but a sense of congeniality. It was eaters and artisans versus winds and rainclouds, and we eaters had a damn good time.
I strolled into the food fest's giant canopy about noon, ready to taste my way around tables decked with local craftsmanship. There was
Blake Hill Preserves
, where I met co-owner Vicky Allard, a Grafton local and third-generation English preserve maker. Allard specializes in chutneys, jams and marmalades made from ingredients sourced mainly from Blake Hill Farm and other nearby farmsteads. She cooks each batch long and low to evaporate any excess moisture.
I don't often eat jam by the spoonful, but it seems there's a time and place. The Confit of Plums With Port and Star Anise, created with Jasper Hill Farm, was beautifully complex, as was the cherry preserves laced with cardamom.
Nearby,
New England Hot Fudge Co.
from Poultney had tasters scooping fudge sauce straight from the jar with salted pretzel sticks. The sauce was delicate and smooth, hardly the chewy, store-bought stuff I recall from childhood. "I like to spoon it cold from the fridge," said a nearby sampler. I bought a jar of mocha hot fudge to test this myself.
At the front of the tent,
Sidehill Farm
offered tastes of homemade lemon curd so silky and tart, I might have been back in County Cork, Ireland, where a fellow (but unrelated) Clancy once told me I would never find quality lemon curd (in the U.S.) unless I made it myself. I'm grateful for the time saved.
Another table held
Ambrosia Confections
, featuring artisan gummies made without gelatins and stabilizers, in flavors including Mild Licorice and Watermelon-Lime.
Then there was cheese, such as smoked gouda from
Taylor Farm
and, of course, aged cheddar from
Grafton Village Cheese Company
. The focal point of Grafton's stand was a mammoth wedge of the cave-aged, clothbound cheddar cheese (using milk from grass-fed cows), its pale yellow flesh flaked by a knife into rich, craggy hunks. It went perfectly with a draft of
Harpoon Brewery's
newest seasonal, Camp Wannamango; the copper-hued ale brewed with mango has a bright and juicy finish but is light on the malt. Harpoon's table, representing the brewery's Windsor location, was increasingly popular for eaters and vendors as the day went on.
Local spirits were also well represented in the festival tent.
Newhall Farm Ice Cider
had the deeply concentrated flavor of fresh apples, but its dry finish was more mineral than sweet. The table from
SILO Distillery
showcased a range of gins, vodkas, whiskey and moonshine, all crafted from a corn base sourced from Vermont farmers and milled at the distillery itself.
WhistlePig Distillery
offered sips of its Old World and Straight Rye whiskeys.
Mad River Distillers
were close by, their table stocked with spirits such as Maple Cask Rum and Malvados, a fruit-forward brandy made with Vermont apples.
Beside the canopy of food and drink artisans was a smaller tent for the day's ongoing cooking demonstrations. It included a four-burner stove, a large Blodgett oven and a wrap-around banquette, where Vermont chefs including Cal Hingston (executive chef of the Grafton Inn) prepared various dishes.
Other chef cameos were June Lupiani, co-owner of
MKT:Grafton
, the town's modernized general store and eatery; and Tracy Madeiros, author of
The Vermont Farm Table Cookbook
and
Dishing Up Vermont
. Moulton also took the stage, preparing cream biscuits and homemade butter spiked with herbs.
Moulton's four-course dinner at the inn's
Old Tavern Restaurant
ended a daylong tasting tour de force. She and Hingston collaborated on the menu using Moulton's own recipes; Hingston then executed the service while Moulton sat with the diners to savor the meal.
Dinner began with a cocktail hour in the
Phelps Barn Pub
, complete with platters of Grafton Village cheese to pique the appetite. After sipping a top-notch Elderflower gimlet made by inn bartender Laura Wilsie, fellow guests and I were ushered into the Old Tavern dining room for dinner.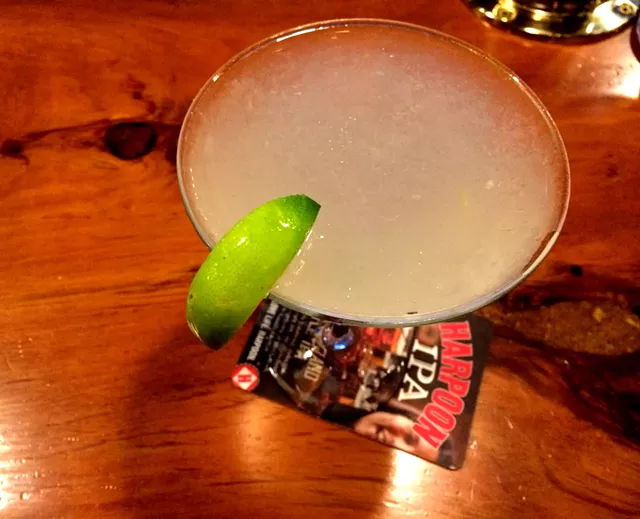 Julia Clancy
Elderflower gimlet in the Phelps Barn Pub at the Grafton Inn
Seared scallops were meltingly tender under a spicy watermelon vinaigrette, the texture heightened by a scattering of cashews and fresh mint. Crispy vegetable fritters with green chile-coconut chutney came next, followed by a slab of baked arctic char with roasted radishes and a vibrant, softly spiced chermoula.
I'm still not sure how Hingston managed to produce 50 well-burnished and perfectly raised apricot soufflés at once for dessert, but I'm glad I wasn't at the helm of that operation. Wine pairings for the dinner were spot-on; I agree with Moulton's husband that the Louis Jadot Beaujolais Village served with the arctic char was so ripe and nuanced, it merited a second glass.
As we finished our meal, the rain finally began to falter.