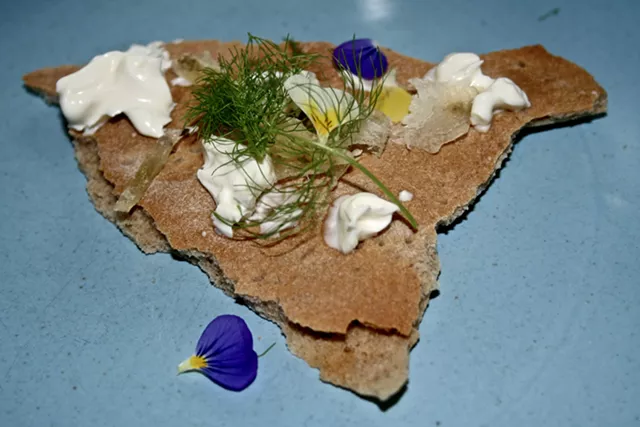 Suzanne Podhaizer
Rye crisp with perch at Elm
During the final year that I owned my Montpelier restaurant, Salt, I dispensed with regular menus. Instead, each night I prepared a tasting menu — a parade of small bites, designed to showcase the best of whatever was in season. While tasting menus allow chefs to be playful in the kitchen, which is a professional boon, I chose the format for several other reasons, too. For one thing, after I switched, I wasted so much less food.
Think about it: Customers expect restaurants never to run out of the dishes they want, but the only way to have enough scallops for everyone who might order them is to have more scallops than people are going to eat. And when you have one of those nights when nobody orders scallops? You make scallop chowder the next day. And all of the extra scallop chowder left at the end of that night? Trash. Compost. Bye-bye.
So, yeah, tasting menus. You only cook what you're planning to serve. And you only order what you're going to cook. What a concept! Tasting menus have been my favorite way to dine since long before I understood the behind-the-scenes reasons for their awesomeness. So, I was excited to receive an invitation to a tasting dinner at a pop-up restaurant called Elm, located in
Philamena's
at 41 Elm Street in Montpelier.
Suzanne Podhaizer
Angel food cake with sorbet
Come mid-July, Elm — which is billed as "modern Vermont cuisine" — will pop up approximately twice a month. Last Friday's dinner was one of two soft openings designed to help Elm's hosts Kathryn McEnany and Noel Shumway prepare to cook this way for the public. Packed in tightly at an elegantly decorated table, foodies and friends sampled eight creative and clever dishes.
My three favorites, which arrived one after another in the middle of the meal, were: 1) a rye crisp topped with dried Lake Champlain perch, violets, fennel and cream cheese; 2) ricotta-stuffed tortellini with pea shoots and pea powder and thin shavings of beef tongue; and 3) triangles of crispy chicken skin flavored with hops, maple and miso.
Suzanne Podhaizer
Crispy chicken skin with hops, maple and miso
Of a pair of desserts, I preferred the brilliant-green herb sorbet served with fluffy angel food cake: a comfort food from childhood paired with a bracing, icy scoop of grown-up goodness.
At the end of the night, each guest filled out a detailed survey about what we liked, and what the staff could do better. Naturally, there were a few quibbles, but my overall response was,
I can't wait to see what they come up with next
.
Want more deets? You can read more about Elm, and its creators, in the
Seven Days
food-news column Side Dishes, closer to its opening.