Last week,
Dedalus Win
e
co-owner Jason Zuliani and I sat on squishy cube chairs at
Maglianero
Café in Burlington for a chat about dessert. That is, dessert wines, what pairs well with them and, of course, what wines go best with chocolate.
In general, Zuliani said, your wine should be sweeter than your dessert if you're going to pair the two. Think about toothpaste, he suggested. Ever brushed your teeth and then tried to eat fruit? It tastes much more sour than normal. Zuliani said this has to do with the high level of sugar in toothpaste. Same goes for pairing dessert and wine.
Chocolate is the one exception. Zinfandels, he advised, tend to go really well with chocolate.
As for going with red or white, Zuliani doesn't really have any rules. Because they don't always hold up, he said. For instance, the old adage "white wine with fish, red wine with red meat" isn't always true. You can have a good white with meat and a good red with fish — it really depends on the individual wine and flavors of the dish.
"I've had
port
with citrus, and it actually really worked," Zuliani noted.
Dessert wine, however, has its own rules. Since it's so sweet, it pairs best with savory foods such as cheese. Dessert wine with, say, crème brûlée? Sugar overload.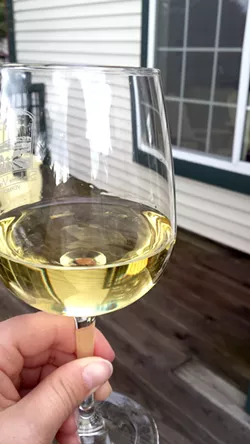 Melissa Haskin
Domaine Marengo Muscat Du Cap Corse (2012)
So how did Zuliani's advice stack up? I decided to force myself through an evening of wine and cheese tasting to see for myself. It was terrible, hard work, as you can imagine.
First, I picked up a bottle at Dedalus that Zuliani had recommended, Domaine Marengo Muscat du Cap Corse (2012, $29.99). Then I made a quick stop at
City Market/Onion River Co-op
for a few dry-packed scallops. Last, I picked up a few cheeses at
Cheese Traders and Wine Sellers
in South Burlington.
Soon, I was back at home sipping my muscat and eating cheese and scallops. The sweet wine, with not a bit of dryness, was lovely with the salty butteriness of the Vermont Brie from Blythedale Farm (Corinth). Same with the Storm, a bloomy rind cow's milk cheese from
Sweet Rowen Farmstead
in West Glover — it was akin to Brie but slightly firmer.
As for the scallops, I wouldn't have thought to pair them with dessert wine and was glad Zuliani had suggested it. The salty sea creatures tasted divine in the presence of a sweet counterpart. The salty-sweet dichotomy invariably works — as the current rash of salted candies and cookies illustrates.
Most of all, I liked the entire tableau before me — wine,
scallops
and cheese — because the rich, deep flavors forced me to slow down and enjoy each bite, and sip. And even with the savory foods, my sweet tooth was just as satisfied as if I'd been eating a chocolate mousse.
Sugar High! is a weekly exploration into the Vermont dessert scene. It features everything from chefs to recipe tips to the best sweets on Vermont menus. Got an idea for something you'd like to see in Sugar High? Email melissa@sevendaysvt.com.