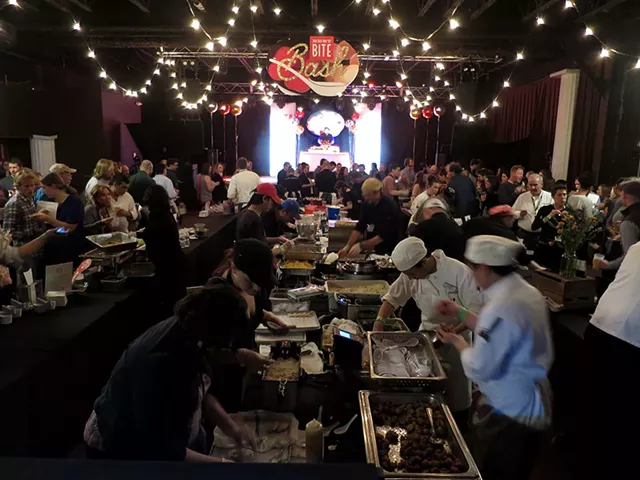 Matthew Thorsen
The Best Bite Bash
Hey, everybody, it's
Vermont Restaurant Week
! After months of planning and organizing, we at
Seven Days
are thrilled to see the annual 10-day feasting event lift off.
Actually, lift-off happened last night with a packed house at
Higher Ground
in South Burlington. Locals poured into the Ballroom for the inaugural
Best Bite Bash
, a tasting event and menu preview featuring nine Vermont chefs in a friendly competition. The chefs spent the evening hunched over tiny spoons — 4,000 of them, in fact — assembling bite-size samples of a dish from their restaurant week menu. Meanwhile, guests circulated, conferring points for flavor, flair and overall best in show. Proceeds from the event went to the
Vermont Foodbank
.
Host Shawn Lipenski of Winooski-based
Velvet Catering & Events
was a lively and witty MC, while DJ
Disco Phantom
kept food comas at bay with bumpin' beats and tunes.
So about the food...
Matthew Thorsen
Spoons!
Matthew Thorsen
Bacon jalapeño rangoon, Grazers
Near the entry,
Grazers
chef Katie Cote's bacon jalapeño rangoons were hot from the fryer, brittle-crisp and stuffed with diced chiles, bacon and just-sweet Vermont maple cream. At the bottom of the spoon, a dollop of handmade honey-lime aioli cooled things off and added a tangy snap at the finish.
Next door,
Thai Dishes
chef Peter Arthornprachachid's Spicy Duck Basil Chow Mein wa a tangle of springy noodles crowned with a deep-fried hunk of sweet-and-spicy duck. Chiles mingled with garlic, bell peppers and lots of basil.
Matthew Thorsen
Duck chow mein, Thai Dishes
Next up,
Storm Café
introduced new chefs John D'Avignon and Talmage Jestice (they'll
debut a new menu at Storm Café next week
), who chatted up diners over steamed Prince Edward Island mussels. Swimming in chile-tinged broth and garnished with pickled veg and cilantro, the mollusks offered a tart, vaguely Asian take on the bistro classic — modern and lovely.
Matthew Thorsen
Mussels, Storm Café
At the head of the room,
Cook Academy at the Essex Resort
director Anthony Ploof spooned out a crumbly, beautiful interpretation of a classic preserved-berry Linzer torte. In a new twist on the typical restaurant week "menu," Ploof is offering special $40 cooking courses in Austrian cuisine and bistro classics.
Matthew Thorsen
Linzer torte, Cook Academy at the Essex Resort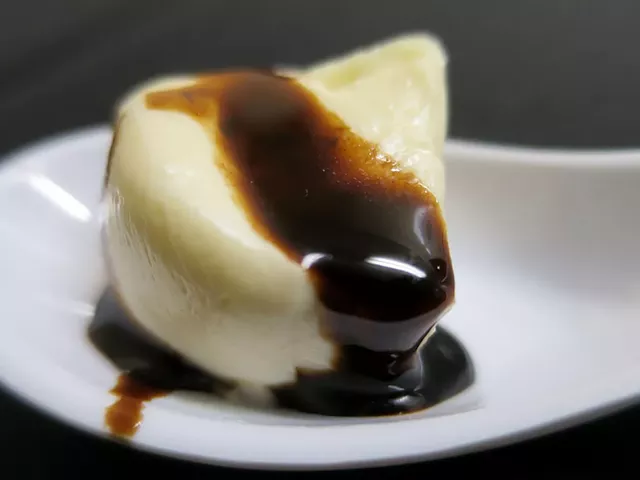 Matthew Thorsen
Housemade mozzarella, Pizzeria Verità
Next up: wobbly cubes of
Pizzeria Verita's
house-made mozzarella, prepared and served by chef Jason Van Dine. Served with extra-virgin olive oil and zippy balsamic reduction, the wet and bouncy cheese was the night's most pared-down presentation. It was also proof of the old Italian adage that sometimes exquisite, fresh ingredients are best served with minimal fuss.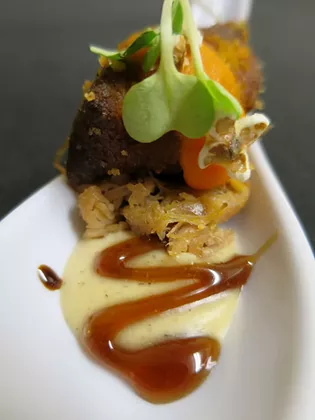 Matthew Thorsen
White truffle gnocchi, the Daily Planet
Around the corner, people crowded around for the
Daily Planet
's white truffle gnocchi. Chef Justin Bigelow's spoon revealed itself in layers.
First, a wisp of cool microgreens, then the toothsome chew of a potato dumpling and the bird-y richness of tender confit duck. Toward the end, a wash of earthen morel cream and the shadowy sweetness of black fig agrodolce. Working through the dish's complexity and balance required more than one visit.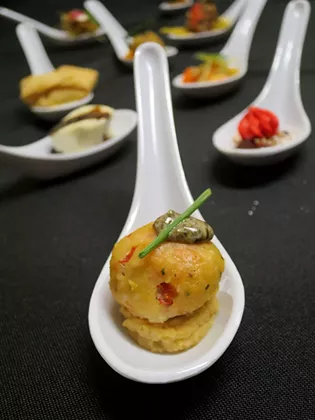 Matthew Thorsen
Salmon cake, the Bearded Frog
If the Daily Planet's dish was sultry and rich, the
Bearded Frog
's sesame-salmon cake cut through the darkness with seafoam-scented flavors that rang of summer. Perched on a dollop of salty-sweet miso hummus and topped with briny seaweed aioli, chef Mark LaRiviere's tiny patties were buttery inside and offered sophisticated balance uncommon to the humble salmon cake.
The next spoon looked south of the border.
City Market/Onion River Co-op
prepared-foods manager Rod Rehwinkel rolled Shelburne Farms cheddar and savory rice into Vermont corn tortillas from Waitsfield's
All Souls Tortilleria
. Chile-soaked enchilada sauce gave the dish a slow-burning, spicy kick, while pickled red onion, cilantro and a splash of sour cream brought the cool.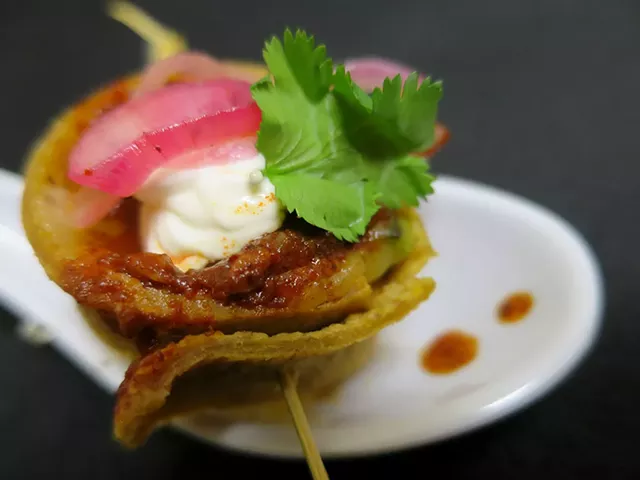 Matthew Thorsen
Enchiladas, City Market/Onion River Co-op
Matthew Thorsen
Pork cromesquis, NECI on Main
Finally, New England Culinary Institute chef-instructor Brandon Arms offered spoons of pork cromesquis on behalf of
NECI on Main
at the back of the room. The layered bite offered a mouthful of buttery pork with sweetened, mashed butternut squash, caramelized cauliflower and pumpkin seed.
For a little more than two hours, guests circulated, visiting and revisiting their favorites and casting their votes before organizers tallied the winners.
Finally, Lipenski brought the chefs onstage, introducing each one before announcing the night's winners.
For flavor: The Daily Planet took top honors with 99 points, followed by NECI on Main and Thai Dishes, with 86 and 73 points, respectively.
Matthew Thorsen
Daily Planet chef Justin Bigelow
Next up: Flair. Which dish was voted the fairest of them all? Bigelow's savory-sweet Daily Planet gnocchi, with 43 points. Thai Dishes and the Cook Academy took second (34 points) and third (24 points).
Having swept the first two categories, the Daily Planet took best in show, besting the other competitors by more than 30 votes. Thai Dishes and NECI on Main nabbed second and third overall.
And the tastiest part? These dishes — with the exception of NECI on Main's pork cromesquis — will be on available in full portions on each eatery's restaurant week menu, until the event wraps up on May 1.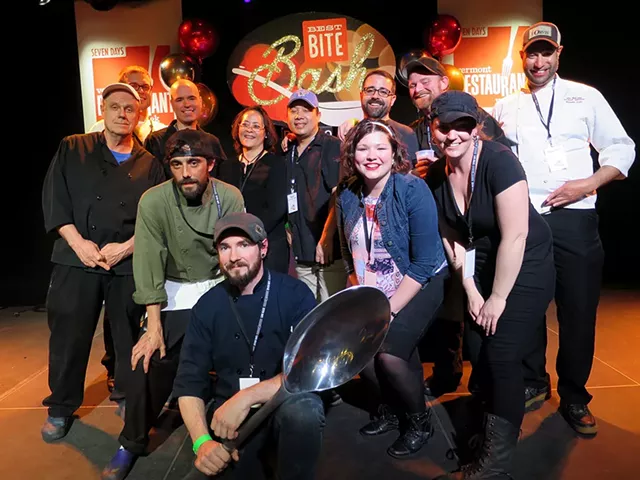 Matthew Thorsen
Chefs at the Best Bite Bash