Melissa Haskin
Spicy tequila caramel corn
Last Friday night, Misery Loves Co.'s Incubator hosted an event featuring childhood sweets paired with grown-up drinks. Local baker Shana Goldberger of Sweet Babu brought the sweets, and MLC provided the alcohol. Like many things that happen in the Winooski pop-up space that formerly housed MLC's bakeshop, this was a special, one-time event.
Friday's menu included duos such as lemon-lime soda cake and Lost Nation Mosaic IPA; shoofly pie and a Manhattan made with maple sap; and a chocolate brownie sundae with smoked salt and hot fudge paired with Mayflower Porter.
My dining partner noted that the caramel corn reminded her of Yankees games with her family while she was growing up. At first we combined it with a margarita, which was nice. But Zero Gravity's Green State Lager really brought home the baseball nostalgia. The popcorn's spicy edge and lingering, growing heat gave it a grown-up twist.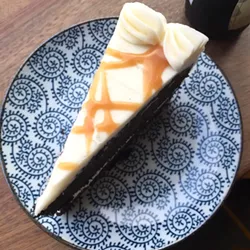 Andrea Suozzo
Chocolate stout cake with cream cheese frosting and salty caramel
Among other things, I ordered the chocolate stout cake. It was fudgy and moist. By itself it was fine. It reminded me of many, many chocolate cakes before it, so it served its purpose. Paired with the porter, however, it was a whole different experience. The two informed each other, deepening one another's flavors. Each bite, washed down with a swig of the brew, was even more satisfying than a mouthful of milk after eating a chocolate chip cookie.
In all, the drinks and the food were cohesive. It was a well-designed menu, where each half of a pair made the other better.
This one-time event is over and done. Some events and pop-ups do return to Incubator, but when you see something good, you should go or you may miss your chance. Also: You should drink alcohol with your sweets.
I was curious about Shana Goldberger and Sweet Babu, though. Would she return to the Incubator? And how did she come up with such a fun idea?
Goldberger was happy to answer my questions:
SEVEN DAYS: How long has your business been around?
SHANA GOLDBERGER: I officially started Sweet Babu in 2014.
SD: What drew you to the Incubator space?
SG: Incubator is creating a place for individuals like me to reach people they never could under normal circumstances, and is building a community of people who love and care about food and want to make it, eat it, and talk about it. The restaurant business has its fair share of barriers to entry. This type of space, where you can have a tiny food business and still pop up like a restaurant for a night, is something our community really needed.
SD: Have you done anything like the childhood sweets plus cocktail event before?
SG: I've always wanted to experiment with dessert and cocktail pairings but never had the opportunity. I have an insane sweet tooth and I love craft beer and vintage cocktails, so it just makes sense to bring it all together.
SD: How did you choose the menu for the event?
SG: Oh, boy. My menu went through so many iterations before it was finalized. Initially I was working on a more avant-garde, restaurant-style tasting menu and it just wasn't working. I finally realized I was fighting who I am and what I truly love to make and eat, which is elevated comfort food. Once I got that out of the way, it was simple. I chose a few of my best-selling items, like the chocolate stout cake with cream cheese frosting and the black chocolate brownie, and adapted them to be plated desserts by adding some components.
SD: How did the alcohol part work? Did you just send MLC a copy of your menu before you showed up?
SG: MLC was so helpful in creating a drink menu! I sent my dessert menu with flavor notes and then went to the restaurant to try some cocktails that Mike Dunn created. We had a variation on a margarita with smoked salt and a Manhattan made with maple sap that we called the Sugar Shack. The beer was also selected based on how well it would pair with the food. I knew I wanted a heavy, dark beer to go with the Chocolate Stout Cake, a citrusy IPA for the Lemon Lime Soda Cake and a light lager for the popcorn. MLC figured out which beers worked best and what they could get for my event.
SD: What was your biggest hit on Friday, and why do you think it was?
SG: Probably the Black Chocolate Brownie with Smoked Salt that I served with vanilla bean ice cream and a warm chocolate ganache. I think, out of everything on the menu that is specific to my childhood memories, a brownie sundae is the most universal. What is more satisfying than a warm, fudgy brownie with melty ice cream and warm chocolate sauce, to boot? I think sometimes as adults we stop eating things like brownie sundaes and don't realize how much we miss it.
SD: You're lactose-intolerant, does that affect you as a baker? Do you try to focus on lactose-free baked goods?
SG: I'm lactose-intolerant and lived 100 percent dairy-free for about 10 years. Baking with dairy is the best — there really is no substitute for the transformative power of milk, butter and cream when heat is applied. Still, I try to have a mix of items on any menu I create with a dairy-free and/or vegan option, and something gluten-free so nobody feels as left out as I used to.
SD: Where can people find your baked goods?
SG: I don't have a storefront, but I'll be out and about this summer. I'm popping up next at Waking Windows in May, and I'll also be at the Burlington Food & Wine Festival and [South End] Art Hop later this summer. My website and Facebook page are a great way to find out where I'll be next!
SD: Any plans to return to the Incubator in the future?
SG: I hope so! I have a couple ideas floating around in my head right now…

Sugar High! is a weekly exploration of the Vermont dessert scene. It features everything from chefs to recipe tips to the best sweets on Vermont menus. Got an idea for something you'd like to see in Sugar High? Email melissa@sevendaysvt.com.