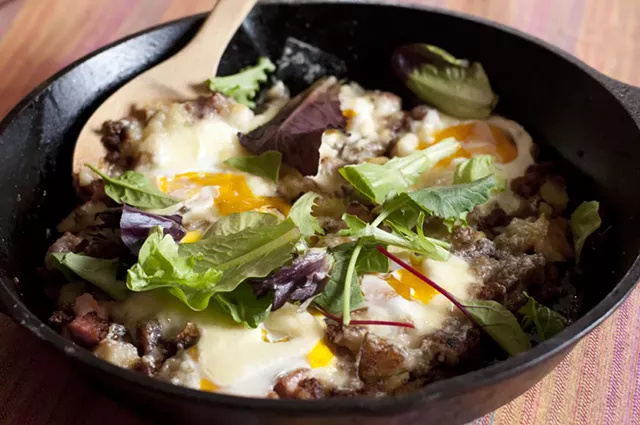 Hannah Palmer Egan
Rethinking the ham-and-egg breakfast
If you're looking to use up some extra Easter ham, try this super-simple non-recipe recipe. Not into ham? Check out the vegetarian substitutions at the end of this post.
Preheat your oven to 450 degrees and set a rack on the middle rung.
Cut a reasonable amount (one scant handful per person) of ham into half-inch cubes; place in a cast-iron skillet with a thin pat of butter and whatever other breakfast meats (crumbled bacon or sausage?) and stored vegetables (diced onions, garlic, peppers?) you have on hand. Add some chopped-up boiled potatoes (or homefries) and half a can of rinsed black beans (optional).
Cook over medium/medium-low heat, stirring occasionally, until everything starts to crisp up. With butter and bacon or sausage, the pan should stay well-greased, but if you sub veggies for meats, add more butter so things don't stick.
Once the sauté gets nice and crispy (the ham should be just starting to brown, with crunchy points, which should take 10-15 minutes), spread the ingredients around so they form an even layer in the bottom of the skillet.
Crack eggs into the skillet. Top with grated Swiss or cheddar cheese (optional) and bake uncovered for 3-5 minutes until the eggs glaze over but the yolks remain soft. This is important, as you'll need the runny yolks to moisten the crispy meats and vegetables.
Serve with greens and/or English muffins.
Need a more specific ingredients list? Here's the version I made last weekend, with vegetarian substitutes listed next to the meats.
Baked Ham and Eggs
Serves three or more
1 teaspoon butter




2 cloves garlic, diced




Half a large white onion, diced




1 cup ham, in one-inch cubes — OR — 1 1/2 cups winter squash, sunchoke, turnip or other semi-sweet root vegetable




6 ounces breakfast sausage — OR — 1 1/2 cups shiitake mushrooms, loosely chopped




1 cup boiled potatoes (skin on), in one-inch pieces




If subbing veggies for meats, add salt to taste




6 eggs




4 ounces Swiss cheese
Optional additions:
1 cup black beans, rinsed




1 cup peppers, broccoli, green beans or other soft-fleshed vegetable, in half-inch pieces




1/2 cup diced or cherry tomatoes




Herbs, in proliferation