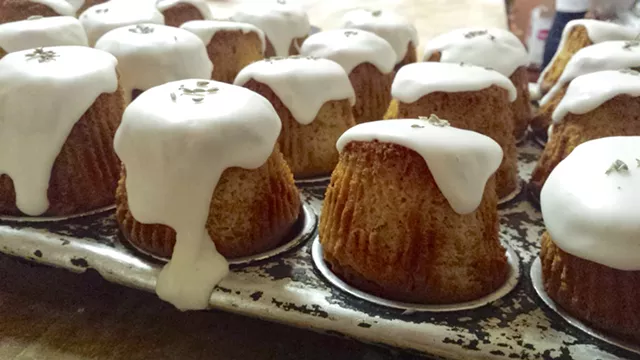 Melissa Haskin
Lemon-lavender teacakes at Barrio Bakery
Ryan Bunce, 35, co-owner of
Barrio Bakery
in Burlington's Old North End, doesn't quite understand why people go crazy about his teacakes. I mean, a faintly lavender, fluffy, muffin-like creation with icing oozing down the sides. It sounds terrible. That is, if terrible is code for "I need a dozen of these."
When Bunce and his wife, Jessica, took over the bakery in 2010, it went by a different name, Panadero Bakery. The operation was squeezed into a space half the size it is now, the kitchen partitioned from customers with a curtain. The couple would bring their sons in with them early in the mornings. At first patrons would come in loudly and wake up the little ones, Bunce says, but regulars soon learned to slip in quietly.
The Bunces brought more than kiddies to the bakery; they soon put their own stamp on the place, changing the name to Barrio and adding pizza in the evenings. The current operation supplies baked goods to coffee shops and restaurants around town, including
Speeder & Earl's Coffee
,
Tight Squeeze Coffee Shop
and
Juniper
in Hotel Vermont.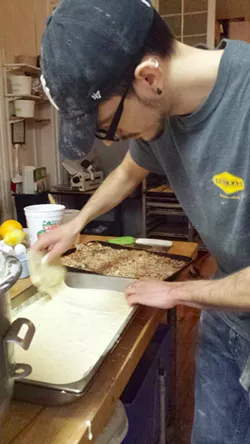 Melissa Haskin
Fernando Mureghias works on a coconut cake.
Baking at Barrio starts at four in the morning. Some items, such as croissants, take up to 48 hours to make. The teacakes, however, can be made in a single morning. The company makes two versions: regular and gluten-free. The housemade gluten-free flour includes white and brown rice, almond meal, potato starch, cornstarch, Xanthan gum and milk powder.
The teacakes are made along with other morning items including muffins and cookies (and sometimes treats for special friends). One week in March the cakes were flavored lemon-lavender. Sometimes they're orange-thyme.
Once finished, the teacakes are placed in the display case or packed in boxes for transport to local businesses.
Dobrá Tea
on Church Street is a major buyer. Barrio sells about an equal number of regular and gluten-free teacakes at the North Winooski Avenue bakery, Bunce says, but wholesale customers order many more
sans
gluten.
I don't normally care for gluten-free products, but for me the mixed grains of Barrio's housemade flour give it a slight edge over the regular cake. In addition to being more complex, the gluten-free is somehow a tiny bit fluffier.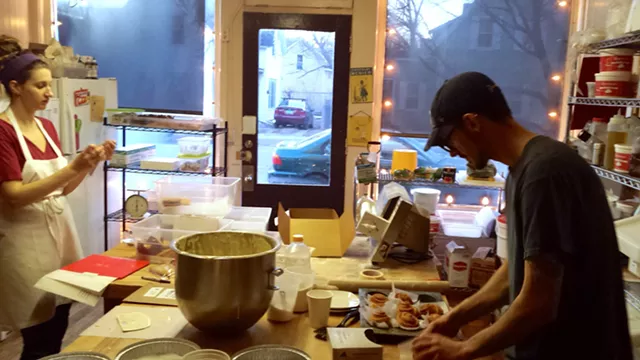 Melissa Haskin
Claire Merlet and Fernando Mureghias at Barrio Bakery
The teacakes are muffin-like in texture. Flavors that can be overpowering, including lemon and lavender, are reined in here — a conservative amount of tiny, dried lavender buds are spread evenly throughout the cakes. Meanwhile, the lemon brightens the pastry without yelling "I'm lemon-y!" Finally, the icing, while incredibly sugary, balances the unassuming cake mixture well.
Bunce is surprised by his teacakes' popularity because he thinks they're too sweet. But for me the sugar high was perfect at 7 a.m. — right up until an hour later, when I shoved another one in my mouth.
Sugar High! is a weekly exploration into the Vermont dessert scene. It features everything from chefs to recipe tips to the best sweets on Vermont menus. Got an idea for something you'd like to see in Sugar High? Email melissa@sevendaysvt.com.