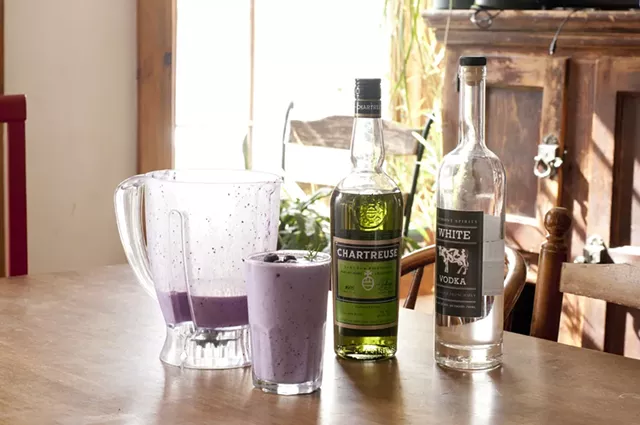 Hannah Palmer Egan
Carthusian blueberry shake
How about some boozy fun for your Tuesday?
I've been on a
milkshake kick
lately, as we have lots of last summer's frozen fruit in our freezer, and ice cream for dinner is one of those amazing grown-up luxuries I like to indulge in from time to time.
This week in
Seven Days
,
I wrote about cocktails — specifically, about "modifier" or "secondary" spirits
including liqueurs, brandies and fortified wines. These alcoholic mixers layer additional aromatics and flavors into a drink — herb notes, fruity notes, sweetness, bittering, sours — and open up new sensory dimensions with minimal effort.
So, here's a spirited locavore milkshake, made with ice cream from
Strafford Organic Creamery
; vodka from
Vermont Spirits Distilling Co
.; blueberries from Super Acres in Orford, N.H., and Chartreuse, one of the mixers I featured in my cocktail piece. It's almost savory on the nose, with notes of lovage or celery, sweet on the tongue and loaded with herbal goodness. And it's lovely with blueberries and cream.
Carthusian Blueberry Shake
Makes 2-3 shakes
Ingredients:
4 scoops vanilla ice cream




1 ounce Vermont Spirits White Vodka




2 ounces Chartreuse




1 cup milk




1 cup frozen blueberries




1 spritz Urban Moonshine Citrus bitters
Preparation:

Place all ingredients in a blender and blend until smooth. Spritz the inside of a tall glass with bitters. Add milkshake; garnish with fresh herbs and frozen blueberries.