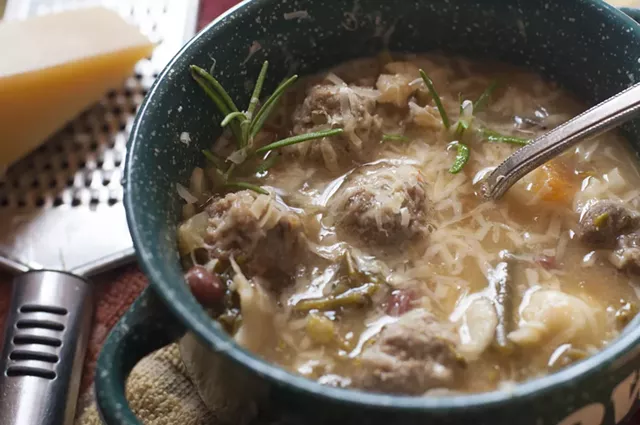 Hannah Palmer Egan
Meatball minestrone
Italians are credited with many culinary triumphs — pasta, pizza, breads, cured meats, wine, olive oil — the list goes on. However, few people think of
soup
when they imagine Italy's great cuisines. But dig a little, and the ol' Mediterranean boot reveals many classic stews: wedding soup, minestrone, pasta e fagioli ... again, the list goes on.
And I'm willing to argue that one of the great Roman inventions (when we're talking broth-based meals) is meatball soup. Last weekend, I pulled a packet of ground venison from the freezer and rolled it into meatballs. (Beef, pork or poultry would also work, if you don't have a dead deer standing by.) Then, I dropped those meatballs into steaming stock (
frozen turkey stock leftover from Thanksgiving
) with all the sad veggies that had been slowly dying in my crisper.
The result? A glorious, hearty, one-pot meal. Authentic Italian, it is not — this little number is a bastard soup, somewhere between traditional bride's soup and minestrone. But it's tasty and took less than an hour to throw together. And with spring just around the corner (right? please?), it's time to make soup, while the soup-making is good.
Meatball Minestrone
Serves 6
Ingredients:
For the soup:
2 quarts bone stock (turkey or chicken are best) OR

1 quart bone stock plus: 1/2 quart water;

1/2 quart canned stock OR

2 quarts stock of any kind

3 stalks celery, chopped




Handful of green beans, cut into 2-inch pieces




Half a medium head of cauliflower, cut into half-inch pieces




Two large tomatoes, chopped




1 clove garlic, diced




Half a large onion, chopped




2 bay leaves




1 sprig fresh rosemary




Salt and pepper to taste



1 can red kidney, butter or cannellini beans, rinsed

1/4 pound rotini, elbows or other short pasta

For the meatballs:
1 pound ground beef, venison, pork or turkey

2 cloves garlic, minced


Half a large onion, diced




2 tablespoons olive oil




1 cup breadcrumbs




3/4 cup Parmesan or pecorino Romano, shredded




2 eggs




Salt and crushed chile pepper to taste



Preparation:
Heat the liquids in a large saucepan over low flame. Add the vegetables and herbs. Sprinkle salt and pepper to taste and bring to a low boil.

As the stock is simmering, prepare the meatballs. Place the meat in a large bowl; heat the garlic, onion and olive oil in a skillet over low heat, stirring often, until lightly browned. Add these, plus the breadcrumbs, grated cheese, eggs, salt and chile to taste (about 1/2 teaspoon should do it; the stock will be salted, too), and mix with your hands until everything is well combined.

Par-boil the pasta until it's just shy of al dente. Add the noodles and rinsed beans to the soup. Increase heat to medium to return soup to a slow-rolling boil.
Roll the meat into balls — no smaller than a dime, no larger than a quarter — and drop them into the soup one at a time, as you make them. By the time you've added all the meatballs, all but the final few will be cooked through. Simmer for another 2-3 minutes, just to be sure all the meatballs are fully cooked.

Garnish with grated Parmesan, more herbs and serve with buttered bread.