Melissa Haskin
Chocolate gelato
Walk a few steps up St. Paul Street from
Trattoria Delia
and you'll find
Sotto Enoteca
. Same menu, same kitchen staff, different ambiance. Last Friday, I visited the cozy Burlington wine bar for an early dinner. I sipped WhistlePig Straight Rye Whiskey with a single square ice cube. Whiskey because my appetizer was chocolate.
To be specific, it was a profiterole — chocolate-covered, gelato-filled pastry. Think éclair but filled with Italian-style ice cream. Mine was stuffed with the vanilla version of the frozen treat. I found this to be a nice balance with the chocolate. However, halfway through the mountain of dessert, I still had to call in reinforcements. I couldn't finish it alone.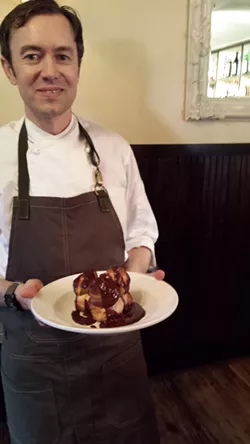 Melissa Haskin
Chef Tim Peters holding profiteroles
Vanilla isn't the only flavor of gelato you can get in your profiterole here. Visitors can swap in any of four nightly flavors including vanilla, chocolate and two rotating flavors. At Christmas, chef de cuisine Tim Peters whipped up eggnog gelato. Cinnamon seems to be the flavor to beat, however.
These frozen sweets are made in-house with simple ingredients: heavy cream, whole milk, eggs and two types of sugar. Why two? There's a specific reason. Peters says regular table sugar, sucrose, has a proclivity toward becoming solid. The second sugar, dextrose, binds to the sucrose, making it harder for the sucrose to crystallize, thus preventing lumps in the gelato.
Peters was kind enough to provide
Seven Days
with the recipe for his basic chocolate gelato. He uses a commercial ice cream maker and tinkers with the settings to get the texture he wants at the restaurant. This can be made at home with an ice cream maker, too, he says. To get the smooth texture gelato is known for, let it warm on the counter a little bit before serving.
Chocolate Gelato Recipe
By Tim Peters, chef de cuisine, Trattoria Delia
Ingredients:
4 whole eggs

4 egg yolks

2 1/2 cups of sugar

1/2 cup dextrose

4 cups whole milk

4 cups heavy cream

1 pound bittersweet chocolate

1/2 teaspoon salt

Preparation:
Heat cream and milk. Whisk in chocolate until melted.

Whisk sugar and dextrose into eggs. Add salt.

Slowly add chocolate mixture to eggs.

Cook custard over double boiler until slightly thickened, stirring constantly.

Cool in ice bath. Add to ice cream machine and follow manufacturer's instructions.