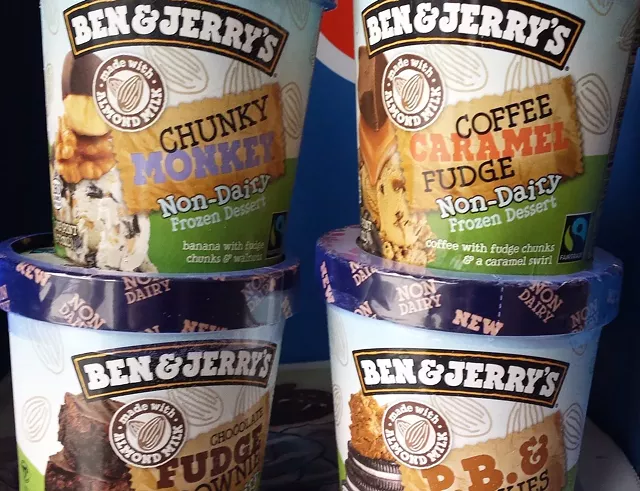 Melissa Haskin
New dairy-free flavors from Ben & Jerry's
Mooove over, cream.
Ben & Jerry's
is about to release its new, dairy-free line, including classic flavors Chunky Monkey and Chocolate Fudge Brownie, along with two new ones: P.B. & Cookies and Coffee Caramel Fudge. Made with almond milk, the frozen desserts took an entire year to develop, according to a company press release. The pints will hit Vermont grocery stores in three to five weeks.
Since the non-dairy ice "cream" is not officially available yet, some nice folks from Ben & Jerry's brought samples to the
Seven Days
office. So, for Sugar High! this week, I decided to enlist help from a few colleagues in giving them a try. Most people in the office are pretty indifferent to free food. Just kidding! I think about half of them were crowded around my desk within minutes.
And we had a favorite: P.B. & Cookies. Testers agreed there wasn't a noticeable non-dairy taste. Creamy and rich, it was packed with whole Oreo-type cookies and generous swirls of peanut butter.
Results otherwise were mixed. Read on for a few tasting notes from
Seven Days
staffers.
P.B. & Cookies
"That's really good. Can I have more?" Paul Heintz, political editor




"Wow, I'm really happy. I would think about robbing a convenience store for this." Molly Walsh, s

taff writer




"It's creamier than other vegan ice creams I've had." Bobby Hackney Jr., d

esigner



Coffee Caramel Fudge
"You can really taste the almond milk in this. If you like almond milk, I think you'd love this." Me, food writer




"It doesn't taste like normal coffee, but it's good." Paul Heintz




"I like anything that says it's coffee." Katy Isaacs, proofreader




"It's yummy and I don't taste the almond milk, just coffee." Pamela Polston, coeditor/co-owner



Chunky Monkey
"Super banana-y, creamy. Nice full flavor." Me




[Long pause] "Not so much." Paul Heintz




"I feel like I'm on a tropical island. It's velvety, but it's a little aggressively banana." Carolyn Fox,

special publications manager/proofreader
Chocolate Fudge Brownie
"A little too icy for me. Overwhelming almond milk taste." Me




"Heavy cocoa-powder flavor. It's missing a depth." Carolyn Fox




"It's watery. Even the fudgy bite I had wasn't chocolatey enough." Katy Isaacs




"It's like a health-food-store, soy-based ice cream. I can really taste the almond milk." Pamela Polston



Generally speaking, Katy summed up our appraisal of Ben & Jerry's' new product line: "I think if you were a non-dairy eater you'd be happy with this. But if you could have the real thing you would prefer it."
Sugar High! is a weekly exploration into the Vermont dessert scene. It features everything from chefs to recipe tips to the best sweets on Vermont menus. Got an idea for something you'd like to see in Sugar High? Email melissa@sevendaysvt.com.