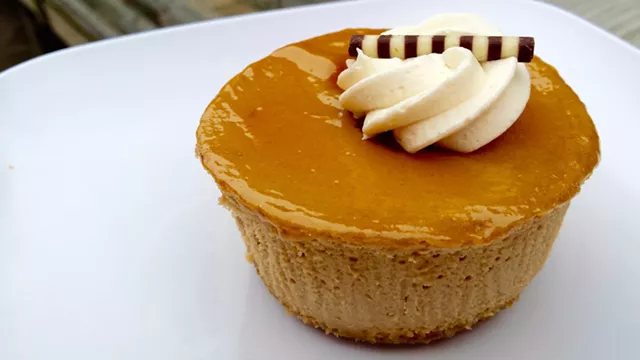 Melissa Haskin
Maple cheesecake from Chef's Corner South End
Hey, welcome to the first installment of Sugar High! This series is about confections and desserts made by local chefs, and also about me eating them. Seriously, it's an idea whose time had come, and I'm really glad I had it.

The pastry case at Chef's Corner South End is the kind of children's dreams. Cheesecakes and cupcakes, tiramisu and brownies are all beautifully aligned behind glass casing. Red velvet cupcakes with heart-shaped sprinkles took the spotlight earlier this week, yelling at customers about the impending holiday of love.





On the day I went to Chef's Corner, two impeccably neat rows of little maple cheesecakes were tucked in next to the boisterous Valentine's cupcakes. The butterscotch-hued confections were topped with whipped cream and tiny rolls of striped chocolate. In their own quiet way, they spoke to me.


So I ordered one. On first bite, I noticed its light, fluffy texture. It wasn't as sweet or overwhelmingly dense as I had expected. Rather, it was the kind of dessert you could order and eat all in one sitting without feeling ill.




On a second bite, I noticed something else — something more complex. Apricot? I skimmed the fork across the top, picking up some of the clear coating. Yes! It was subtle, but played nicely with the maple, elevating the cheesecake's flavor.




If the maple glaze from a donut crawled into a blender with cream cheese and then tossed itself with whipped cream, it would taste something like this.




The desserts at Chef's Corner South End, located in Flynndog at 208 Flynn Avenue in Burlington, are ever evolving and seasonal. At a place known for great sandwiches and a healthy salad bar, it's easy to talk yourself out of dessert in order to keep a New Year's resolution. But in this case the sugar high was worth it.

Sugar High! is a weekly exploration into the Vermont dessert scene. It features everything from chefs to recipe tips to the best sweets on Vermont menus. Got an idea for something you'd like to see in Sugar High? Email melissa@sevendaysvt.com.