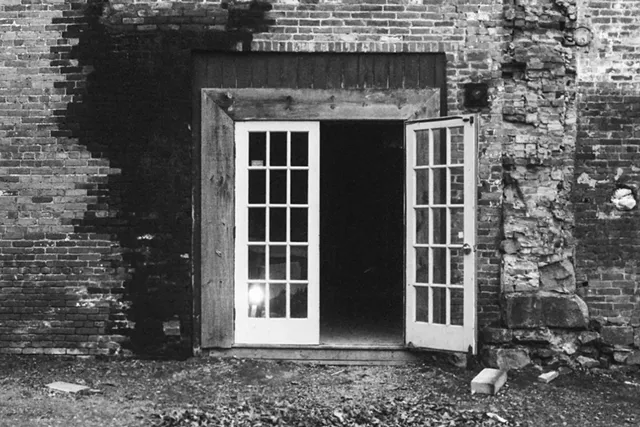 Foam Brewing via Facebook
Foam Brewing
In a few months, Burlington will become home to yet another brewery when Foam Brewers opens its tasting room at 112 Lake Street, in the space most recently occupied by San Sai,
which closed in October
. (San Sai co-owner Kazutoshi "Mike" Maeda is in the process of moving to a new location — more on that another time.) The new brewery will offer full pints of eight draft beers and will focus on seasonal brews (saisons, IPAs and wheat beers in summer, darker stuff in cooler months). Foam will also brew kombucha in-house and offer cold-brewed coffee on nitro.
The new brewery will pair its liquid offerings with a modest seasonal menu of local cheeses, artisanal charcuterie (some of it made in-house), fresh bread and house-fermented vegetables. The last plays into one of cofounder Todd Haire's obsessions. "I'm kind of a geek when it comes to fermented things," he says.
During the warmer months, Foam Brewers will add pit-roasted barbecue and house-smoked meats to the menu.
Haire is a former head brewer at nearby
Switchback Brewing
, where he met Foam cofounders-to-be Sam Keane and Robert Grim. Haire and Grim spearheaded Switchback's pilot beer program, while Keane worked as a production brewer. Before joining Switchback, Haire spent 13 years at
Magic Hat Brewing
in South Burlington, where he also rose to head brewer. (He is also working on the micro-batch House of Fermentology with Bill Mares, though the two projects are not formally connected.)
Though the Foam trio's combined experience is largely at production breweries, Haire says most of the suds brewed on Foam's seven-barrel system will be consumed on-site, rather than being channeled into the local draft-beer distribution pipeline.
Part of that decision is location-based: The brewers hope to provide a fun new destination for waterfront visitors. As soon as the weather warms, they'll outfit the brewery's ample patio with outdoor seating and a pergola planted with lush greenery. "With everything that's trying to go on [at the Waterfront] — the skatepark, the Moran Plant (if that goes through) and everything the mayor's office has been doing down here — it seems like a great place to be," Haire says. Aside from the
Skinny Pancake
and a few restaurants along Battery Street, he adds, "The waterfront's pretty dry."
The brewery will also provide a cultural space, with live music, art exhibitions and other creative programming. Russ Bennett of Waitsfield's
Northland Construction
is handling the renovation of the 1853 post-and-beam brick building. Northland was the builder behind Magic Hat's zany Artifactory tasting room and retail space, and has also worked on multiple visually inspired sets for the band Phish. (He's also behind an upcoming exhibition at ECHO Leahy Center for Lake Champlain, "Champ Lane.")
If all goes well, the brewery will open in April, and Haire is hopeful that the project will stay on schedule. "We have our brewhouse and serving tanks and fermenters. I'm optimistic," he says. The brewery will be posting updates via its
website
, as well as on
Facebook
and
Instagram
.