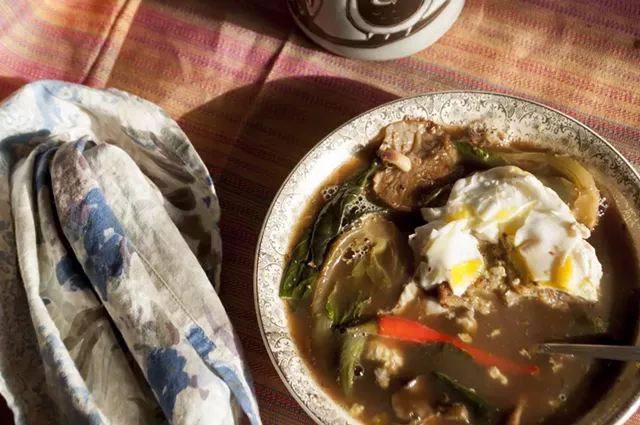 Hannah Palmer Egan
Simple soup for one
One of the perks of this very warm fall is the extended harvest of late greens —
my home garden is still giving arugula
, and the greenhouse produce coming from area farms is just so robust and lush and gorgeous. Visit a winter farmers market and you'll be amazed by the wealth of greenery bursting from the market stalls — or the produce section at your local grocer.
Right now
Pete's Greens
is harvesting gorgeous baby bok choy. Along with some local shiitakes, a farm egg and a slice of stale bread, this made a delightful, super-quick brunchy soup, but I'm psyched to throw it in a stir-fry later, too.
But about the soup. A soup can only be as good as the stock you make it with. So if you're not in the habit of making stock yourself, I urge you to give it a go.
Do you ever roast a chicken for dinner? Prefer chicken thighs or drumsticks instead? Take the bones, dust them in salt and pepper and throw them in a pot with quartered onions, herbs and a few stalks of celery. Cover with water and let simmer for several (mostly unattended) hours, adding more water occasionally if you feel like you should. You don't even have to peel the onions or de-stem the herbs or chop the celery, since you'll strain everything but the liquid away anyhow.
A five-pound chicken will make at least a few quarts of stock —
my Thanksgiving turkey gave six
. It'll keep in the fridge for a week or more, and you can freeze what you won't use right away in plastic containers. And once you've got it, it's incredible what having fresh, quality stock on hand will do for your cooking.
Use it to moisten reheated meats in a pan, then reduce the liquid into a glaze — suddenly, leftovers feel fancy. It's great for braising vegetables or meats or greens, or to give an extra punch of flavor to roasted potatoes, squash or root veggies.
But it also means that a hearty, nourishing soup, such as the one below, is just 15 or so minutes away. And if boiling bones for hours isn't your thing, you can always just buy cartons of the stuff at the store, and that'll be pretty good, too.
Ingredients:
1 clove garlic

Generous pat butter (or 1-2 teaspoons coconut or olive oil)

As much grated fresh ginger as you can stand

A few mushrooms (shiitake, maitake or chantarelles are best, but buttons will do)

1 baby bok choy, washed and halved lengthwise

2-3 cups stock

1 slice toasted/stale baguette

1 egg
Preparation:
Smash the garlic and sauté with butter or oil in a shallow saucepan over medium-low heat. Grate in the ginger and cook for a few minutes until fragrant. Add a few mushrooms and the halved bok choy; increase heat to medium to gently sear the vegetables on all sides until the mushrooms release some of their water.

Add 2-3 cups of stock, cover and reduce heat to medium-low. Simmer for 10 minutes, or until the greens are fork-tender and your toast/egg are ready.

Toast the baguette and place in a bowl. Using tongs, remove the greens from the soup and place around the baguette; same with mushrooms. Leave the stock covered, simmering in pan on low.

Poach the egg (never poached an egg? Google it, very easy) and place on the toast. Pour the stock around the bread and egg (you could strain it through a sieve if you don't want to chew the ginger) and enjoy!