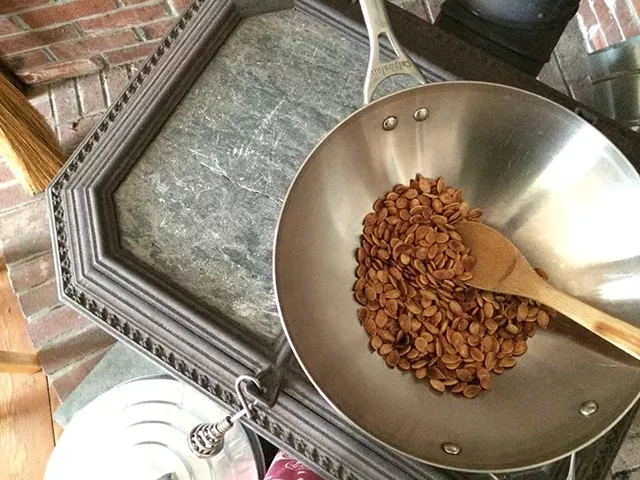 Hannah Palmer Egan
Roasty, toasty woodstove seeds
I'd planned to feature something leftovers-y this week — turkey potpie has been on my mind. But after a long Thanksgiving weekend of
hosting
, feasting, family and travel, I'm
pooped
. So rather than go all in with pie crusts, bone-stocks and ovens, I'm making simple, snackable treats, like pumpkin seeds.
Given that pumpkin is just a squash, you can use winter squash seeds of any kind. And since now is the time for roasting and mashing and souping fall's sweet, long-storing gourds (maybe you have one in your CSA basket this week?), seeds are a bonus snack that will recall childhood or chips, depending on the person. Either way, they're delightful. And I'll take any excuse to stand over the woodstove on a wet December day.
I make mine boiled in saltwater, then toasted on the stovetop with plenty of butter, clean and salty and crunchy. And all you need is seeds, salt and the fat of your choice.
Here's how.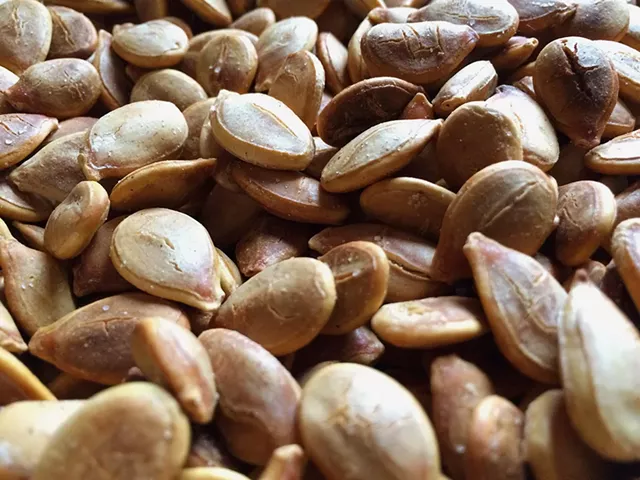 Hannah Palmer Egan
Toasted pumpkin seeds
Woodstove Pumpkin Seeds
Cut through a squash and remove the pulp. Separate the seeds from the gooey, stringy bits and place them in a bowl with warm water. The seeds will float to the top, but most of the pulp will sink. Skim the seeds off, dump the water and repeat until you're free of pulp.
Boil four cups of water with two tablespoons sea salt. Add the seeds and boil 10-15 minutes, until the seeds have softened slightly.
Place a wok on a hot woodstove or burner over medium-low heat. For every cup of boiled seeds, add one tablespoon of butter, coconut oil or olive oil. Add the seeds and sprinkle liberally with sea salt and toast, tossing occasionally, until the seeds are browned and — most importantly — very, very crisp.
As the seeds are toasting, add more butter and salt to taste. If you're a kettle corn lover, you may add another pat of butter and a sprinkle of demerara sugar at the very end. If you do, cook, stirring almost constantly, just long enough for the butter to absorb and the sugar to stick to the seeds (the butter helps with this) but not melt to the pan.
You could also add spices — curry or cumin or smoked paprika, ground chipotle pepper or garam masala seem like nice options — or whatever other flavoring you're fond of. If you're feeling sweet, substitute the boiling salt for sugar on a 2:1 ratio (four tablespoons of sugar instead of two tablespoons salt), then coconut oil for the butter while toasting. Finish with sweet spices and a touch of raw sugar.
If you're feeling adventurous, go sweet and add a splash of peach schnapps or brandy at the very end (careful ofl the flames if using a gas burner). If you do, please let me know how it turns out!
Serve alone as a snack, with other hors d'oeuvres, or sprinkled over salads or creamy soups.