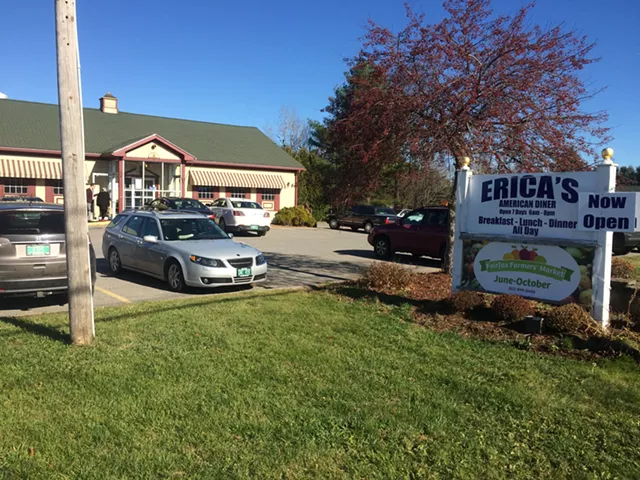 Alice Levitt
Fairfax's finest, manure not included
The photo above looks familiar, right? You may know the building pictured as the
Country Pantry
,
Vermont Breakfast Company
or
AJ's Country Pantry
. Since September, it's been called
Erica's American Grill
, under the same ownership as
Linda's
in St. Albans. I know it as the first place I had a real Vermont meal.
The first thing I ever ate in the Green Mountains was an unmemorable chicken Parm at Alfredo's on Church Street, now long closed. The next day, April 20, 1996, my mom and I joined my brother and his realtor for brunch at the dyed-in-the-wool Vermonters' favorite restaurant, the Country Pantry.
The fields across the street were being manured, but that didn't stop kids from playing softball just feet away. And it only made my introduction to rustic diner fare more enjoyable. It was vast miles, both physical and spiritual, from the metal-sided Greek diners I'd known before. Two years later, I'd become a regular when I moved 15 minutes away, beginning my 17 years as a Vermont resident.
The former Country Pantry, now with a different name but an unchanged purpose, was also the
last
restaurant I visited in my Vermont career. I liked the continuity and I enjoyed the well-prepared classics almost as much.
Alice Levitt
Hot open-face turkey, $7.99
I ordered the same thing I did for my first time at 951 Main Street: a hot turkey sandwich with fries. If I remember correctly (and I do), the Erica's version was better. Thick slices of homemade bread now soak up the salty yellow gravy that betrays a strong taste of the mirepoix that helped form it. The chunky, homemade turkey had griddle marks to prove that it had never run afoul of a microwave. The handcut fries weren't quite as crisp as I desire, but that's Vermont, and is perhaps the thing I'll miss least.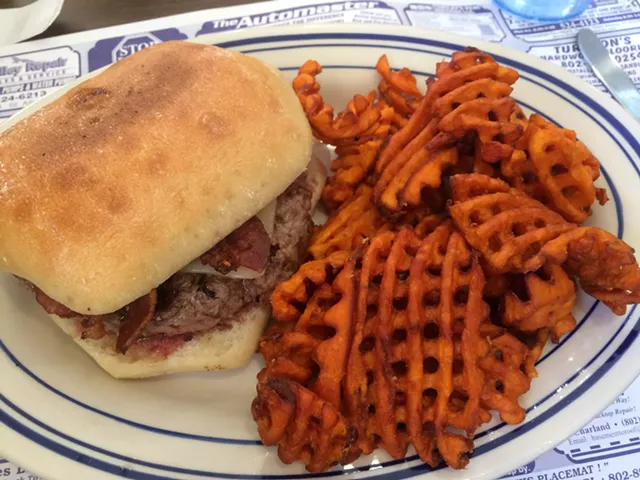 Alice Levitt
Franklin County burger, $7.99
Erica's burgers are a significant upgrade from those at most area diners. A sturdy telera roll soaked up all the juices that steamed forth from the fatty patty. In the case of the Franklin County, this meant not only spurts of beef but also crisp bacon and sticky maple syrup. For even more Green Mountain flavor, a layer of white cheddar held slices of fresh green apple to the patty. Too bad the meat, which I requested medium-rare, was still pink even on the outside — more tartare than burger.
For an extra $1, sweet potato fries were a satisfying alternative to my crunch-craving molars.
Alice Levitt
Three French Toast, $6.99, plus two eggs ($1) and more toast ($.75)
But ultimately, the raison d'être of any restaurant at 951 Main is a hearty breakfast. This is a place where people actually take a break from working the fields to have a meal. It's not history, myth or legend. In Fairfax, hardworking locals still need a bolstering, high-cal meal to get them through the day.
Still, even our server was impressed when my other half finished the giant stack of three slabs of French toast. As my man put it, the bread was so heavily battered, a whole egg appeared to be flopping off one slice. It was too intensely custardy for him, but meltingly right for me.
The sausage patty was perfectly uniform, the same as at every other diner in the country. The eggs were a runny, Platonic over-medium.
But I must register a complaint: $1 extra for Vermont maple syrup felt like a particular affront when surrounded by paintings of local farm animals.
That $1 could have gone toward a $1.50 slice of coconut or chocolate cream pie. But we were simply too full of big, buttery food. Vermont, thanks for everything. My gut runneth over.
Alice Eats was a weekly blog feature devoted to reviewing restaurants where diners can get a meal for two for less than $45. This is the final installment.