Hannah Palmer Egan
Swiss chard brittle
My mother grows a huge vegetable patch every year. At season's end, when frost is lapping at her garden edges, she ransacks her plot and brings me whatever she can't use. Inevitably, that includes lots of Swiss chard.
It took me a while to admit that I can't really stand the stuff. It's slightly sweet, but not actually sweet; a little vegetal, but not really; vaguely tart, but not enough to pucker over ... Its flavor is neither weak nor strong, but just generally noncommittal. And the texture's nothing to write home about.
But what if we concentrated its flavor by boiling it down to its very essence? What if we filled the plant's cells with sugar until its flesh became stiff and, if not exactly crispy, brittle enough to break in half when bent? And what if we did so with enough extra syrup to encase the candied stems in toffee?
Then, it's not so bad ... Not bad at all, actually. Just beware your dental work, as this brittle is sticky business!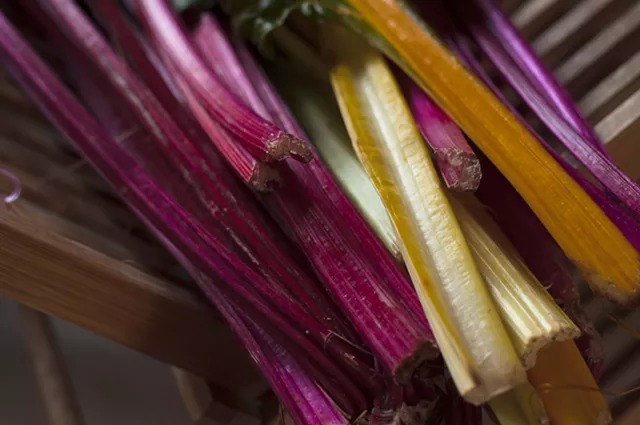 Hannah Palmer Egan
Chard stems
Swiss Chard Brittle
Makes as much as you want!
Ingredients:
Chard stems

Granulated sugar

Water

Splash of sweet vinegar

Allspice or other sweet spices

Lemon or lime

Butter

Preparation:
Wash the chard stems, trim away the leaves and cut to size. (I cut mine into six-inch pieces, but next time I may dice them into half-inch bits for easier handling.) You may need to slice some of the wider stems down the middle.

In a shallow pan, combine equal parts water and sugar, enough to submerge the chard stems (see Figure 1 below). Add a splash of sweet vinegar (I used plum vinegar, but white balsamic or apple cider would work, too) and a pinch of allspice, cinnamon or nutmeg. Heat over low flame until the sugar dissolves.

Quarter a lemon or lime. Remove the seeds and squeeze the juice into the sugar mixture, then toss the rinds in, too.

Add the chard stems and cook over medium heat until the syrup begins to thicken, 10-20 minutes.

Reduce heat to low and simmer, stirring often, until the liquid thickens and foams to a golden caramel color (see Figure 2 below).

Using a soft spatula, turn the syrup onto a buttered cookie sheet. Distribute the chard stems evenly and allow to cool.

Hannah Palmer Egan
Figure 1: You'll need enough liquid to submerge the stems completely.
Hannah Palmer Egan
Figure 2: Reduce the liquid until it darkens to the color of toffee.