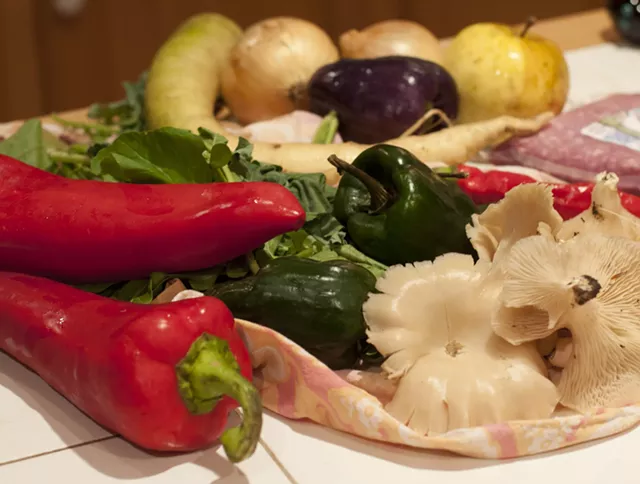 Hannah Palmer Egan
Fall feast: peppers, white carrots, apples, oyster mushrooms, pork
This week I wrote about Topsham's
Sugar Mountain Farm
, and how the Jeffries family spent the past seven years preparing to butcher their pastured pigs on-site. The farmers sent me home with some ground pork, and when I put it in the fridge, a drawer of forgotten produce reminded me of harvest stories from the past few weeks. I recalled stops at farmstands, forest walks and garden visits, and the kitchen aspirations that inspired me to bring each item home.
I'd chosen some of the peppers — long, flat, straight ones from
Cedar Circle Farm
in Thetford — with an eye toward stuffing them. I like to stuff peppers on weekends, when I have a time to relax in the kitchen, and I like making them for guests, because for whatever reason, they feel like a special treat.
I made something similar
for a friend's goodbye dinner party exactly one year ago.
But there's more than one way to stuff a pepper — cooks from Europe to the Middle East to Latin America do so with aplomb. My base recipe is vaguely Latin American, mostly veggies with some kind of ground meat (or beans) and a little egg or starch to bind it all together. The trick is to use a blend of soft-fleshed cultivars (peppers, mushrooms, tomatoes, eggplant, etc.) and firmer ones (squash, carrots, cabbage, other roots).
Another trick: don't stuff bell peppers if you can avoid it. Firmer, smaller varieties — poblanos, Marconi, Hungarian wax, etc. — pack more peppery flavor and their flesh is denser, so they stand up better to baking or pan-roasting. Using smaller varieties keeps the portion size reasonable, since stuffed peppers are very rich! With rice and beans or other side dishes, one fist-size pepper should feed two.
Hannah Palmer Egan
Chiles rellenos with roasted apple, rice and beans
Pan-Roasted Chiles Rellenos
Serves 4, with rice and beans
Ingredients:
Rice*

1/2 pound ground pork

1/4 teaspoon smoked paprika

1/4 teaspoon cumin

2 tablespoons vegetable oil

2 three-inch onions, diced small

2-3 cloves garlic, minced

2 small poblanos, diced

1 cayenne, minced

1 small bell pepper, diced

1 medium carrot, washed and peeled

1 cup misc. veggie (I used radish greens, but carrot greens, celery, cabbage, zucchini, winter squash, bok choy, etc. all work), diced or shredded

1/2 pound oyster mushrooms, sliced

Salt

1 egg

2 long, flat Marconi peppers, halved lengthwise

2 apples

1 cup grated cheddar cheese

1 can beans (any color), rinsed and drained

Turmeric, chipotle powder, annato

Scallions, minced

Preparation:


Make the rice* (method below) cover and reserve. Note: The recipe above includes enough garlic and onion for the rice.
Chiles Rellenos:
In a large cast-iron skillet, brown the pork and drain. Toss with the cumin and paprika in a bowl, cover and reserve.

Rinse the skillet and reheat over medium flame. Add oil and remaining onions and garlic; sauté until fragrant, then add the chopped peppers. Stir until everything's coated with oil; cook a few minutes. Grate the carrot into the pan, stir and add the mushrooms and cooked pork. Season with salt to taste and cook another 10 or so minutes until the vegetables soften just a little.

Turn the veggie mixture into a bowl (rinse your pan again, you'll need it in a moment), crack an egg into the mix and stir well.

Fill the halved peppers with the mixture, molding the stuffing into all the nooks and crannies with your palms.

Splash a few tablespoons of vegetable oil into the skillet and heat over low flame. Add the pepper-boats and make sure there's enough oil that they slip around easily. Halve two apples and roast them face-down with the peppers.

Add a splash of water, cover and roast 25-30 minutes, until the peppers soften but are still firm to the touch. The skins should caramelize and crisp on the bottom, but check occasionally to make sure the peppers aren't burning in the pan (if they start to scorch, add a splash of water and gently scoot a metal spatula underneath to dislodge them). The peppers should be ready right around the same time the apples are soft all the way through.

While the peppers are cooking, season and warm the beans.**

Sprinkle with cheddar cheese, cover and roast an additional 3-5 minutes, until cheese is melted. Garnish with a sprinkle of chipotle powder and minced chive and serve with rice, beans and roasted apple.
*About the rice:
To get perfect rice every time, I cook it Latin American style, no matter what I'm serving it with. The method is easy: Place rice in a large bowl or sieve and rinse in cool (not cold) water until the water runs clear. This can take a while, so have patience. When the rice is adequately rinsed, drain thoroughly (if using a sieve, pat the bottom until it stops dripping). Mince one small clove of garlic and/or one small onion (per cup of rice), and/or half a bell pepper.
Heat two tablespoons vegetable oil (coconut oil, if making coconut rice) per cup of rice in a large pan over medium heat. Add the garlic, onion, etc. (If making ginger rice, omit the onion/pepper and substitute about one teaspoon of freshly grated ginger), and sauté until the onions are clear, 3-5 minutes.
Add the rice and fry (no water yet) until the rice just begins to brown, 7-8 minutes. Dust amply with salt. Add water so that it covers the rice by about half an inch. Stir gently to mix the salt in. Cover and cook over medium-low heat (do not stir!) until the water is absorbed and the rice is soft, 10-15 minutes. Keep an eye on it, as you may need to add a little more water, 1/2 a cup at a time, if it cooks too quickly.
**Beans:
Place the beans in a shallow sauté pan with a splash of extra-virgin olive oil and a shake each of turmeric, chipotle powder and annato (achiote). Add 1/4 cup of water and heat over medium-low heat, mashing the beans slightly with the back of a wooden spoon. Cover and cook a few minutes until the water absorbs into the beans, then add another splash and repeat until the beans are a little soupy but not watery.