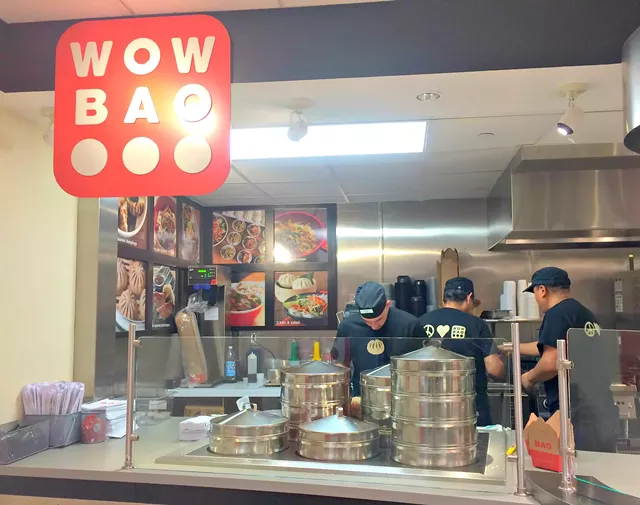 Alice Levitt
It's getting steamy at UVM
Last June, the
University of Vermont announced some major dining upgrades
for this school year. There would be more local fare available than ever thanks to new contracts with
Skinny Pancake, Vermont Bean Crafters, and SoYo Frozen Yogurt
. I was already familiar with those Vermont businesses, but a new name stuck out on the list of incoming eateries:
Wow Bao
.
Turns out it's a fast-food business from Chicago restaurant group Lettuce Entertain You. UVM's Wow Bao is one of only three outside Chicago; the other two are at Baltimore's Camden Yards and Kent State University in Ohio. But I'll be surprised if we don't see the chain mushrooming to greater dominance.
I promise I'm not pulling a
Marilyn Hagerty
here. Wow Bao is not gourmet. But its steamed buns are not only truly fast, they're full of flavor. The speedy lines at 9 p.m. last night at
UVM's Marché
attested to the concept's popularity with the college crowd, including a smattering of Chinese students.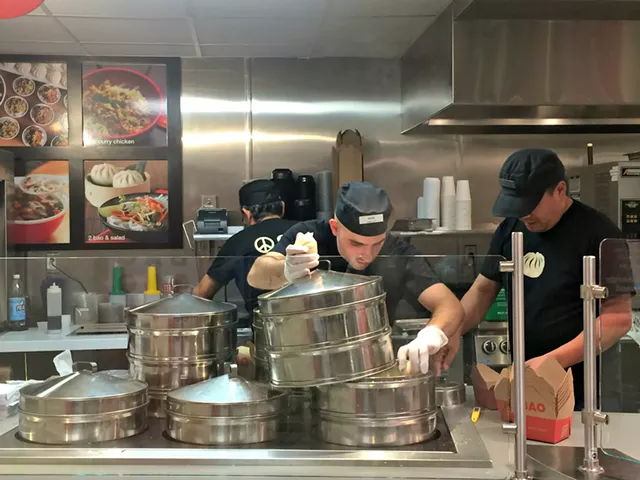 Alice Levitt
Truly fast food
In a city where the nearest Chinatown is more than an hour and a half away and across an international border, I am glad to find cheap buns right out of a steamer anywhere in Burlington, even if I have to lose a little dignity in line at a school cafeteria.
Alice Levitt
Bao six-pack, $11.99
Bao are $1.99 each, roughly twice what I expect to pay in Chinatown but still a steal. And generally, all I'm tasting at Chinese bakeries is sweet cha siu pork. In contrast, the chain offers eight fusion flavors and, strangely, the cha siu was the only loser in the bunch. The red pork was chopped finely into a slurry dominated by scallions. It didn't taste bad — just incorrect.
But Wow Bao's own creations didn't have to compete with anything I'd tasted before. Though the Thai curry chicken was steamed to the texture of a wet sponge, its veggie-stuffed filling hit exactly the aromatic yellow-curry spot it aimed for. A ground filling labeled Mongolian beef was legitimately spicy, but less so than the peanut-spiked kung pao chicken. The latter reminded me of the fiery version a friend from Chongqing made me a few years ago.
Alice Levitt
Homemade ginger ale, $2.69
I needed a drink to cool down the heat of the spicy buns (or, as the motto goes, "Hot Asian Buns") and fortunately, Wow Bao's homemade ginger ale is the real deal. The syrup that flavored the soda tasted like ginger, not a sweet Schweppes invention.
Alice Levitt
Teriyaki chicken bowl, $6.49, plus $2.99 for three potstickers
Wow Bao also serves mix-and-match bowls, with the chopped bao fillings as toppings, over starches including rice, noodles and quinoa. Those eschewing carbs can try the lettuce wraps. The teriyaki chicken was dark and rich, if overly sweet. The texture, which resembled bean-filled chili, was odd but not as off-putting as I would have imagined.
For an extra $2.99, I added two veggie potstickers and a chicken dumpllng. To my eye, there was no difference between the two categories of wrapped snacks, but both were garlicky and paired well with the tangy soy-ginger sauce on the side. And I won't complain about receiving an extra chicken dumpling.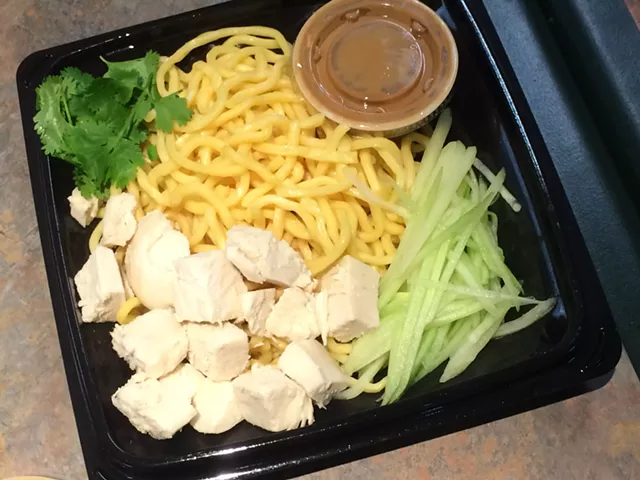 Alice Levitt
Spicy peanut noodles with chicken, $5.39
Even the most "fast food" of the offerings I tried was a matchstick cut above. Once I mixed the chicken, cilantro and cucumbers in the peanut noodle salad with the lo mein and sauce, I was pleasantly to surprised to find a hotter, more acidic version of the dish than I've found at most area restaurants that serve it. It certainly wasn't pretty, but it hit the spot where many others have failed.
But the greatest discovery on my fast-food jaunt was the dessert bao. Soft, steamed bread filled with coconut custard is a very good idea. But the same moist dough, bursting with buttery molten chocolate, was a revelation. Desserts don't often wow me, but that bao did. I believe I let out a few moans as its center oozed down my lips. Believe me, it's possible to find sweet ecstasy in a cafeteria.
Alice Eats is a weekly blog feature devoted to reviewing restaurants where diners can get a meal for two for less than $45. Got a restaurant you'd love to see featured? Send it to alice@sevendaysvt.com.