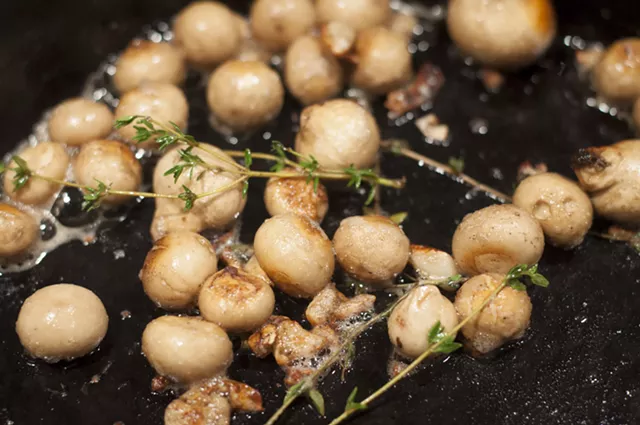 Hannah Palmer Egan
Pear-shaped puffballs with butter and thyme
Many weeknights, I don't get home until well after 7 p.m., and when I do, I'm exhausted and famished. But
life in the sticks
means living with just one dinner delivery option (and we call in orders more than I'm keen to admit), and even fewer takeout choices within five miles. Most nights, if I want to eat, I need to cook.
At restaurants, chefs employ prep cooks to ready ingredients in advance. When an order comes up, the line cooks assemble the dish — usually in 10 minutes or fewer. How — and to what degree — ingredients are prepped depends on the restaurant, but at Chez Hannah, I keep things pretty simple, preparing several portions' worth of base ingredients (rice, beans, pasta, sautéed greens) for later use.
This weekend, I made two pounds of pasta and, last night, my quickie go-to pasta. It's basically kids' buttered noodles with grown-up additions, AKA whatever you have in your fridge. I used herbs from my garden, wild
pear-shaped puffball mushrooms
, garlic and some local hard cheese for which I long ago lost the label.
Hannah Palmer Egan
Pre-cook your pasta and dinner's a snap.
Here's how it goes, portioned for two hungry people.

Heat a cast-iron skillet over medium flame.
Add a nice, thick pat of butter and two small cloves of smashed, peeled garlic. Sauté briefly, then add some quick-cooking vegetable (here, wild mushrooms, but bell peppers, frozen broccoli, onion, eggplant, zucchini, etc. would all work), a fresh herb (here, thyme, but chives, dill, sage, tarragon, savory, marjoram all work...), fresh-ground black pepper and perhaps a protein (rinsed canned or boiled beans work well, as does pre-cooked bacon, pancetta or sausage). Let everything sear for a few minutes, then turn and let sear again, until you're satisfied that everything's cooked to your liking.
Reduce heat to medium-low
and add enough pre-cooked pasta for two (and a little olive oil if it seems dry). Stir well, then add a generous splash of half and half or heavy cream. Stir, simmer a minute or so, then stir again. The cream will take on the sauté's color and cling to the pasta.
Grate lots of hard or alpine cheese
over all, stir it in and turn off the heat. Stir in fresh, finely chopped herbs (I used basil and chives), garnish with more cheese, and pour yourself a glass of wine.