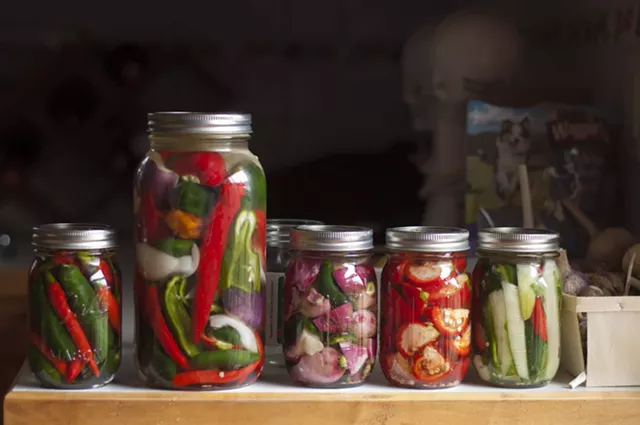 Hannah Palmer Egan
Pickles in waiting
Of all the cookbooks I own,
Jenny McGruther's
The Nourished Kitchen
is my go-to when it comes to seasonal produce. In it, McGruther offers recipes for every meal of the day, using every imaginable fruit and vegetable. And there is an entire section on pickling and preserving, with a focus on fermented rather than vinegar-based pickles.
McGruther's fermenting brine is simple: Four cups water plus two tablespoons unrefined sea salt. (The unrefined part is important, as many table salts contain iodine and other minerals that can mess with the delicate chemical balance ideal for fermentation.)
To make a pickle: simple, too. Heat the brine to about 100 degrees — "so it feels neither hot nor cold when you touch it," she writes — and pour it over whatever you like until all the vegetables are, and stay, submerged. Seal in an airtight container and wait a month or so. When you open the jar, your brined vegetables will have transformed into sour, salty, probiotic pickles — provided you follow a few easy rules.
1. The vegetables must remain submerged in the brine.
2. If you are using jars with rings and lids (like those pictured above), you must "burp" the jar to release the gas produced during fermentation — or your jars may well explode. This means opening the jar briefly and watching the bubbles escape, which is also a great time to make sure your vegetables are still fully submerged. Depending on how active your ferment is, you'll need to do this once or twice daily, so check as often as you think of it. A good way to tell is to push on the top of the sealed jar. If it's firm, it needs to be burped. If it clicks down easily, it can probably wait.
But what to ferment? If you're short on ideas, it's high season for peppers — and, let's face it, you can only do so much with the fresh ones. Another hint: If you live in the Upper Valley, East Thetford's
Cedar Circle Farm & Education Center
is having a pepper sale, and
it's pretty awesome
. On Sunday, I scored pounds and pounds of serranos, cayennes, Thai chiles, peppinos, poblanos, purple bells, padróns and piquillos (I went a little crazy at the farmstand) for about $15. Today I stuffed them into jars and brined them with garlic and onion (and with some bok choy stems and quartered radishes from my garden because I had extra of those, too.)
Later, I'll probably do another batch with herbs, but I wanted to keep these beauties plain and simple — the better to show off their flavor.
With all that spice in the hold, winter just got a few degrees warmer.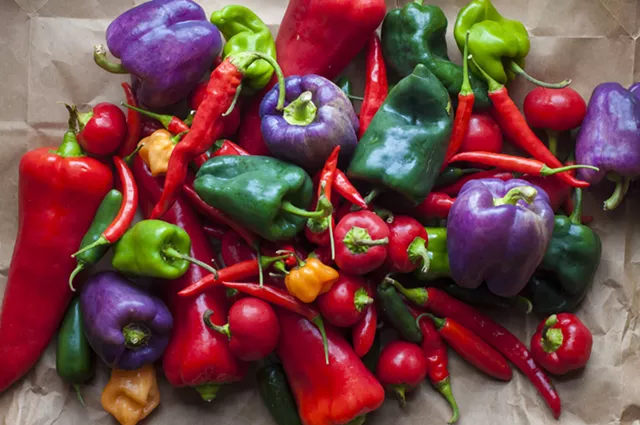 Hannah Palmer Egan
Peppers from Cedar Circle Farm