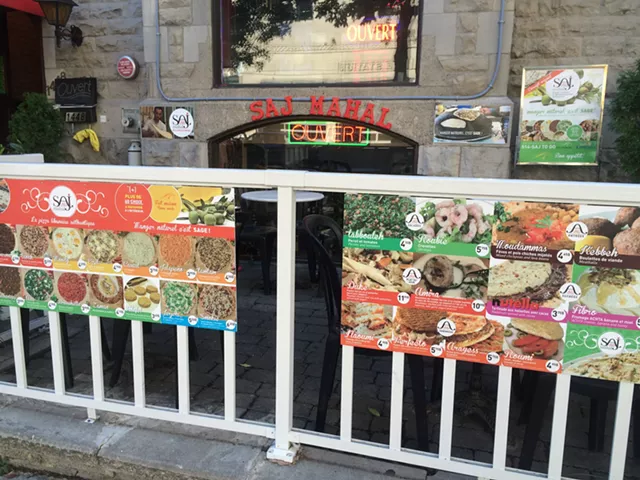 Alice Levitt
Saj Mahal, 1448 A Saint-Mathieu, Montréal, 514-725-8646
The Taj Mahal is a giant mausoleum in Agra, India. A guy died there while snapping a selfie last week.
Saj Mahal
is a Lebanese flatbread joint in Montréal, Canada. I survived stuffing myself while snapping photos of the food last weekend. And lucky for me, I still have leftovers to show for it.
That's because the food is so darn cheap, I couldn't help but try more than my fair share.
The little basement restaurant is named for the convex metal pan, or saj, on which the thin bread known as markouk is griddled. Lovers of Armenian and Turkish food might be familiar with the skinny flatbread called lahmajoun. Markouk is similar, though even thinner. At Saj Mahal, the markouk are served either open, like a pizza; rolled like a burrito or folded in half. I wasn't asked which I preferred and got both of mine folded.
Alice Levitt
Ezel, $4.75 and Portail, $3.55
There are 84 varieties of markouk on the menu at Saj, most of which have utterly amusing names. A combo of shrimp, cheese and rosé sauce, for example, is identified as the "Moe Tokyo." Eggs and shawarma folded into the bread is known as "Curiosity." Greek yogurt (labneh) and chopped lamb somehow merits the title "Legal."
But the name of the Portail makes some sense. Its classic ground-beef lahmajoun topping is indeed an entry point into the traditions of Asia Minor's topped flatbread. Saj Mahal's version was pleasantly moist and speckled with tomato, parsley and onion, as it should be. But despite the markouk's crêpe-like thinness, the meat got lost inside. The Ezel, filled with a mix of scrambled egg and spicy soujouk sausage, stood up better to the surrounding carbs.
Alice Levitt
Muhammara, $4.50
But a little mouhammara lit up everything. It tickled my funny bone to see an elegantly presented dip, topped in walnuts presented on checked paper, but that was Saj Mahal at its essence. It's a no-frills, fast-casual spot, with flavor its focus.
The tangy pepper dip wasn't the best one I had in Montréal this summer. That distinction belongs to the puckery version I had a few months ago at Syrian and Armenian restaurant
Alep
, which simply sang with pomegranate molasses. There was a nice dose of the fruit in Saj's, too. Paired with toasted walnuts, the spicy spread made me salivate simply applied to pita or mixed with practically everything on the table. A pot of mint tea, poured liberally, calmed the spice of the mouhammara.
Alice Levitt
Duke, $11.95
But not everything served at Saj is cooked on the eponymous pan. A small menu of plated dishes includes meatball dishes, tilapia in tahini sauce and spaghetti with meat sauce. But I couldn't resist the roasted chicken with rice and pistachios.
The lightly marinated shish taouk-style chicken wasn't just sitting on a bed of plain rice, either. The cinnamon-speckled grains were mixed with a hearty dose of ground beef. Double meat plus almonds and pistachios could have made Alice a happy girl on their own, but mixing in the yogurt served with the dish as well as some mouhammara created a comfort food that was new to me but sure to merit many repeat tastings.
In fact, I'm eating it for a third consecutive lunch today.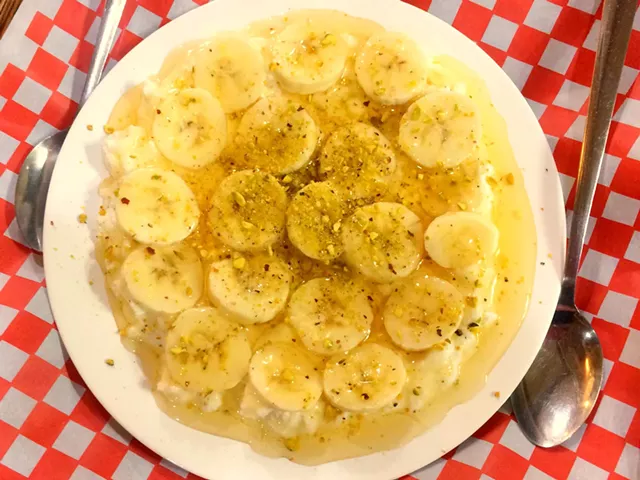 Alice Levitt
Fibro, $5.25
I skipped sweet markouks, including one topped with cream cheese and grilled pineapple purée and another spread with a paste made of sesame and banana, in favor of a plate that sounded more uniquely Lebanese: Bananas, pistachios and a moat of honey served over ashta cheese.
This was my first encounter with ashta, but from what I understand it's typically clotted cream flavored with rose and orange blossom water. This version tasted so strikingly like ricotta that my first thought was of the stuffed shells I was served in elementary school.
So perhaps not such a sweet ending. But it wasn't really the end, anyway. Not when there's still Duke, Ezel and Portail waiting in the fridge.
Alice Eats is a weekly blog feature devoted to reviewing restaurants where diners can get a meal for two for less than $45. Got a restaurant you'd love to see featured? Send it to alice@sevendaysvt.com.