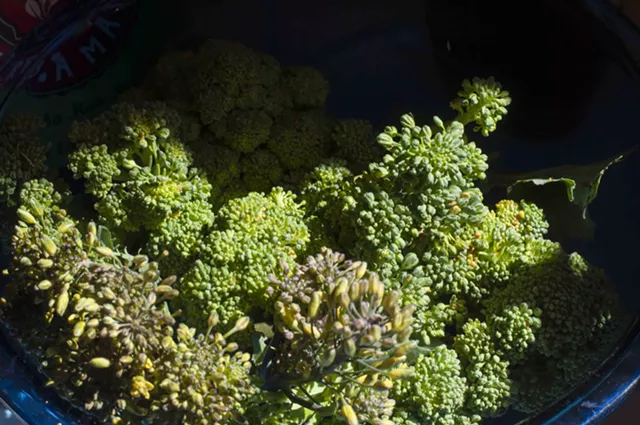 Hannah Palmer Egan
Broccoli
When I lived in New York, I worked for a sweet little French bistro in the East Village. One of the chef-owners made scones daily: flaky, sweet confections, studded with fruit and crisp with egg wash and chunky sugar on top. They were for the breakfast/lunch guests, but when staff arrived for the dinner shift, we would eat the ones that didn't sell as dessert during family meal. Every. Day. The scones were so good, it never got old.
I rarely miss the city, but I do miss those scones, and I've yet to find anything comparable.
But the beauty of scones is that they can go sweet or savory, and you can add anything to them. This morning, I recalled
a New York Times article from Julia Moskin
a year or so back: "Biscuits and scones sometimes seem to be from different planets, but they share a buttery, tender flakiness and the versatility that makes them a cornerstone recipe," she writes, before elaborating on exactly how they're so similar.
So, armed with an accumulation of garden broccoli I'd been avoiding in my fridge, I channeled the spirit of those sweet East Village quick-breads, and Moskin's assertion that a scone is basically a biscuit, and made a savory, cheesy biscuit-style pastry that I'm pretty proud of.
The best part? True to my Farmers Market Kitchen ideal, they're made with really basic ingredients, most of which you probably have in your pantry. And, they're endlessly tweakable. Not into broccoli? Use fresh or frozen spinach, blanched kale or fresh herbs (or bacon!). Prefer sweet instead of salty? Skip the salt/cheese, add a couple tablespoons of sugar, and use bananas, apples, pears or frozen, drained berries instead.
And don't be scared off by the laminate part. It takes a few extra minutes, but any monkey can do it. Just make sure your surfaces are well floured!
Now, preheat that oven and prepare to yum.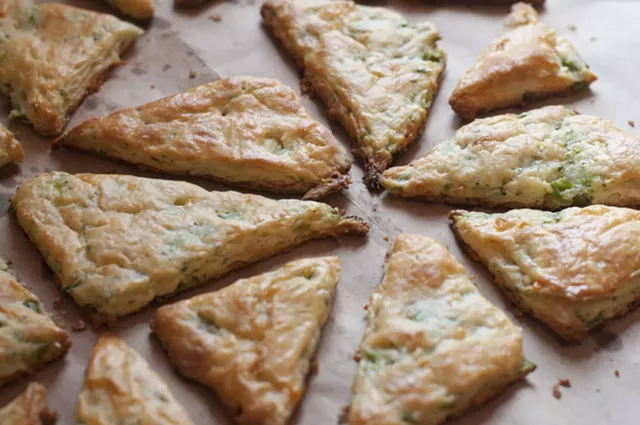 Hannah Palmer Egan
Cheddar + broccoli + some stuff in your pantry scones
Broccoli-Cheddar Biscuit-Scones
Makes about 3 dozen scones
Ingredients:
2 1/2 cups all-purpose flour

1 1/2 tablespoons baking powder

1-2 teaspoons salt (or less, to taste)

2 eggs

1 cup buttermilk OR 1 cup half and half plus a splash of vinegar

2 sticks butter, cut into 1/2-inch cubes and chilled

1/4-1/3 pound sharp cheddar, grated (about 1 1/2 cups, loosely packed)

1-1 1/2 cups broccoli, blanched and finely chopped

Egg wash: 1 egg plus a splash of water, beaten well

Preparation:
Preheat oven to 400 degrees F. and set a rack on the middle rung.

In a large bowl, whisk together the dry ingredients.

Crack the eggs into a smaller bowl and beat briefly. Add the buttermilk, or if you don't have any, add a splash of vinegar to a cup of half and half or whole milk.

Using a pastry blender or potato masher, cut the butter into the dry ingredients until the butter breaks into pea-sized pieces. Cover the mixture and let rest in the fridge for 10 minutes.

Pour the egg/buttermilk mixture into the wet ingredients and combine with a few swift strokes, forming a clumpy, shaggy dough. Do not overmix! In general, the idea is to handle the dough as little as possible once you combine dry with wet.

Spread parchment or wax paper over a large, flat surface and scatter with a generous amount of flour.

Turn the dough onto the floured surface and dust with flour. Gently roll the dough into a loose rectangle about half an inch thick.

Now, flip the dough over itself in a tri-fold pattern, as if folding a letter. Don't panic! That's what the parchment is for. Slide your hands under the paper on one side and fold the dough over. Repeat with the other side, folding that over the other two layers.

Dust with flour (you'll probably need to re-flour the paper, too), roll out to half an inch again, and repeat.

Once you've rolled the dough to half an inch for the third time, scatter the surface with the cheddar and broccoli.

Re-fold/re-flour, as before, and roll out again, and repeat, rolling the dough out one final time.

Mix your egg wash and brush a thin layer over the rolled dough.

Cut the dough into 4-inch squares. Bisect each on the diagonal to form little triangles, and place these on a baking sheet half an inch or so apart.

Bake 20-25 minutes and serve warm. Leftovers will keep in a paper bag inside a sealed container for 2-3 days.