Is the Champlain Valley Fair growing up? Usually, my
annual
dining
adventures
at Vermont's largest fair go more or less like this:
Alice Levitt
What is fried bubble gum, anyway?
But this year, the orgiastic excess seemed to be on mute, or at the very least on Lipitor. There were more local vendors than ever, including po' boys from local Rajun Cajun and spicy stews from Pine Street-based Jamaica Supreme. Last week's Alice Eats subject, Berdas Roadside Eatery was present, selling its snappy hot dogs and fried mac-and-cheese.
But even when a vendor's fried food was the focal point, it seemed that flavor and craft took precedence over beating their neighbors in a John Waters-style "filthiest food alive" contest.
Of course, not everyone got that memo, and I was grateful.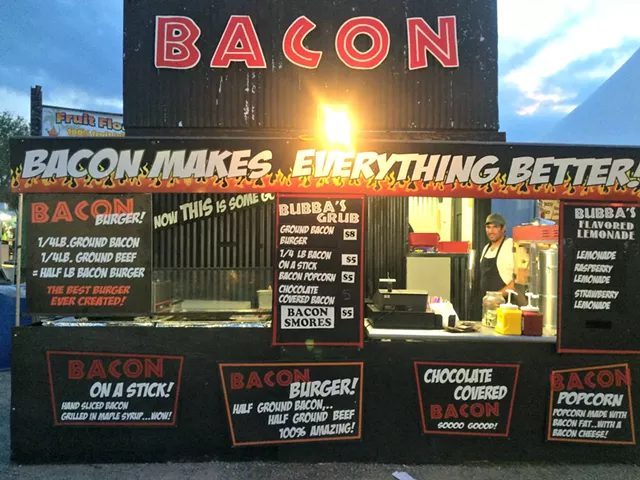 Alice Levitt
Bubba's Bacon
Gluttony was alive and well thanks to a new, nonlocal vendor, Bubba's Bacon, which is
doing national fair rounds
. Owner Devon Falcon turns out everything bacon, including an item known as bacon s'mores.
Alice Levitt
Don't feed the bears — unless it's a bacon s'more, $5
A what? It's an oversized slab of crisp bacon covered in chocolate, then dredged in marshmallow creme and crumbled Graham crackers. The photo above does its size no justice. The thing just keeps going, long after your indigestion takes hold. It's one of those creations that could be disgusting or wonderful. I'm still undecided exactly where it fell on the continuum, but the textural contrasts and sweet-and-salty balance make me think it leans slightly toward the latter.
Alice Levitt
Piña colada from Fruit Island
Right next door to his bacon stand, Falcon also runs Fruit Island, which focuses on flavored lemonades topped with lemon soft serve. It's not quite the "healthy" option he implies, but the concoction, not unlike Disney's famous Dole Whip, is a refreshing oasis among lard-soaked meals. That said, Falcon told me that business hasn't been good for Fruit Island and he'll be reworking the concept henceforth.
Alice Levitt
Route 7 Smokehouse
Chris Garcia, owner of
Shelburne's Route 7 Liquor & Deli
, adds to his fair lobster-roll empire this year with Route 7 Smokehouse. This event is his smoker's debut, so I had my doubts. Especially given the mind fuck of being told by the lobster itself that I should eat it.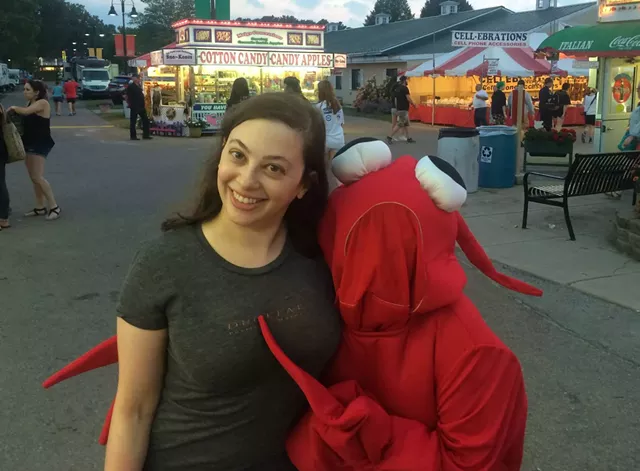 James Blanchard
Take my life, please!
Still, I decided to give the new business a try, especially when the vendors told me they were trying to get rid of the barbecue half chicken for the night and that they'd give it to me for a discount.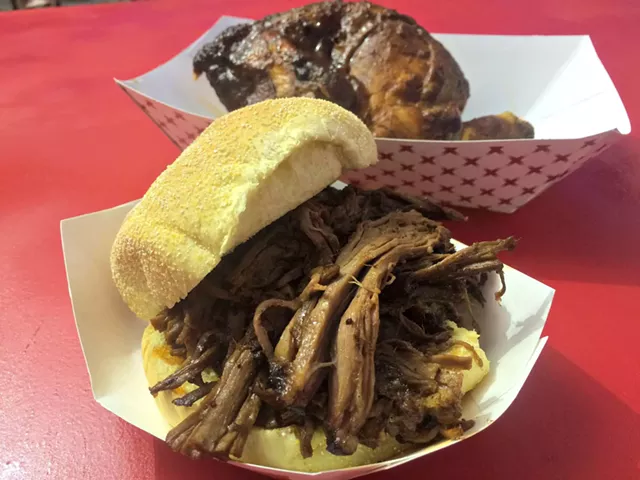 Alice Levitt
Brisket sandwich and barbecue chicken, Route 7 Smokehouse, $8 each
That chicken turned out to be exceptional. Despite sitting in a steam tray, all but the leanest portions of the breast were juicy and tender enough to tear flesh from the bone in ribbons. The homemade barbecue sauce was tangy, slightly spicy and spiked with garlic.
I couldn't resist trying the brisket sandwich, too. The warming tray had been less kind to the beef, leaving every fiber slicked in grease. Still, the meat was well smoked and melted into its roll as I bit in.
Alice Levitt
New vendor, Melt It
I'm almost embarrassed to admit that my favorite bite last night was from a brand-new vendor specializing in comparatively sophisticated panini. Melt It's options include disarmingly virtuous grilled cheese such as Brie with toasted almonds and honey on multgrain bread. But I was still at the fair and needed my cured meats.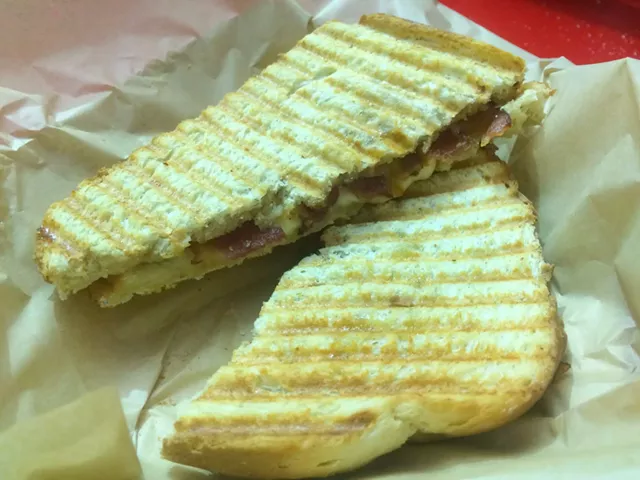 Alice Levitt
Over the Ridge, Melt It, $8.50
I usually think the trend of increasingly complex grilled cheese is a lazy one. But I was completely taken in by Melt It's Over the Ridge, a combination of cheddar, crunchy bacon and twin spreads of apple and maple butters. It was kind of perfect. I will probably eat one again before the fair ends on September 6.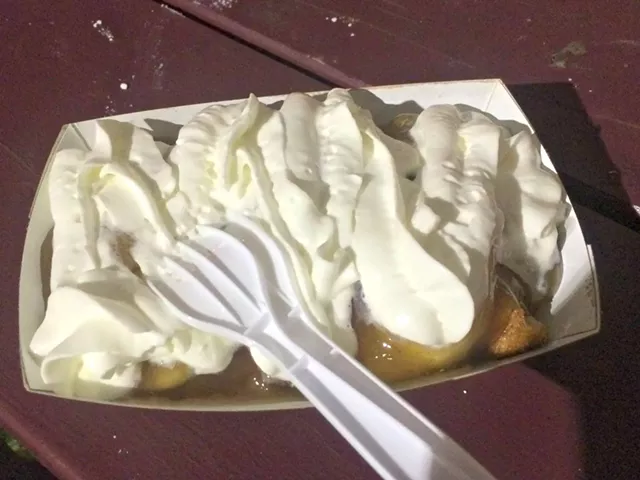 Alice Levitt
Apple crisp bomb, Dizzy Dozen, $3.50
After trying so many new vendors, I wrapped up last night with a classic: doughnut maker Dizzy Dozen. But I didn't settle for plain mini doughnuts. This time, since I lacked the capacity for one of their new deep-fried tacos, it had to be a "bomb." The apple crisp bomb was composed of six tiny apple-flavored doughnuts topped in apple pie filling and whipped cream. It was sticky-sweet, fried and overkill to the core. Did I like it? Not really. But in the moment, it was so, so right.
Alice Eats is a weekly blog feature devoted to reviewing restaurants where diners can get a meal for two for less than $45. Got a restaurant you'd love to see featured? Send it to alice@sevendaysvt.com.