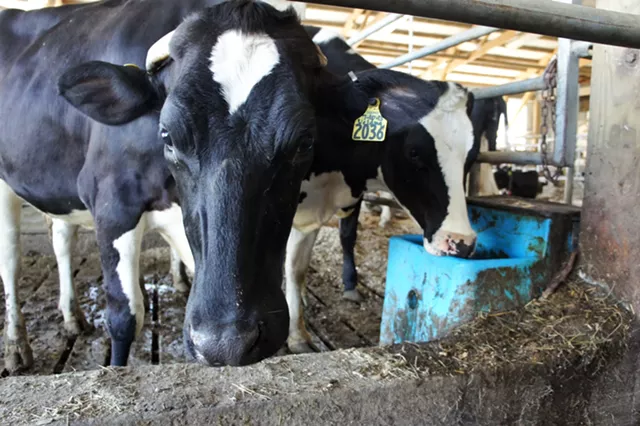 Stacey Brandt
Veldma the cow at Nea-Tocht Farm
As I polish off a pint of
Ben & Jerry's
ice cream and write my final post for Seconds of Summer, I can't help but think about how much there is to do during the few moments of sun (and rain) that Vermont calls summer. My late-night snacking isn't completely unrelated to my post this week. Last weekend, my friend Mikaela and I traveled to a Vermont dairy farm for breakfast to see who really makes the milk for our cookies and the cream for our ice cream.
Saturday, August 22, was the first annual Breakfast on the Farm held at
Nea-Tocht Farm
, a 500-cow dairy owned by the Vander Wey family. The breakfast honored the Vermont dairy industry and welcomed hundreds of dairy lovers like myself to see where our beloved milk-based products originate.
Before the breakfast, I spoke with event co-organizer Dr. Julie Smith, an extension dairy specialist and associate professor at the University of Vermont. She expressed her hopes that the free breakfast and self-guided farm tour would become a learning opportunity. "We want people to ask questions," Smith says. "I've heard rumors of people that think milk comes from the back of the store. It really is a natural product that comes from cows."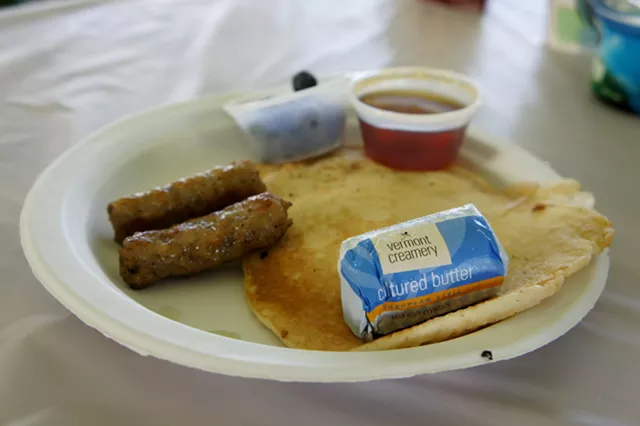 Stacey Brandt
Pancake breakfast featuring local butter from Vermont Creamery and Vermont maple syrup
From downtown Burlingon, Nea-Tocht Farm is a mere 40-minute drive, yet the landscape spreads out into pastures and the houses become few and far between. At 10 o'clock, we walked into the large dining tent set up in front of the farm where volunteers from the Champlain Valley Christian School were serving pancakes, breakfast sausages and berries buffet style. Volunteer Julia Gosliga said she had been dreaming about the breakfast — but not for too long. "I woke up at 20 to five this morning to cook," she said.
Fully appreciating the feast and local dairy offerings, we slathered up our pancakes with remarkably rich butter from
Vermont Creamery
and enjoyed iced mochas from
Kimball Brook Farm
.
After a reluctant parting with our coffee and breakfast plates, we headed off to see the cows. First, we were obliged to slip on a pair of blue shoe coverings to prevent unwanted interactions between our personal collection of germs and those of the cows. Stepping into Nea-Tocht's dairy barn is like any other except for one difference: the robots.
In addition to hundreds of cows, motorized devices large and small moved around in silence doing the dirty work. One particularly bulky machine, which resembled an oversize Roomba vacuum, was pushing stray cow feed back to the pens. Huge, spinning brushes inside the pens acted as personal back and snout masseurs for some very pleased customers.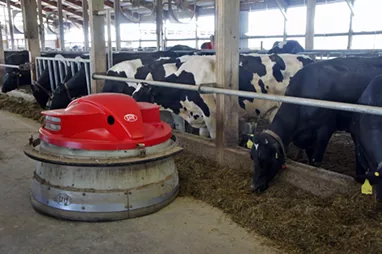 Stacey Brandt
Lely Juno feed pusher
Perhaps the most important machines (certainly the most futuristic) were the robotic milkers. After some labor issues at the farm, the Vander Weys decided to invest in milking technology to pick up the slack.
"We were looking for something more reliable to milk the cows," said Sid Vander Wey, son of Nea-Tocht Farm founder Raymond Vander Wey.
The computer system in the robotic milking machines analyzes and assesses each cow and allows her to be milked when she's ready.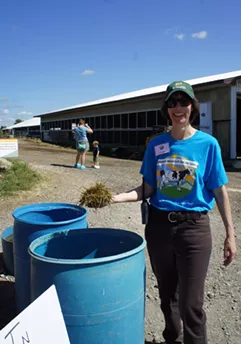 Stacey Brandt
Dr. Julie Smith holding cow feed
Throughout the morning, Mikaela and I continued to learn about cows, cow comfort and how farmers are increasing the productivity of the animals. We met with Smith outside at an info table, which showed all the components of the cow feed. In the barn, the feed looked a bit muddy — like hay mixed with soil — but Smith explained that it was actually a nutrient-rich mixture of byproducts from the food we eat. A compost cocktail, if you will.
"If you took everything you eat in a day and put it in the blender, this is what you'd get," explained Smith, holding up a bunch of feed. She said that balancing a cow's diet leads not only to a healthier animal but to more milk.
Our visit ended with a burst of new life: a calf was being born back at the dairy barn. The mother had been in labor since our arrival. We took our place in a small crowd to watch the beginning of the birth. I'm not exactly sure how a newborn calf contributes to my overall dining experience, but it certainly marks a first for Seconds of Summer.
I can say this: The next time I go for a chocolate shake or a pint of ice cream, I'll take a second to thank the cows and remember who the milk was really made for.
Seconds of Summer is a weekly blog feature devoted to offbeat seasonal dining experiences.