Hannah Palmer Egan
There's a watermelon in my fridge.
Ripe is the season for massive, oblong fruits. (Yes,
I see you, Monster Zucchini
, but this isn't about you.)
See this watermelon in my fridge? Picked Sunday at
4 Corners Farm
in Newbury, its preternatural sweetness is helping offset the bitter fact that it's mid-August — and there are pumpkins blushing orange in the wings.
That alone justifies a cocktail...
Really, any excuse to pull out a bottle of
Stonecutter Spirits'
barrel-aged gin is excuse enough for me. I'll swoon for a good gin any day of the week, but I'm especially fond of this new(ish) trend toward barrel-aging the stuff (
Caledonia Spirits' Tom Cat gin
is another fine local example) and Stonecutter's version —
released earlier this summer after many moons at rest
— is really quite special.
Taken straight, this gin's a cool, herbal tonic, antidote to a tired working day — or muggy Sunday. Drinking it unadorned allows one to savor every jewel-toned botanical, to lap up its twinge of whiskey-barrel butterscotch.
But it also makes merry with fruit (
gin and juice
: it's a classic) and it's hot outside and I have a melon on my hands.
Last night I froze some of that melon. Today, I hacked off some more and threw it in a glass with gin and herbs and cucumber and a bit of spritz. And I'm still chewing my way through frozen bits of watermelon and basil...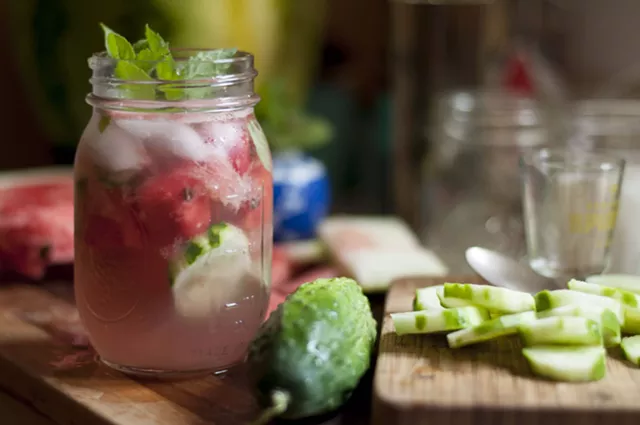 Hannah Palmer Egan
Gin, cucumber, melon, herbs
Gin Melon Cooler

(4 cocktails per cucumber)
Ingredients:
Watermelon

Sugar

Angostura Bitters

Stonecutter Spirits barrel-aged gin (Caledonia Spirits' Tom Kat gin works, too!)

Mint or basil or both

Cucumber

Ice

Seltzer

Lime
Preparation:
Cut a few slices of watermelon into one-inch cubes. Or, if you have a melon-baller, use that! Place these on a cookie sheet, making sure the melons aren't touching each other. Freeze until solid.

When cocktail time arrives, toss a scant teaspoon of sugar into a Collins glass or other midsize vessel. Add a few drops of bitters, a spring of fresh mint or basil (or both) and a couple pieces of unfrozen watermelon. Mottle these, then add two ounces (about a shot and a half) of gin, a few cucumber slices, several frozen watermelon cubes and a couple ice cubes.

Stir well, top with seltzer and gently stir again, pulling the fruit and booze up from the bottom with a spoon. Squeeze a lime wedge over all, garnish with more mint or basil and serve straight away.