It doesn't take much sophistication to like Thai food. When people hear I'm an Asian cuisine aficionado, it's usually the first thing they ask me about. But despite how easy it is to love the cuisine's balanced flavors, most Thai menus in the U.S. are dishearteningly similar.
That's not so much the case at Burlington's new
East West Café
, at the corner of North Winooski Avenue and Pearl Street. There's no pad Thai or krapow on the menu. There are tom yum, som tam and a selection of curries. But there are far simpler dishes that have the homespun feel of dining in chef Samran Kaewkoet's kitchen. Though not particularly complex, every dish is unfussy and fresh.
Alice Levitt
Thai iced tea, $2.50
A restaurant's Thai iced tea is always an interesting litmus test. Does the kitchen crew let the condensed milk speak for itself, or torture the drink with extra sugar? Kaewkoet's version was lighter on sugar and cream than most, indulgent but not painfully sweet.
Alice Levitt
Duck salad, $12
Most dishes ring up at less than $10, and even pricier duck is surprisingly inexpensive. Twelve bucks seemed pretty darned reasonable for a shareable duck salad. Crisp lettuce, red onion and cucumber slices paired with sweet, squishy pineapple and cherry tomatoes in a chile-lime dressing that hit all of the sweet, sour, salty and spicy Thai flavor landmarks. The duck could have used some trimming of inedible hard bits, but was otherwise tender and well seasoned.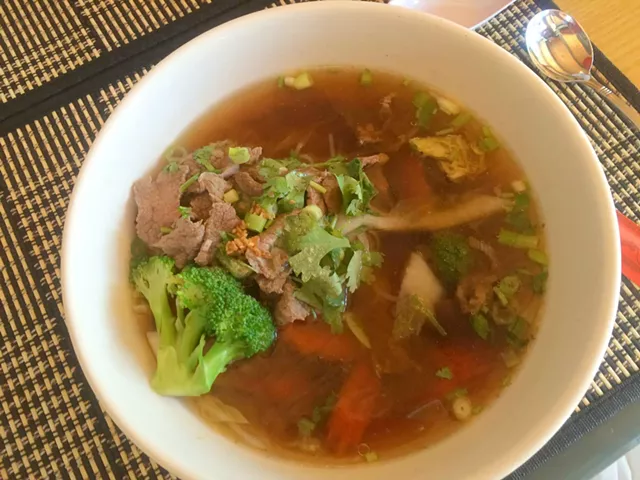 Alice Levitt
Kuy teav, $8.59
Pho lovers will have similar stirrings for the kuy teav, a Thai rice noodle soup. The aroma of bone broth stewed with cinnamon and clove is almost identical. But this rich soup, usually eaten as a breakfast dish, is chock-full of not just noodles and meat (in my case lean beef) but al dente veggies including carrot, broccoli and cabbage. All were cooked admirably, but underseasoned. If each individual element had been as well salted as the soup, the dish would have been a blockbuster.
Alice Levitt
Khao moo dang, $9.50
A pair of entrées is listed under the heading "simple dishes." They're nearly twins except for the protein at each dish's center. I skipped the roasted chicken in favor of red pork. The meat rested on a sizable disc of white rice. Marinated in classic cha siu style, it had plenty of flavor on its own. I had to push aside the gelatinous red sauce on top, which added nothing but goo.
Otherwise, it was a nice little combo of the meat, cucumber slices and egg, along with a soy-based dipping sauce. Not pictured is the small bowl of veggie soup that also came with the dish, but didn't make it to my table until 10 or 15 minutes later.
While the soup didn't overflow with personality, the hot chicken broth filled with lettuce reminded me of a good wonton soup without the wontons. It was a homey, comforting addition to a simple plate that felt like it had been cooked by the Thai mom I never had.
Alice Levitt
Mango sticky rice, $5.50
More often than not, mango sticky rice could be called "unripe mango sticky rice." As far from the tropics as we are here in Vermont, the green, woody mango seems almost unavoidable. So the ideally juicy one I was served at East West seem all the more special. Co-owner Brett Richland said that his wife, Kaewkoet, has a knack for ripening the fruit to perfection.
Served with a drizzle of coconut milk, the accompanying patty of sticky rice was also fluffier than what I'm often served. It was indicative of the care I found throughout the meal. And it tasted just like home. Maybe not mine, but someone's.
Alice Eats is a weekly blog feature devoted to reviewing restaurants where diners can get a meal for two for less than $45. Got a restaurant you'd love to see featured? Send it to alice@sevendaysvt.com.