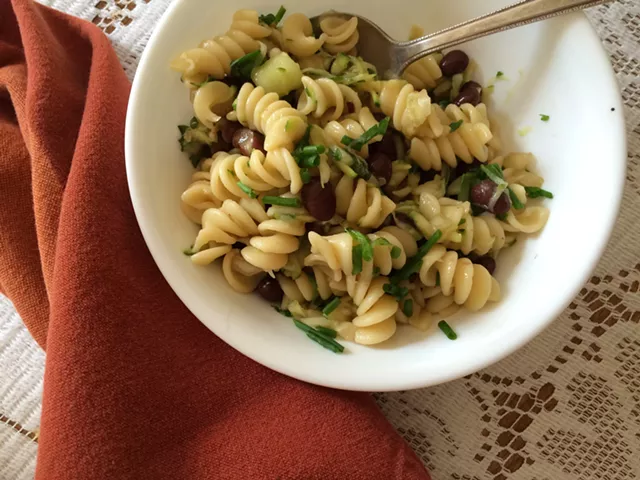 Hannah Palmer Egan
Pasta salad with beans, veggies and herbs
A few weeks ago, I threw this simple pasta salad together for a potluck. I've been craving it ever since — it's a little sweet, nice and salty, and very light, as pasta salads go. It's also vegan, and if you use gluten-free pasta and Bragg's aminos, it's also gluten-free, which means most everyone at the party can eat it.
Last time, I included chopped sugar-snap peas from LePage Farm, but those are mostly done for the season. This week, I substituted shredded summer squash (and cucumbers) from
Pierson Farm's stand
in Bradford, since here we are again in the zucchini heart of summer, and it's time to start adding squash to everything.
Potluck Pasta Salad
Enough for a potluck!
Ingredients:
1 pound dry rotini

1 can black beans, rinsed and drained

2 cloves garlic, minced

1 small Vidalia onion, diced

1 large cucumber, peeled and cut into 3/4-inch pieces

1 12-inch summer squash, washed and shredded

1-2 teaspoons coarse sea salt

2-3 tablespoons tamari or liquid aminos

1 tablespoon toasted sesame oil

1 tablespoon extra-virgin olive oil

1 tablespoon plum vinegar

Juice of half lemon

1 tablespoon fresh grated ginger

2/3 cup mixed fresh basil, mint and chives, loosely chopped

Preparation:
Cook pasta as directed on the package, then bathe in cold water until it cools completely. Drain and reserve.

Place the black beans in a large, non-porous salad bowl. Cut the veggies to size and add each to the beans as you finish.

Sprinkle the bean/veggie mix with salt and tamari and let sit a few minutes, stirring occasionally. Then add the oils, acids and ginger and stir until all are well combined. Let the veggies marinate in the liquid for five to 10 minutes; some liquid will collect at the bottom of the bowl — mix to redistribute it.

Add the chopped herbs, then the pasta and stir until everything is well combined. Let rest a few minutes, then stir again and serve.