This is my first "Alice Eats" after 12 weeks off promoting and recovering from writing my new book,
Vermont: An Explorer's Guide
. I'm not telling you this to gloat or self-promote. I'm merely pointing out that I'm well rested and in a great mood.
Despite that, this is not going to be an upbeat review. I had high hopes for
St. Paul Street Gastrogrub
. I've never had a bad meal at its more upscale South Burlington sister restaurant,
Wooden Spoon Bistro
, so I was confident this meal would naturally follow suit. The menu was appealing. But, with little exception, the pub grub fell flat in execution.
The one positive anomaly was a slate board artfully bedecked with an arc of grilled-to-order crostini. They were primed for a spread of fried cheese. And not just any mozzarella or cheddar curds. Perched on the corner of the slate, a fat wedge of Brie waited to ooze forth ($11). There weren't enough crostini for all the truffle-oil-drizzled cheese, but our pleasantly chatty server had the kitchen fire us up some extra. Cranberry chutney added a smack of sweet-and-sour to the crisp, oozy cheese. My other half enjoyed pairing it with a 14th Star Brewing Co. Maple Breakfast Stout, which gave the fromage a roasty, nutty edge.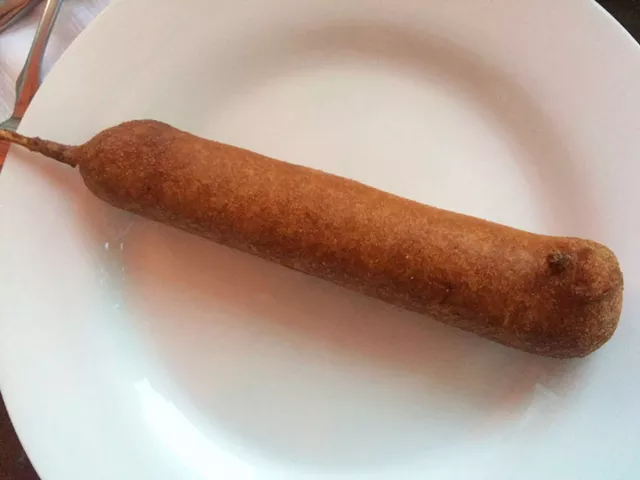 That first bite was promising, but our impression quickly went south. A hand-dipped corn dog ($2) was not only not crisp, but was oddly moist, like an undercooked pancake.
Barbecue pulled-pork sliders ($9) turned out to share more with cha siu pork than 'cue from the American South. Sweet Chinese red pork walks a fine line between sugary love and saccharine overkill. This meat was closer to the flavor of a melted lollipop than a savory sandwich.
Perhaps if it had been stuffed into a fluffy, steamed bao, it wouldn't have been so overpowering. But with nothing but a few shreds of slaw and a couple of slider buns between me and diabetic shock, the sammies were just unpleasant. At least they were accompanied by a pile of crisp fries. I took the $2 upcharge to try the truffle version. The earthy taste was nice enough, if subtle, but the fries were also encumbered by a blizzard of powdery Parmesan.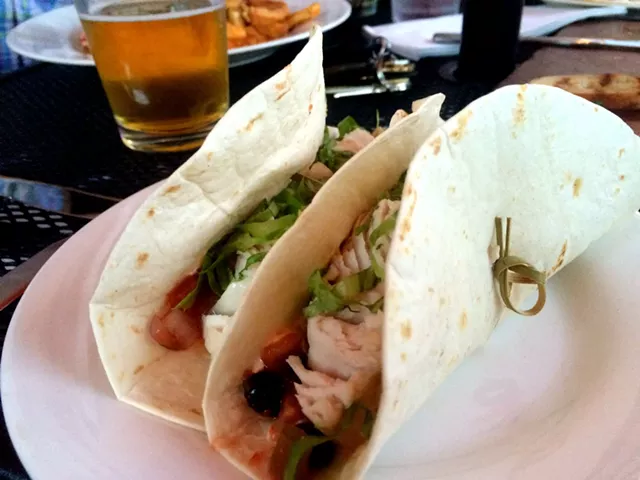 The item I had most looked forward to proved to be the most disappointing. I've enjoyed some stellar tacos at the Wooden Spoon. The mahi ones I was served at Gastrogrub were lukewarm, wet and low on flavor. A hint of chipotle aioli was nice, but black beans, tomato, lettuce shreds and a few pieces of pineapple made for an otherwise uninspiring filling. Even worse was my friend's Buffalo tofu taco — composed of a couple of pieces of suspiciously sweet fried tofu with Buffalo sauce, blue cheese dressing, a few strands of apple slaw and a shower of low-quality shredded cheddar.
Sure, the outdoor seating was a pleasure for people watching, and we were well protected from bugs by a citronella candle. The local brews flowed into glass after glass. But when it came to the Gastrgrub itself, I was mostly reminded that too much of a good thing isn't always wonderful.

Alice Eats is a weekly blog feature devoted to reviewing restaurants where diners can get a meal for two for less than $45. Got a restaurant you'd love to see featured? Send it to alice@sevendaysvt.com.