Stacey Brandt
Berries for sale at Charlotte Berry Farm
We're right in the sweet spot of blueberry season, and I've been craving the little guys ever since summer hit. Sure, it's great to buy a carton at the grocery store or local farmers market for snacking, baking and whatnot, but it gets pricey, and the quality definitely varies. The only way to ensure that you're getting the most blue for your buck is to go PYO (pick your own). Last Saturday, a friend and I took a stretch of Shelburne Road down to
Charlotte Berry Farm
to check out their blueberry stash and sample a couple of the farm's homemade concoctions.
The view on the way to the farm was alone worth the 25-minute drive from downtown Burlington. Storms were imminent and huge white clouds ballooned into fragments of blue sky over the mountains. We were heading for a grayer area, though, and what appeared to be large sheets of rain in the distance. All we could do was hope for the best as we turned off the highway and hopped out of the car in front of a large, wooden farm store.
Charlotte Berry Farm co-owner Melissa Beatty was in the middle of sorting three 10-pound buckets of blueberries and greeted us as we walked in. We chatted a bit and she told us that the picking had begun on July 7 and would continue until the end of August.
"[Blueberries] love the rain, so it's been a good season," Beatty explained. Charlotte Berry Farm also grows raspberries, strawberries and blackberries, but the blueberries seemed like the most popular of the bunch. Beatty turned toward the blueberry field behind her and prompted us to go see the bounty. "It's 15 rows deep. Just go out and pick — there are a lot of blue ones," Beatty said.
Greenhorn berry picker Connor Frey confirmed that the blues were out in full force. Any secret picking techniques? "Handfuls … like a bear," Frey answered, grabbing an invisible fistful of fruit from the air.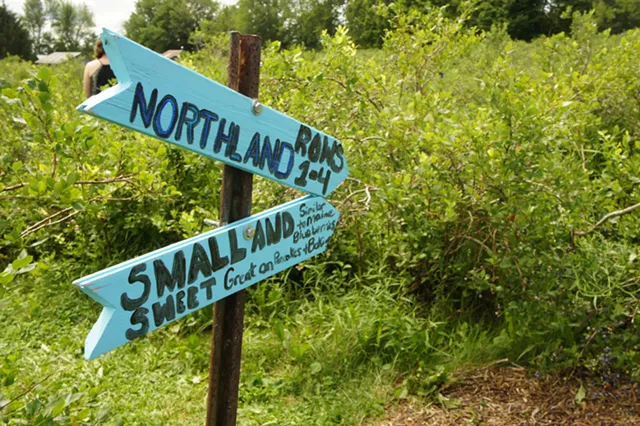 Stacey Brandt
View from the bushes
We took quart-sized cartons out back and stalked the main path. Arrows pointing to the first four rows indicated that there were Northland blueberries, a variety that is small and sweet. Nudging our way into the bushes, we were happy to discover hundreds of dusty blue clusters that practically fell into our hands. They were, in fact, incredibly sweet and edible off the bush. Using the one-for-the-carton-one-for-me method, it took a while to fill my quart.
After a brief bout of fat rain that sent everyone running for cover, we reemerged and sampled some other blueberry varieties. The Blue Jays, which were supposedly plumper than the Northlands, only tasted different, and their pucker-inducing tartness sent us back to where we started. Cartons brimming, we went to weigh our loot and find out what sort of blueberry sweets the farm store had to offer.
I had heard about a certain blueberry creemee before the trip, which may or may not have heavily influenced our decision to come. Of course I had to try it. We found out that the creemee's vanilla base comes from Monument Farms in Weybridge. Then Charlotte Berry Farm incorporates fresh blueberries from the fields out back.
I was extremely pleased with my frozen swirl, which came in a cone and was flecked with bits of violet berry casings. As we relaxed at a sun-worn picnic table outside, I appreciated the flavor. It was unquestionably blueberry, yet muted by the cream that made it just sweet enough.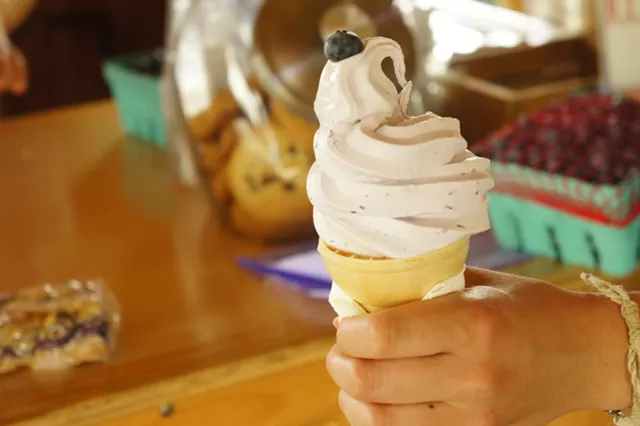 Stacey Brandt
Charlotte Berry Farm's blueberry creemee with a berry on top
The farm store also had variety of blueberry baked goods on display. I settled on a square of blueberry crumb cake that Beatty had baked the night before. Miles sweeter than the ice cream, two layers of buttery crust crumbled off a gooey purple center. It reminded my friend of something her grandmother used to make — probably because grandmothers always get away with copious amounts of sugar.
We left with enough blueberries to last us the next couple weeks, even if we decided to make a pie and three jars of jam, or bathe a small child in blues.
"Ever get sick of blueberries?" my friend asked Beatty as she picked through a bucketful. "Not really," Beatty answered, "I'll freeze them and, come the middle of January, I'll be thinking, 'hmm, blueberries…'"
.