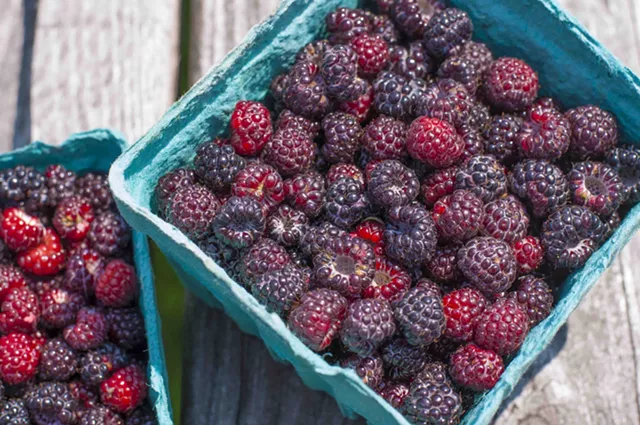 Hannah Palmer Egan
Black raspberries
There is really nothing better on a hot day than firing up the oven to do a little baking. Just kidding. But right now, my backyard is overgrown with ripe black raspberries. Elsewhere, these, blueberries and currants are just coming into season on Vermont's farms.
Since they tend to grow wild, black raspberries are a special treat, often enjoyed solo in one's own yard or local woods. And if you're thinking to yourself,
Hmm, I have black raspberries in my backyard, but not that many —
you'd be surprised. A few prolific bushes can yield quite a harvest. In the last few days, my husband and I have pulled almost four pints from our briar patches, and plenty more are ripening on the vine.
So: baking. I can't abide a hot oven in summer, and I'm not much for cake, but custard — oh, do I love a custard! Last year around this time, I made a
blueberry clafoutis
(which is, as some astute commenter admonished me, not technically a clafoutis, since that should only be made with cherries). This year, I went with this smooth and beautiful, custardy cake. (I'll admit, it's mostly just a custard with a bit of extra flour.) I floated a whole pint of berries on top — and baked it in my toaster oven. Because it's hot and who wants to deal with a real oven?
It's cooling on my counter (OK, OK, I broke the rules and had a little slice warm just now). Later, it'll make a perfect evening dessert — or maybe dinner.
Hannah Palmer Egan
Black raspberry-brown butter custard cake
Black Raspberry-Brown Butter Custard Cake

Serves 6-8
Ingredients:
Butter for the baking dish

4 eggs, yolks and whites separated

3/4 cup plus 1 tablespoon sugar

1/2 cup salted butter, browned and cooled

1 cup flour

1/4 teaspoon salt

2 1/4 cups buttermilk

Dash allspice

2 cups (about 1 pint) fresh black raspberries (or currants, blueberries or raspberries), washed and patted dry

Powdered sugar for garnish

Preparation:
An hour or more before you plan to start cooking, set all ingredients out so they can come to room temperature.

Preheat oven to 325 degrees and grease an 8-inch-square baking pan or six 4-inch soufflé ramekins (for individual servings).

Brown the butter and allow to cool. If you don't have time to wait around, place the butter in a bowl and set the bowl in a cold-water bath to quicken the process.

In a large bowl, blend the egg yolks with 3/4 cup sugar until they turn a creamy canary yellow and visibly begin to thicken.

Add the browned butter. When it's fully incorporated and smooth, combine the flour and salt and sift gradually into the egg yolks.

Pour 1/3 of the buttermilk into the yolk mixture and blend on low, repeating until all the buttermilk is mixed in. Add a few shakes of allspice and blend again.

In a medium bowl, beat the egg whites with 1 tablespoon sugar until they form soft peaks. Gently fold half the whites into the buttermilk mixture, then the other half. Stir until smooth, then pour into the pan or ramekins.

Sprinkle with black raspberries and bake one hour or until the cake is golden brown and set. It should wobble quite a lot in the middle.

Chill or allow to cool completely (at least an hour, or less in the fridge) and garnish with powdered sugar before serving.