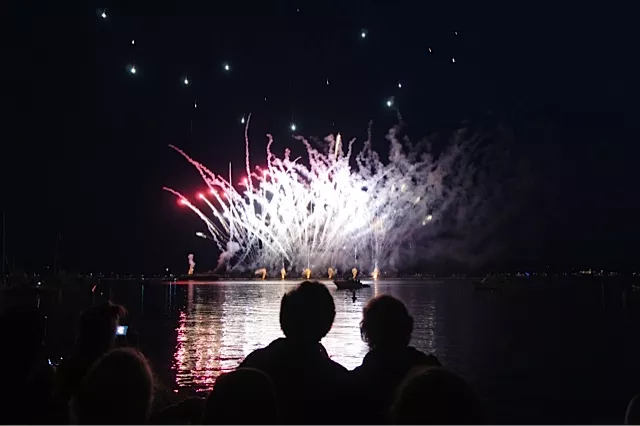 Victoria Cassar
July 3rd fireworks spectacle at Burlington's waterfront
For some, patriotism may boil down to yearly, July 4th festivities. What better way to celebrate our independence than with burgers, beers and explosives (a few of the things that make America great)? This year, I did it a little differently.
Instead of drinking the day away down by the lake, I kicked off the evening of July 3 at a pre-fireworks extravaganza put on by
Hotel Vermont
. It was the first annual Cherry Street BBQ on the terrace between
Juniper
restaurant of Hotel Vermont and
Bleu
of the Courtyard Marriott. I looked forward to some good, American-style grillin' as my friend and I walked toward the waterfront squinting into the five o'clock sun.
Taking a left off the street into the Hotel Vermont courtyard, we discovered a small but festive crowd. Patriotic buntings lined the walkway and the event staff were decked out in American-flag bandannas. In the front section of the patio, red-white-and-blue confetti was sprinkled on art-and-crafts tables, which seemed to have experienced a storm of kids that had since passed over. At this point, most people were lounging by the grill area at picnic tables and murmuring over soft music from a honkey-tonk duo.
It was a mellow, almost sedated scene, but the weather could not have been more perfect: cool and cloudless. My friend and I wanted to wet our palates before chowing down, so we found the beverage stations — the first of which was non-alcoholic. A bright pink liquid in one of the pitchers caught our attention. It was iced watermelon juice, and we couldn't resist our nostalgia for the summertime fruit. Sucking up the chilled nectar through a green-and-white striped straw was like biting into the choicest melon of the season.
I couldn't help but imagine spiked variations and, apparently, neither could the girl in charge of refreshments. "We've been joking about how they make really good cocktail mixtures," said Briona Hall, a banquet server at Hotel Vermont who also let us sample the refreshing Moroccan mint iced tea-limeade before we bee-lined it to the bar.
Set up under a red umbrella in the back corner, a couple bartenders were serving beer, wine and hard cider. Examining the wine list, I was unfamiliar with the Cava Segura Viudas, which was labeled "bubbles." The bartender explained it was a sparkling Spanish wine, not unlike Champagne. "It's like a Prosecco but drier," he explained, handing us samples of the bubbly. We toasted modest pours of the Cava, which was light, crisp and had a slightly floral sweetness.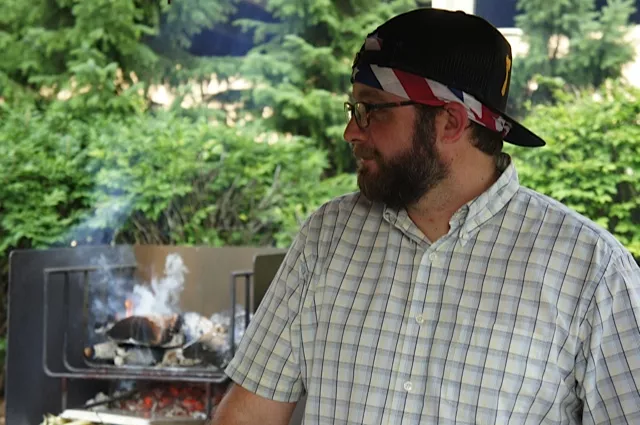 Victoria Cassar
Executive chef Doug Paine sporting festive attire
While our sparkling wine was a departure from my customary Coronas this time of year, the grill menu got back to the basics. Behind the food tent, logs smoked on an open flame and brought back memories of bonfires and backyard barbecues. I met up with the grill master himself, Doug Paine, whose day job is executive chef for Westpoint Hospitality.
Paine told us that the evening had been steady so far, not overwhelming. He said he was looking forward to bigger and better things for next year's Fourth of July fête. "The real vision is to have a Cherry Street block party and collaborate with Bleu and Hen of the Wood," Paine said.
We ordered the grilled veggie sandwich, corn on the cob and fries. In the meantime, Paine showed us the Asado grill blazing in background. He said it's used in a lot of Southwestern and Argentinian cooking. Paine took the hot coals from the wood fire to heat the open grate. A couple chefs were firing hamburgers, hot dogs, vegetables and corn, which looked like it had been struck by lightning, its husk blown back and charred.
When it was just seconds off the heat, Paine dressed my corn Mexican-style, dousing it in lime juice and aioli. He then rolled it in shavings of cheddar cheese and finished it with a sprinkle of chili powder. It was quite the display.
We transported our food to some lounge chairs and devoured it, listening to Great Western, a Burlington-based country-rock trio. First we tackled the corn, diving into rows of plump yellow kernels. The tang of lime and kick of the chili amplified the natural sweetness of the corn. Sharp cheddar stuck to the buttery aioli and made the whole thing an incredibly rich, indulgent snack.
Victoria Cassar
Mexican-style corn on the cob
Left with a clean cob, we tried the sandwich, which was marked with a tiny American flag. The brioche bun totally stole the show. It was a glazed in golden brown, fluffy on the inside, and sweet. The only downside was that its jumbo size overwhelmed the other ingredients. Crisp lettuce and a slice of tomato were fresh toppings to the roasted squash, charred asparagus and grilled red onions. All the roasted ingredients sort of meshed together by the end, and the aioli, which starred for a second time, was hardly noticeable on the underside of the bun. We picked at our side of fries, but agreed they were nothing to write home about.
As we finished up, a young woman in black joined Great Western under the music tent with an acoustic guitar. It was local singer-songwriter Francesca Blanchard, and our ears perked up when she began a jazzed-up version of Otis Redding's "Sittin' on the Dock of the Bay." A smattering of applause followed her first number. We were happy to see some enthused children twirling around.
It was still light when we left at 8. The event was said to stay open until dark, but we were anxious to get to the waterfront and scope out a spot before the fireworks. Later on we met some friends, who had thankfully stashed some cans of the Dirty Mayor (Citizen Cider's ginger-infused brew). Satisfied, we sat back to see blasts of colors sprout from the night sky, and to hear freedom ring.
Look out for many more tasty events on the Hotel Vermont terrace this summer. Coming up on Saturday, July 11, Ethan Wood and Wood Mountain Fish will host a coastal lobster boil. For the full calendar of events, visit Hotel Vermont's
website
.
Seconds of Summer is a weekly blog feature devoted to offbeat seasonal dining experiences.