Hannah Palmer Egan
Strawberries and wood sorrel
In parts of New England, "frappes" and "milkshakes" are more or less synonymous. At Brigham's, the Boston-based ice cream chain that
closed its last parlors in 2013 after 99 years in business
, a frappe was a milkshake, plain and simple. But in many homes, it's a blended, milk-based froth — usually thinner than a milkshake — with some combination of ice, ice cream, fruit or coffee. To me, it's thin enough to sip and has a head of big bubbles.
How does this relate to strawberries? Well. At the
South Burlington farmers market
last weekend, I snapped up a couple pints of strawberries from
Lewis Creek Farm
. Rather than eat them fresh (and immediately) as I usually would, I stuck them in the fridge, pending ambitions of custards and tarts, scones and muffins. Days passed and the strawberries withered from their former glory. Then, this morning — when I woke up to rain for what felt like the 678th day, I recalled the frappe.
I jazzed it up a bit: Because it was breakfast, I threw in an egg white (this also helps with the froth). I also added a bit of
wild sorrel
from my back yard, which adds a tangy, lemony flavor, and a scoop of ice cream because why not. The only problem? I didn't have a straw.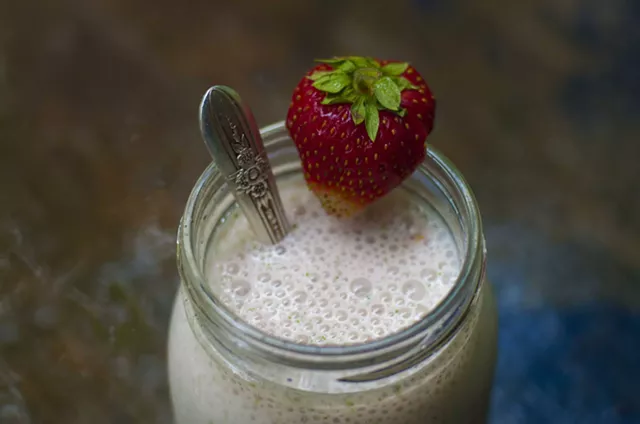 Hannah Palmer Egan
This frappe is an epic milk mustache waiting to happen.
Strawberry-Sorrel Frappe
Makes 2 cups
Ingredients:
1/2 cup sorrel leaves, washed

1 handful strawberries, washed, crowned and halved

1 cup milk

1 egg white

2 tablespoons sugar

1 scoop ice cream
Preparation:
Place all ingredients in a blender and BLEND, BABY, BLEND.