Hannah Palmer Egan
Rhubarb ready for the stove
When I was little, my grandmother would make this tart rhubarb (no strawberries) compote and give it to me as a treat with ice cream. I believe she canned it, and she'd leave the excess in a bowl in the fridge. I would sneak in there, standing in the fridge with the door open (the light never worked), and suck down spoons full of the stuff.
I had kind of forgotten about it until recently, but today I made something similar, with some stems I grabbed from
River Berry Farm
in Fairfax. Guess what? It's
super easy
— takes less than 15 minutes to make, from start to finish...
I ate it for lunch, parfait style, and it was as lovely as I remember it — quite tart and a little sweet, and perfect with super-smooth vanilla bean ice cream from
Strafford Organic Creamery
and a few strawberries from
Adam's Berry Farm
.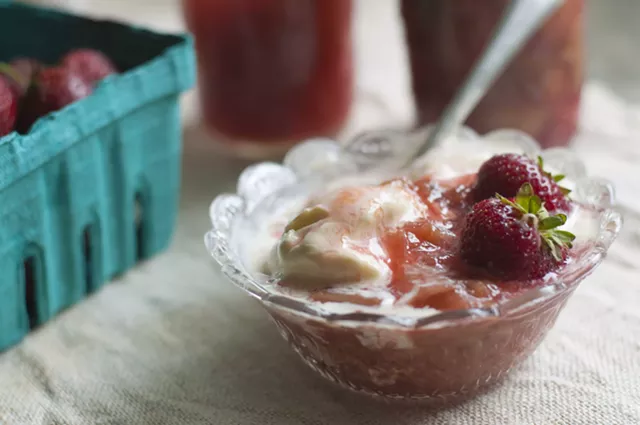 Hannah Palmer Egan
Tart meets sweet with rhubarb and vanilla
Spiced Rhubarb Compote
Makes about 2 cups
Ingredients:
4 cups rhubarb, cut to 1-inch pieces

3/4 cup granulated sugar

1/2 teaspoon whole black peppercorns

1 cinnamon stick

2-3 allspice berries

1/4 cup ice cider or apple juice

2 generous splashes white balsamic or plum vinegar
Preparation:
Place the rhubarb and sugar in a medium saucepan. Mix thoroughly and let sit a few minutes until the rhubarb begins to release some of its water.

Add the remaining ingredients, stir well and heat over medium-low heat. Cook uncovered for 5 minutes, stirring now and then, until the rhubarb begins to puff up but not disintegrate.

Remove the solids and reserve in a jar. Simmer the remaining liquid another 5-10 minutes until it thickens enough to coat a spoon; place this in another jar, cover and throw into a cold water bath so it cools quickly (mostly because you'll want to eat it right away!)

Place a quarter cup (more if you like) of the warm rhubarb mixture in the bottom of a bowl; top with a scoop or two of vanilla ice cream, and drizzle the cool, syrupy liquid over top.

Garnish with fresh strawberries, if you've got them.