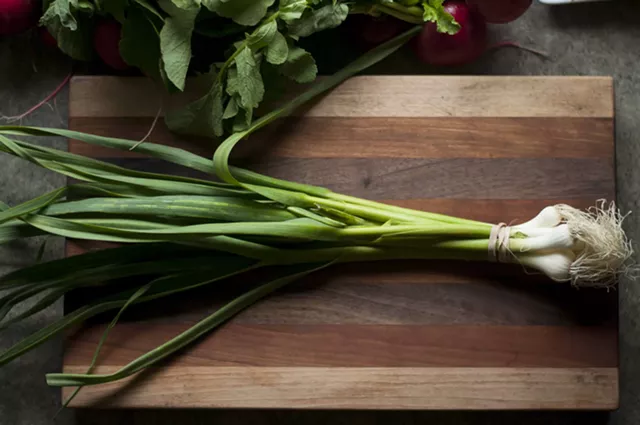 Hannah Palmer Egan
Green garlic is much milder than mature garlic.
Green garlic — usually sold when farmers thin their garlic patches to make room for growing bulbs — is a somewhat rare early-summer treat. Milder than its full-grown counterpart, green garlic packs a nice punch without overwhelming everything else on the plate.
At
Winooski Farmers Market
on Sunday, I found gorgeous green garlic at Monkton's
Last Resort Farm
stand, and some bodacious radishes from
Lalumiere Farm
, in Ferrisburgh. Paired with radish sticks, the garlic and greens made for a beautiful (and light) veggies-and-dip snack.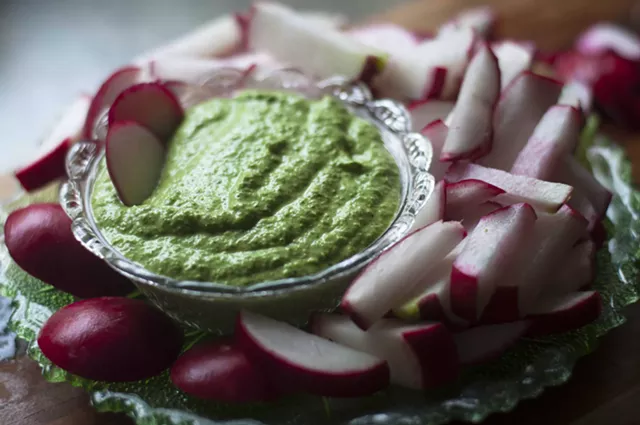 Hannah Palmer Egan
Radish sticks with green-garlic-and-radish-greens pesto: light and crisp for a hot summer's day.

Green Garlic and Radish Crudité
Makes about 1 1/2 cups
Ingredients:
4-5 bulbs green garlic, trimmed of roots

1 bunch radish greens (from a bunch of 5 large radishes or 10-ish smaller radishes)

Juice of 1 lemon

3/4 cup pignoli nuts

1/4 cup extra-virgin olive oil

1 1/2 tablespoons coconut oil

3-4 tablespoons chevre

1 teaspoon salt, to taste
Preparation:
Wash the greens and pick over for yellowed or wilted leaves. Cut the greens and green garlic into 3-inch chunks.

Place greens/garlic in food processor. Add lemon and process until the leaves are well pulverized. Add nuts, oils and cheese and blend until smooth. Add 1/2 a teaspoon salt, blend again and taste, adding another 1/2 teaspoon if necessary.

Slice radish bulbs into sticks or spears and serve as a crudité. If that's too French for you, the pesto also works nicely over pasta or on bread.