Stacey Brandt
Clothesline of order slips at the Burger Night pick-up table
"When the weather's nice like this, it gets a little intense!" spirited farmhand Bekah Gordon told me. She was quite unfazed by the line of least 50 that filed down the dirt driveway at
Bread & Butter Farm
in Shelburne. It was Friday at B&B Farm, and in the summer that means Burger Night.
At about 5:15, my pal and I pulled into an overgrown, grassy parking lot. A woman wearing an incredibly large sunhat seemed to be the harbinger of the warm weather we'd all been waiting for. We strolled behind a group of families toward a gleaming silo under a cloudless sky and a slight haze. The smell of freshly cut grass and a tinge of manure reminded us of cow country. A sweet twang of country music drifted out from behind the hill. The night was young, but we did not yet realize
how
young.
The line to order wasn't too long, but it soon extended well behind us. Looking at the paper menu, I felt it would be disrespectful to attend burger-themed festivities and not to honor the main dish. When we reached the front of the line, a smiling girl (everyone working there had infectiously good moods) noted our orders: We each took the $14.95 dinner plate, which included a burger and two sides that change weekly.
My friend went the carnivorous route with the grass-fed cheeseburger, and I ordered the black bean cheeseburger supplied by
Vermont Bean Crafters
. "Would you like your order texted to you when it's done?" the girl asked. I liked the idea and approved, but thought it sort of took away from the whole country livin' charm of the place.
I completely understood their cellular pick-up solution when we walked over to the picnic area: A maze of blankets and strollers and baskets accompanied countless families. They were chatting and munching and half-listening to the music coming from a little hut at the bottom of the hill.
The musical guest was a trio led by Brett Hughes, a veteran performer and Vermont honky-tonk royalty. (He also formerly shared the stage with one of my bosses in a new-wave band called The Decentz.) Seeing Hughes outside of his Tuesday night gig at
Radio Bean
seemed a bit bizarre. Here he was, not strumming over a host of jubilant, flailing college kids, but quietly serenading a flock of tiny people swinging their arms with the help of enthusiastic parents.
Stacey Brandt
Brett Hughes and his little friend
. Attempting to blend in with the congregation of young families, my friend and I realized that we had not received the BYOB memo — that is, Bring Your Own Baby. Tots of all shapes and sizes were everywhere, doddling, yipping or packaged in woven bjorns. This was a little much for me. I had been prepared for a good burger and some mellow tunes, but not for full-blown babytopia.
I did, however, get a real kick out of the sardonic commentary of new and soon-to-be parents coping with all the little blessings running around. During the puppet portion of the children's music set performed by Bread & Butter Farm co-founder, Chris Dorman, a particularly astute young father observed, "I'm not sure I have the science to refute it, but I don't think that's a real talking caterpillar."
After about 25 minutes, a text message informed me that our orders were ready. Our paper plates were filled to capacity with a burger, a mixed-green salad with carrots and pickled onions, and pesto pasta salad (whose sun-dried tomatoes and Parmesan cheese had been sadly forgotten). I perked up at the sight of the condiment table: Containers of homemade sauerkraut, dill pickles and grilled onions, as promised by the menu, accompanied the ketchup, mustard and something resembling Russian dressing labeled "Pete's Secret Sauce." For the salads, there were two pitchers of homemade dressings: green goddess and maple balsamic vinaigrette. Of course I tried everything.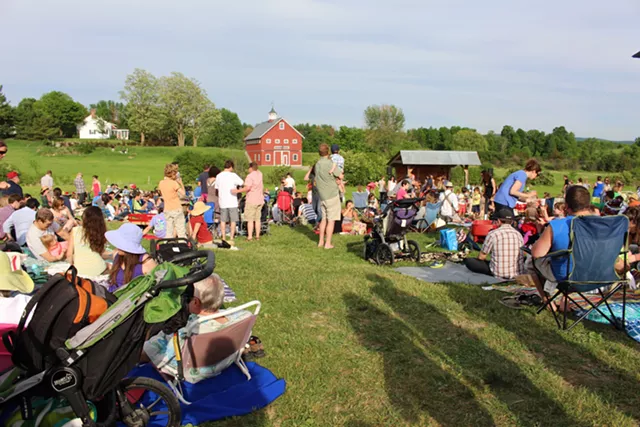 Stacey Brandt
A full house at Burger Night
We first bit into the burgers. The beef patty was tender and juicy, thin but cooked to a medium pink. The black bean patty had a smooth, creamy texture and pleasant herbal notes of rosemary and garlic. White buns made at the farm bakery were soft, yet relatively tasteless.
Digging into the sides, my friend and I thought the pesto pasta could've used more dressing. Luckily, some of the sweet and tangy green goddess escaped my salad and drenched the bow ties, giving them more of the bite I was looking for. The minced sauerkraut was a winner, with just the right amount of brininess and acidity, assertive but not overpowering. I slathered some of Pete's Special Sauce atop my burger and then added more of the tasty, cross-bred condiment, which was probably a blend of ketchup and mayo.
At about 6:30, just two hours into Burger Night, Dorman announced that they had sold out of food. Fortunately, the dessert stand remained open, and we had the privilege of experiencing one of B&B's famous ice cream sandwiches. We swooned over the decadent, fresh-baked chocolate chip cookies, which were only improved by an incredibly rich vanilla ice cream center.
As a person in my early twenties, I left feeling a bit overwhelmed — so much for a laid-back evening. There had been some other college-age kids, but they seemed equally distraught. Even so, $15 for a filling dinner and a concert is hardly worth complaining about. I just think I need another 15 years to fully appreciate the family-friendly community B&B Farm has worked hard to create.
Burger Night is every Friday through September at Bread and Butter Farm from 4:30 to 7:30 p.m. First come, first served for parking and for food. Burger Night musical guests are listed
online
. Alcohol is not available for purchase, but the amusement continues nonetheless.
Seconds of Summer is a weekly blog feature devoted to offbeat seasonal dining experiences.