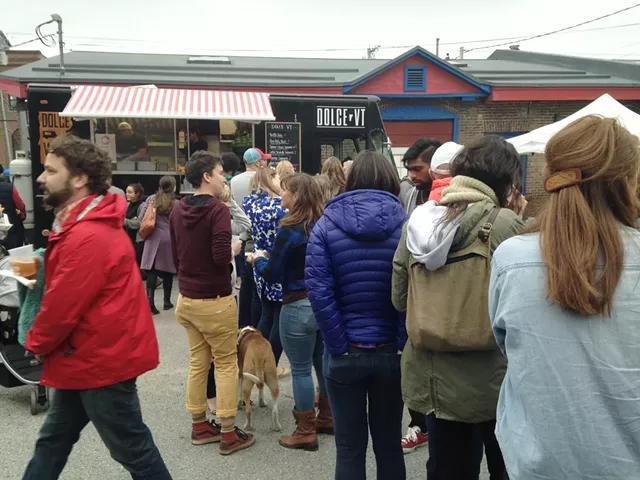 Stacey Brandt
Line at the Dolce VT food truck
Last Friday I headed down to the
ArtsRiot Truck Stop
with a couple of friends for my inaugural "Seconds of Summer" blog post — how exciting! However, we were reminded of Vermont's proximity to the Arctic Circle as a cold front blustered into my food-truck fairy tale and threatened to put a damper on things.
Nonetheless, turning the corner to the parking lot behind ArtsRiot, we couldn't help but smile at the scene: a profusion of blue smoke hung in the air and intermingled with a standing crowd much larger than we had expected. Finding everyone back there, it almost felt like a surprise party or a pop-up barbecue or a secret, truck-stop soirée.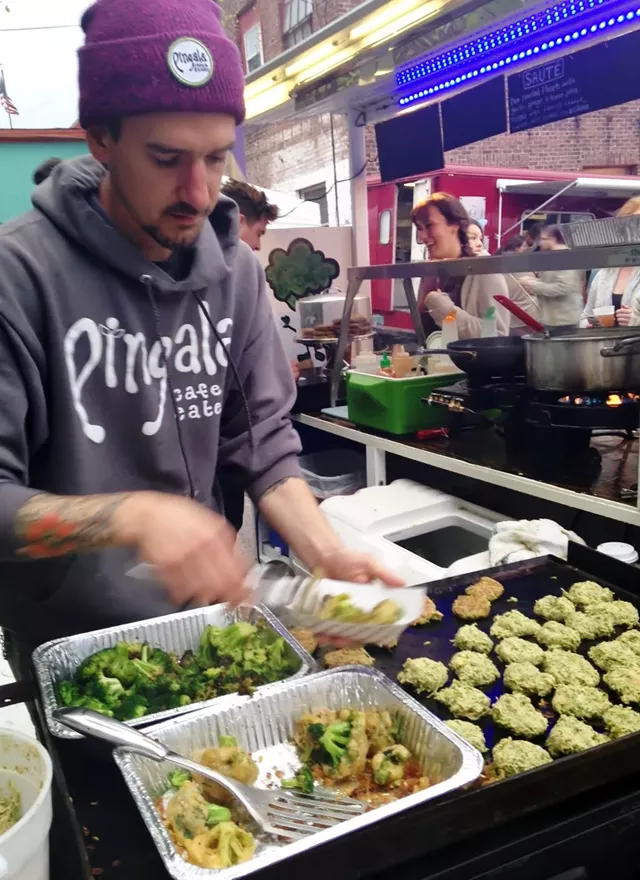 Stacey Brandt
Trevor Sullivan, owner of Pingala Café, making broccoli-potato latkes
So we dove in, swimming against the currents of lines stretching back from the trucks' order windows and dodging huddles of sweatshirt-clad twentysomethings nursing amber beers. Leashed dogs compulsively scoured the pavement, crazed by the overabundance of meat scraps.
Within a minute, three diners passed us bearing paper plates laden with monster sandwiches, and I trailed behind to find out who had created them. Turns out they were smoked pork BBQ sandwiches from an old favorite,
Southern Smoke
. I vowed to indulge in one of these succulent, lip-smacking standards a little later.
First, I traded a five-dollar bill for 16 ounces of Fiddlehead IPA, then cruised around the venue with friends in tow to assess the truck options. I recognized a few veterans —
Taco Truck All Stars
,
Burger Barn
,
Dolce VT
— but was more curious about the newcomers. How were they handling the masses?
I let my sweet tooth get the best of me and guided my crew to one of the new guys, or rather, the new girl:
Jam Bakery
. Not quite large enough for truck status, JB was operating out of an old-school, multi-functional hippie van. "It's a Ford Econoline," said founder, baker and saleswoman Shiel Worcester with a smile. "It had a home in Georgia when I found it on Craigslist."
Worcester said she had been baking all week for this Friday evening. "It's a whirlwind," she said handing me a paper bag with the goods inside. Following Worcester's recommendations, I selected JB's Cornflake & Marshmallow cookie and the Chocolate Chip sandwich cookie. The former was buttery and brittle and almost too sweet for me and my friends. The latter presented a different dilemma: The cookies were delicious — giant, cakey things loaded with chocolate chips— but it seemed downright sinful to eat two of them sandwich-style with an oh-so-sugary maple and peanut butter filling.
Now with a beer buzz and sugar high, I looked for a way to justify my initial caloric intake and found it at the
Pingala
Broccoli Cart which also happened to be a Truck Stop first-timer. Also not a truck, this two-man operation was serving up $5 broc concoctions from their stand and grill station that had people coming back for seconds.
Stepping up to the register and almost tripping on a stray toddler, I ordered the potato-broccoli latkes — a healthier take on the Chanukah trademark, which is generally fried and dripping in oil. Pingala grilled their latkes, which gave them a crispy exterior and a soft, steamy center. A squiggle of cashew sour cream on top and a dollop of wild-leek pesto on the side were surprisingly delectable pairings and had us licking the carton clean. As my friend pointed out, the only thing wrong was that there wasn't more.
I went to the side of the cart to meet whoever was manning the grill. His name was Trevor Sullivan (pictured above) and he was busy lining up balls of the latke mixture on the grill with an ice cream scoop. I wanted to know: Why broccoli? Sullivan, who is the owner of Pingala Café, said it's the new cool food. "Broccoli is sexy," Sullivan explained, his lips forming a half-smile in an otherwise stoic demeanor.
Whether or not the vegetable is truly "in," the Broccoli Cart definitely attracted a fan base. I later overheard a young woman emphatically advocating the batter-dipped broccoli pakora: "I swear to you, it the best thing I've ever put in my mouth!" she said.
Just to make sure we didn't go home hungry, my friend and I split one of Southern Smoke's aforementioned sandwiches. Perfectly salted, smoked and sauced, a generous helping of pork pieces was piled over a layer of pickles and Carolina slaw. The sandwich was remarkably balanced in flavor, and it stayed together surprisingly well when I lifted it up for a bite.
It was a great last taste of the Truck Stop, and we were full of good food and good vibes. The curtain of clouds even lifted just enough for us to catch the end of a tremendous sunset on our way out.
The ArtsRiot Truck Stop is every Friday through October 9, from 5 to 10 p.m., at 400 Pine Street, rain or shine — or inexplicable cold.
Seconds of Summer is a weekly blog feature devoted to offbeat seasonal dining experiences.