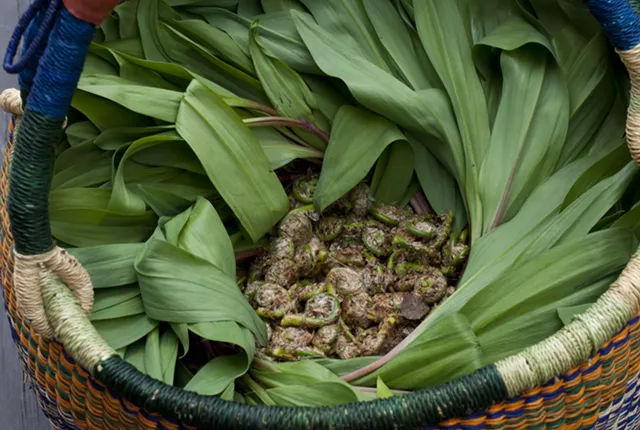 Hannah Palmer Egan
Ramps, glorious ramps!
This spring I've been on quite a wild-foods kick — last week, I threw together a nice little weed salad, then went a bit crazy and started a dandelion wine. Also last weekend, I set out into the woods with an old friend and spent the afternoon picking fiddleheads and digging ramps in a
super-special secret spot
near my mother's house.
Today, I processed some of those wild leeks into a zingy little pesto and had it with gnocchi and an easy sausage-and-greens sauté for lunch. This pesto is strong stuff — just a little goes a long way — and it's a good idea to serve it with something mellow, which is why I went with the gnocchi and added the beans and sausage. But it would also be nice over polenta...
Hannah Palmer Egan
Gnocchi with ramps, sausage, beans and wild greens. What could be better for a springy meal al fresco?
Wild Spring Gnocchi with Ramp Pesto
Serves two as an entrée or four as a smaller course
Ingredients:
1 pound gnocchi
1 pound spicy Italian sausage
1 tablespoon extra-virgin olive oil
1/2 cup ramp bulbs, trimmed of roots and washed
1 small bunch dandelion greens, picked over and washed and cut into 3-inch pieces
1/2 can cannellini or lima beans
Ramp pesto*
Fresh ramps and Parmesan/pecorino/hard alpine cheese, for garnish
*recipe below
Preparation:
Salt and set water to boil for gnocchi. Cook pasta as directed, drain and toss in a bit of olive oil to keep from sticking together.

In a large, covered skillet, brown the sausage in its casing. When it's cooked through, set aside, reserving any liquid.

Rinse the pan and heat the olive oil over medium heat. Add the ramp bulbs and dandelion greens and sauté 2-3 minutes, until the greens are well-wilted but still vibrant green.

Slice the sausage into discs on the bias and add to the ramp/dandelion sauté; add the beans and any reserved liquid from when you first cooked the sausage.

Cook for 5-7 minutes until the greens lose their bitterness and any liquid evaporates.

Smear a 2-3 tablespoons of pesto on a plate; arrange a portion of gnocchi on top of the pesto, then add a similar amount of the sausage/bean/greens mixture. Place an uncooked ramp or two on the plate for garnish (these add a nice bit of crisp green to the dish as well), grate some cheese over all, and enjoy!
Ramp Pesto
Makes 3-4 cups

Ingredients
:
2-3 cups ramps (leaves only), cut into 3-4 inch pieces

1 cup walnuts, pine nuts or cashews

1 cup extra-virgin olive oil

1 cup Parmesan, pecorino Romano or hard alpine cheese

1 teaspoon red pepper flakes

Juice of 1/4 lemon

1/4-1/2 cup water or cream

Salt and pepper, to taste
Preparation:
Place ramp leaves in the food processor and pulse to break them up. Add nuts, oil, cheese and red pepper and blend until smooth. Add lemon and blend until thoroughly combined. Add a generous splash of water (or cream, for a richer sauce) and blend to combine. Continue adding water/cream, a little at a time, until the pesto reaches your desired consistency. I like it thick enough so I can spread it on a plate and it stays where I spread it; others prefer a thinner blend. Add salt and pepper, to taste.
Storage tip:
This recipe makes enough pesto to serve a large party in generous portions. If you're just cooking for two or four or six, you'll have lots left over. Thankfully, it freezes really well! Spoon the leftover sauce into ice cube molds and cover with wax paper. Wrap tightly with plastic wrap, place in a freezer bag, and suck out all the air. Then freeze. When you want to use it, you can easily dislodge the frozen sauce in single-serving units. Thaw and serve, long after the ramps have performed their annual disappearing act.