I'm lucky enough to eat my way across Vermont for a living. When Vermont Restaurant Week comes, I'm pickier than most when it comes to choosing a menu. Ultimately, I look for a meal that I won't be able to get any other time. My first was exactly that: a three-course Lebanese prix-fixe served in a humble Colchester pizzeria.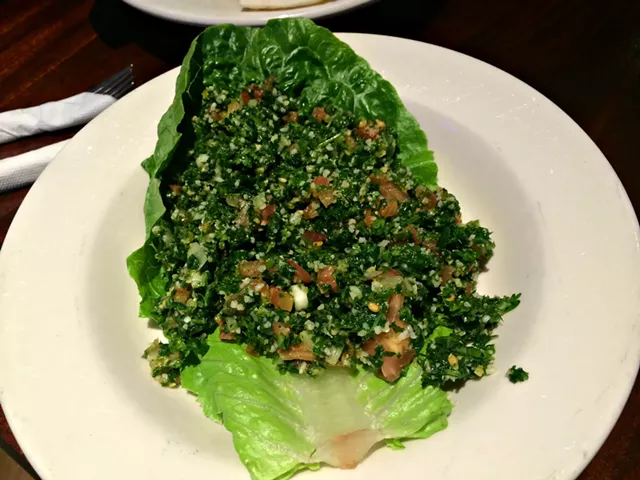 Alice Levitt
Tabbouleh salad
Rami Faour and the two brothers of Three Brothers Pizzeria grew up eating their mother's native Lebanese cuisine. But she was always convinced they'd never be able to sell it. This year, he decided to show her she might be wrong.
We ordered at the counter, looking down the roster of dishes available to us for $20. Most were Lebanese, though regular-menu hits including chicken Caesar salad and cannoli were also on offer.
We started with tabbouleh, served in an arching lettuce leaf. The salad was as herbaceous and sunny with lemon as it should be.
Alice Levitt
Mama Faour's hummus
Recipes were all based on Faour's mother's, including her tahini-fortified hummus. For good measure, toasted pignoli and olive oil filled the center of the hefty plate. The pita served alongside wasn't homemade — indeed, it was the same slightly rigid stuff you're likely to find at any Lebanese fast-food joint — but perhaps if it became a regular dish at the restaurant, the pizza ovens could serve a dual purpose, turning it out fresh.
Alice Levitt
Shawarma wrap
I am all but allergic to gyros not carved from a turning kebab. Usually, the same goes for shawarma. But what Faour's seasoned, shaved beef lacked in crisped edges, it made up for in spot-on flavor. The thin steak synthesized seamlessly with grilled tomatoes and onions, parsley and crunchy pink pickled turnips in a light layer of tahini.
Both that and the ground beef kefta rolls, served similarly in a pita, but with a gloppy tzatziki, came alongside battered fries that were hard not to munch to completion.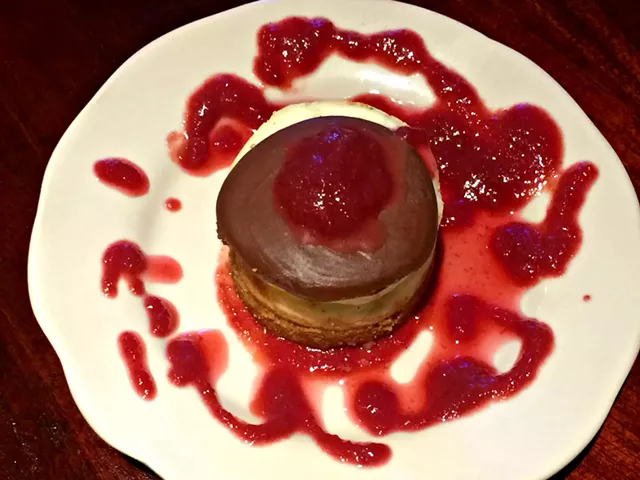 Alice Levitt
Cherry cheesecake
I was grateful for the small portions of dessert. A tiny round of cheesecake was just big enough to enjoy a few bites of graham-cracker crust and chocolate ganache without really noticing the slightly tough center.
Alice Levitt
Homemade baklava
Baklava is a polarizing mistress. I prefer mine with less syrup, allowing me to enjoy the crunch of the many layers of phyllo. This was such a pastry — slightly dry, but rich in pistachio and honey flavor.
As I was leaving, Faour told me that his first day with the Restaurant Week menu seemed to be a success. Let's all say a little prayer to the East that he keeps the dishes on the menu. Chittenden County could use a major injection of Asia minor.