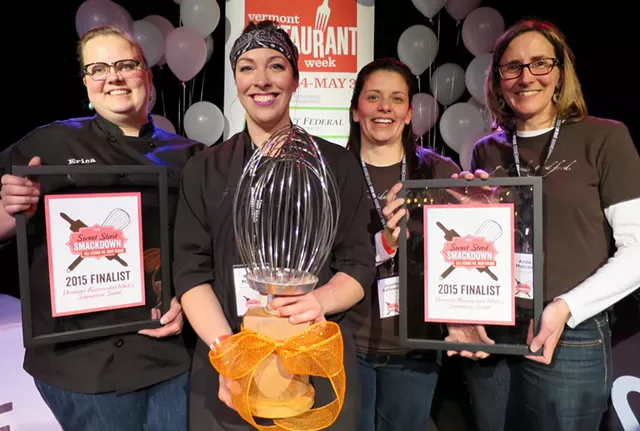 Matthew Thorsen
Second runner-up Erica Anderson (New Moon Café, Burlington), winner Nicole Maddox (Waterworks Food + Drink, Winooski), first runner-up Juanita Galloway & Anne Marcoe (Good Comida, Shelburne)
Good news first: It's the first day of Vermont Restaurant Week! The event kicks off today and runs until Sunday, May 3. Last night, a sold-out crowd of 400 attendees and a panel of expert judges selected the event's Signature Sweet.
Now the bad news: The fourth Sweet Start Smackdown was the final one. Next year,
Seven Days
will still host a culinary competition, but with a new theme.
For the last Sweet Start, the Restaurant Week team invited back five all-star contestants who placed at least in the top three in a previous year. The other five challengers were new to the competition. Newbie My Little Cupcake replaced all-star Little Sweets at Hen of the Wood just two days before the competition, so new contestants ended up outnumbering all-star teams by one.
All 10 "cheftestants" were handpicked by the
Seven Days
food team, but voting was up to the guests — each received three gold tokens with which to cast his or her votes — and the judges.
Judges: Jean-Louis Gerin, Courtney Contos, Ed Behr
Audience votes counted for 50 percent of each pastry chef's final score. With a $5 donation to Restaurant Week beneficiary Vermont Foodbank, guests could buy three more tokens to bolster votes for their favorites. The other half of the voting power belonged to the judges: returning judge Jean-Louis Gerin, who is the New England Culinary Institute chef and COO ; and new judges Courtney Contos, who is chef, teacher and owner of Chef Contos Kitchen & Store; and
Art of Eating
editor and publisher Ed Behr.
Matthew Thorsen
"Colombian Cloud Cake" by Juanita Galloway & Anne Marcoe of Good Comida in Shelburne
Steps away from the registration table where guests picked up their tokens, Juanita Galloway and Anne Marcoe served up tiny tastings of their
Good Comida
cheesecake. Based on Galloway's Colombian mother's Spanish-language recipe, the buttery crusted dessert, topped in intense raspberry sauce, earned its name: Colombian Cloud Cake.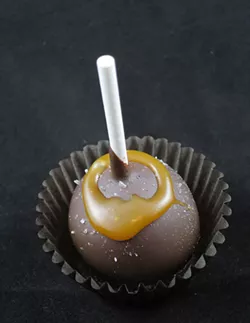 Matthew Thorsen
"Salted Caramel Cake Pop" by Michelle Ogle & Stephanie Lacayo of My Little Cupcake in Burlington
Last-minute entrants Michelle Ogle and Stephanie Lacayo veered away from their classic
My Little Cupcake
s with unctuous little chocolate-cake pops topped with sea salt and homemade caramel.
Matthew Thorsen
"Uno, Dos, Tres Leches Cake" by John Belding of Birchgrove Baking in Montpelier
Right next door,
Birchgrove Baking
co-owner John Belding had the perfect antidote to the heavy pops. Amid a display of aromatic succulent plants, his Uno, Dos, Tres Leches Cake was an ethereal bite, covered in refreshing chunks of mango and passionfruit.
Matthew Thorsen
"Ménage a Trois" by Lisa Curtis of Sweet Simone's in Richmond
Sweet Simone's
Lisa Curtis almost took home the trophy last year, and she was determined to do so last night with a Ménage à Trois. Her dessert comprised three preparations of laminated dough, all served kebab-style. The progression began with a bite rolled in cinnamon sugar and ended with a savory herb-flavored pastry.
Matthew Thorsen
"Local, Pig to Pint" by Brandy Allen of Essex Culinary Resort & Spa in Essex
Brandy Allen of the
Essex Culinary Resort & Spa
piled on the local ingredients with a chocolate-porter cake filled with salted-caramel goat-cheese cream. A thin bark of pink peppercorn and bacon rose from the top of the bite-sized layer cake.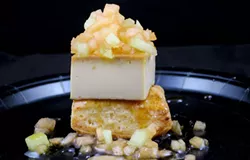 Matthew Thorsen
"Javaloupe" by Andrew Machanic of The Swingin' Pinwheel in Burlington
The evening's most unlikely pairing came from Andrew Machanic of the
Swingin' Pinwheel.
His Javaloupe centered on a jiggly coffee flan atop caramel-covered puff pastry. Uncommon, yes, but the real surprise was the chopped melon salsa on top.
Matthew Thorsen
Winner: "Flourless German Chocolate Cake" by Nicole Maddox of Waterworks Food + Drink in Winooski
Waterworks Food + Drink
's pastry chef, Nicole Maddox, represented the restaurant with a popular sweet from her regular menu. The flourless German chocolate cake layered melt-in-your mouth salted-truffle ganache with an equally satiny coconut-pecan custard and rum-infused dulce de leche.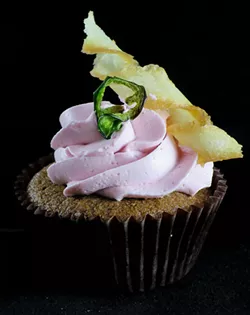 Matthew Thorsen
"Berry Vermont" by Erica Anderson of New Moon Café in Burlington
New Moon Café
's Erica Anderson introduced guests to the tart seaberry, the centerpiece of her Berry Vermont cupcake. The berry was hidden in chocolate ganache inside a chocolate cupcake, the latter crowned with a sliver of dried jalapeño and buttercream made from Vermont Pub & Brewery's raspberry-enhanced Forbidden Fruit beer.
Matthew Thorsen
"Chocolate Hazelnut Torte" by Evelyn Martin of Evelyne's on Center in St. Albans
Evelyn Martin represented her St. Albans bakery,
Evelyne's on Center,
with a classic chocolate-hazelnut torte that the judges loved for its excellent execution of layers of hazelnut dacquoise and French buttercream.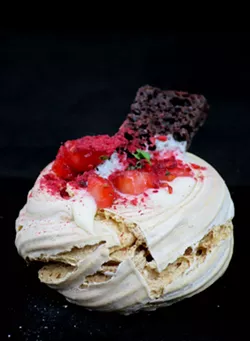 Matthew Thorsen
"A Walk in the Woods" by Ryan & Jessica Bunce of Barrio Bakery in Burlington
The only previous winners, Jessica and Ryan Bunce of
Barrio Bakery
, went for the gusto with their aptly titled A Walk in the Woods. The petite pavlova combined chocolate-mint meringue with evocative spruce-tip-flavored pastry cream, slivers of chocolate cake, freeze-dried raspberries and fresh strawberries and mint.
Good Comida, Waterworks and New Moon were called up to the stage as the top three competitors, with New Moon being the only returning finalist to repeat the feat. After some deliberation, the judges agreed with the cheering mass of attendees: Waterworks' German chocolate cake was named the Signature Sweet of Restaurant Week 2015.
Matthew Thorsen
2015 Sweet Start Smackdown winner Nicole Maddox of Waterworks Food + Drink in Winooski with Kylie Webster of Vermont Federal Credit Union
Kylie Webster, a representative from presenting sponsor Vermont Federal Credit Union, presented Maddox with her whisk-shaped trophy crafted by Burlington's Pleasant Ranch Studios.
Thanks to the sponsors, Higher Ground and the chefs, last night left us full of sweet emotion. We may have filled up on sugar, but we'll make room for 10 days of prix-fixe menus.