Hannah Palmer Egan
Baby greens are in!
Finally, some warmer weather, and all I want to eat is greens. At recent markets, farmers have been showing up with truckloads of greenhouse-fresh spring leaves. The
Burlington Farmers Market
is now on hiatus until May 9, but plenty of local roughage is available elsewhere — yesterday I left the co-op with a colorful bunch of mixed kale and a bag of gorgeous baby collards from Miskell's Premium Organics.
This morning, I mixed the collards into a bulgur salad with some leftover root vegetables — turnips and carrots from
Jericho Settlers Farm
, and beets from
Pete's Greens
— and a couple stray apples. If you're able to plan ahead, it's best to roast the veggies in the evening and assemble the salad the next day, as everything needs to be cool when you mix it together — kind of like tabbouleh.
Seasoned with olive oil, tarragon, lemon and miso, it's a healthy little dish that's best served cold or at room temp, and feels springy but substantial. It's also vegan and keeps well in the fridge for a few days, so it's great for sharing — perhaps at a potluck, barbecue or dinner party.
And, the recipe is easily modified: Gluten-intolerant? Use quinoa instead of bulgur. Nut allergy? Skip them.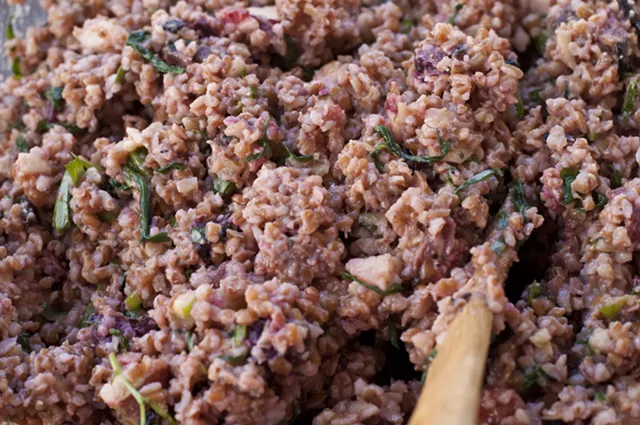 Hannah Palmer Egan
Served cool, this grains-and-veg dish is great as a side plate or salad.
Bulgur With Roots and Greens
Yields about 8 cups — enough for a potluck!
Ingredients
For the vegetables:
4 cups mixed root vegetables, diced to half-inch pieces

1 apple, diced to half-inch pieces

2 cloves garlic, minced

1 shallot, minced

1 tablespoon apple cider vinegar

2 tablespoons extra-virgin olive oil

1 teaspoon salt

1/2 teaspoon pepper

Dash each of cumin, coriander, allspice and cinnamon

For the grains:
2 cups bulgur

4 cups water

1 generous bunch bitter baby greens, chopped

Juice of 2 lemons

3 tablespoons extra-virgin olive oil

2 tablespoons miso, dissolved into 1/3 cup water

1 cup nuts, chopped

1 apple, diced to quarter-inch pieces

1 bunch fresh tarragon, stemmed and chopped

Preparation
Preheat oven to 450 degrees and place a rack in the center.

Cut the roots and apple to size and place in a large bowl. Add the cider vinegar, olive oil, salt and spices and toss until everything is well coated.

On a large, shallow baking sheet, roast for one hour, stirring occasionally, until the vegetables are soft and dry. Allow to cool.

Boil bulgur and water in a medium saucepan until the water is absorbed and the bulgur is soft, 10-15 minutes.

Chop the baby greens, additional apple and tarragon and reserve.

When the bulgur is cooked, stir the baby greens into the grains, cover and allow to cool. If strapped for time, spread the bulgur/greens onto a cookie sheet and refrigerate.

Place the cooled bulgur in a large bowl. Squeeze the lemons over the grains, douse with the olive oil and add the dissolved miso. Add the nuts, additional apple, vegetables and tarragon and mix thoroughly.

Refrigerate and let rest at least an hour for the flavors to blend. Serve cool or at room temperature.