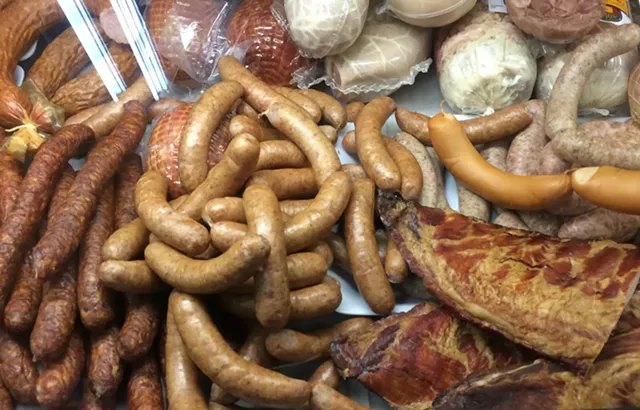 6275 Avenue Somerled, Montréal, 514-487-9559
This weekend, I fell in deep lust. Don't worry, my other half knows. In fact, he shares my feelings. The object of our affection: a Slavic market in Montréal.
One of the most overused phrases in food journalism today is "the Eataly of" to refer to a comprehensive, food-hall-style experience of a particular cuisine. But Krazy Cmak, in Montréal's Notre-Dame-de-Grâce (NDG) neighborhood, bears no resemblance to Mario Batali's famed all-encompassing Italian market. It's on the small side, but I still found lots to love. In fact, I was able to cart home several items I hadn't seen since visiting Poland in 2011. So, yes, high points for the E. Wedel chocolates, rose-petal jam and linden tea.
But what really makes Krazy Cmak stand out is the prepared food.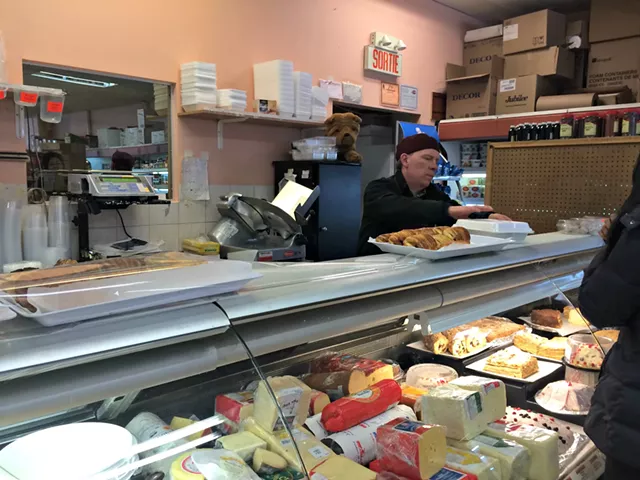 Alice Levitt
This is not your babcia.
You may or may not have a Polish or Russian grandmother. Either way, the guys behind the counter prepare the same food she does and are just as eager to make you eat it. What started for me as a search for Polish oscypek cheese turned into the gentleman above encouraging me to try slices of lots of the fromage. Then the other cook working behind the counter emerged from the kitchen with a giant, freshly smoked pork roast. This quickly devolved into an orgy of tiny plastic cups filled with samples.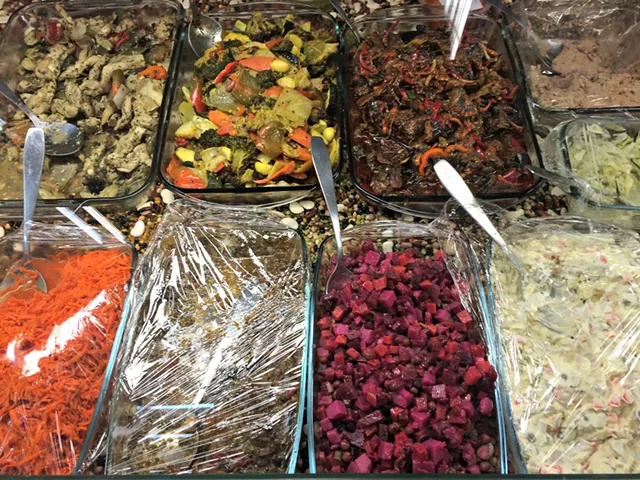 Alice Levitt
Salads to spare
Rices, salads, meats and smoked fish were all pushed into our hands along with little plastic forks. Were these guys aware that the intention of their business was to make a profit? But there was method to the madness. We went home with bags full of food.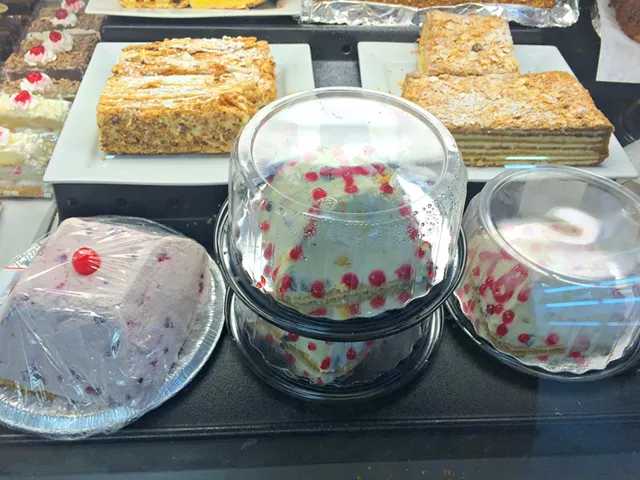 We skipped the Pascha (Orthodox Easter) cakes above in favor of slices of the honey layer cake at back. Both that and the chocolate one were stacked with moist layers of thin cake, but we couldn't resist the dark sweetness of the honey cream.
Alice Levitt
Workday lunch
Today, I enjoyed a lunch composed entirely of foods from Krazy Cmac. That pork roast whose aroma wended its way through the store when we were there clouded the
Seven Days
office with meaty smoke. Sorry, vegetarians. Sweet, creamy beet salad was balanced by aggressively dill-flavored cabbage slaw. But best of all was the Central Asian-style plov. The chicken that filled the rice dish was completely unnecessary. The experience was all about the rich, cumin-scented grains, dotted judiciously with stands of carrot.
Meanwhile, my other half brought carrot salad and a container of the store's ultra-creamy chicken liver mousse with him to work. Yes, he has been grazing on the offal straight out of the container, with a spoon. I have created a monster.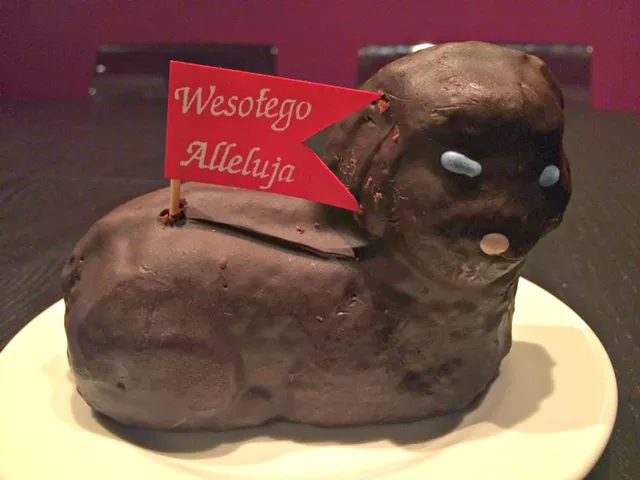 Alice Levitt
Happy Easter to all.
When I was growing up, I always thought that Jewish Easter was the day after Christian Easter. I did my egg hunting on Monday after school. Turns out, my mom was just cheap.
I had my Polish-Jewish Easter yet another day late today. But the tiny gingerbread lamb, pierced in its side, like Christ on the cross, was worth the wait. The spicy cake within was covered in a thin layer of soft chocolate, much like a Slavic version of the Yodel.
My Krazy Cmak finds will be feeding me throughout the week and beyond. But before long, a return trip will surely be in order. And perhaps by then, they'll have some oscypek for me.
Alice Eats is a weekly blog feature devoted to reviewing restaurants where diners can get a meal for two for less than $45. Got a restaurant you'd love to see featured? Send it to alice@sevendaysvt.com.