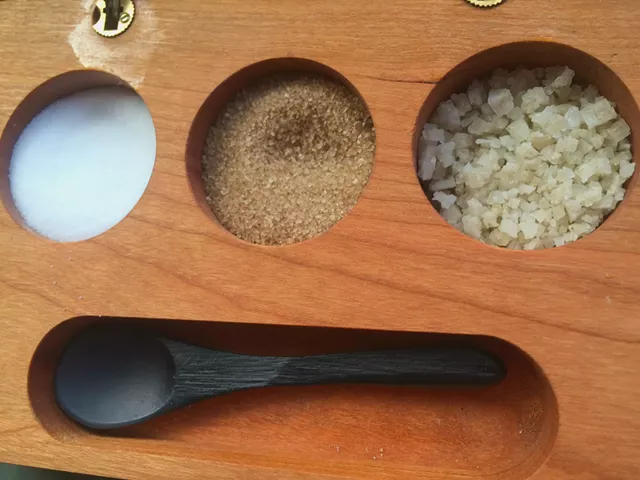 Alice Levitt
A selection of salts is pretty, but unnecessary.
For many women, the last few months have been all about that Benedict. Personally, I have trouble looking past Mr. Cumberbatch's vocal fry. If I'm sampling something sizzling, I'd prefer that it be hash browns. Lucky for me, Doug Paine of Bleu Northeast Seafood in Burlington's Courtyard Marriott has another Benedict in mind. Nine of them, in fact. At weekend brunch, the breakfast menu is available until 1 p.m., but the brunch bill of fare itself is composed entirely of original variations on eggs Benedict.
Alice Levitt
Bacon Bloody, $8
Well, almost. The bar turns out a range of "brunch drinks," too. There's a Bellini as well as mimosas using uncommon juices. There are boozy coffees. But the obvious choice is one of the Bloody Marys. The Garden Bloody with cucumber-infused vodka sounded refreshing, but, really, brunch is about excess. I had no choice but to order the cocktail that featured bacon-infused vodka and two mighty strips of Green Mountain Smokehouse bacon.
Unfortunately, that was the only bacon I tasted. The Bloody itself was piquant as it should be, but just didn't betray the hint of pork I was seeking. Maybe that was for the best.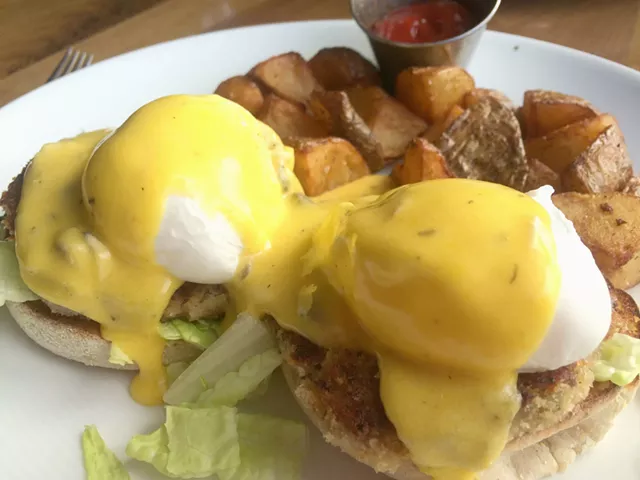 Alice Levitt
Smoked Bluefish Cake Benedict, $15
I got plenty of smoky flavor from the first Benedict I tried, anyway. At a seafood specialist, I just had to order a fishy Benedict. Cured salmon seemed too commonplace. Fried oysters and lobster salad ultimately lost out to the restaurant's signature smoked bluefish cakes.
The smoke suffused the soft flesh with a darkness that amplified its natural fishy flavor. Whether this is good or bad first thing in the morning is up for debate. It worked for me, but it was another fish whose taste made the combination worth ordering again.
Each of the nine Benedicts at Bleu has its own Hollandaise. I had imagined that the anchovy one paired with the crispy bluefish cakes would feature anchovy paste. Instead, there were tiny chunks of silvery-skinned, cured fish incorporated into the buttery blend. Sounds a little scary, but the heavy dose of vinegar the anchovies added was mouth watering. It was a strong argument against the typical taboo of pairing fish and dairy.
Instead, I would argue against incorporating lettuce into an eggs Benedict. The shreds of Romaine steamed between the fish cake and chewy English muffin, turning it into the yellowish stuff you find in a container of Chinese take-out.
Alice Levitt
Turkey & Swiss Benedict, $13
There were no veggies (except for some wilted pea shoots) and no such problem with the Turkey & Swiss Benedict. The Dijon Hollandaise could have used more mustard, which would have repaired its lack of acid. But otherwise, I had to ask the combination of runny eggs, Guild Fine Meats turkey, bacon and Swiss cheese where it had been all my life. Imagine your favorite turkey panini, served with poached eggs and Hollandaise. Sexy, yes?
The experience was sufficiently intense that I was tempted to skip the home fries served on the side. But, well-seasoned and crisp, the spuds were worth a few bites. And without the added starch, my food-coma nap after brunch would not have been nearly so satisfying.
Alice Eats is a weekly blog feature devoted to reviewing restaurants where diners can get a meal for two for less than $45. Got a restaurant you'd love to see featured? Send it to alice@sevendaysvt.com.