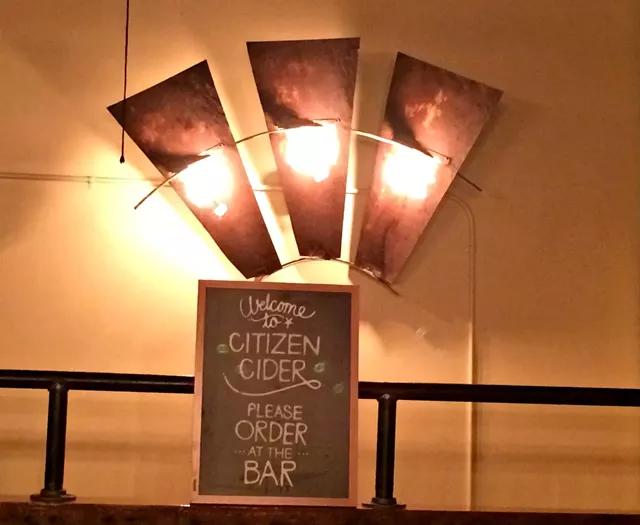 Alice Levitt
Citizen Cider
I spend so much time traveling the state to eat that I sometimes overlook places right in my backyard. This can make me a bad girlfriend. My other half gets to dine with me from Bennington to Newport, but there are times he really just wants some comfort food and cider. In honor of Valentine's Day, this Alice Eats is dedicated to him and his first, sadly belated visit to Citizen Cider.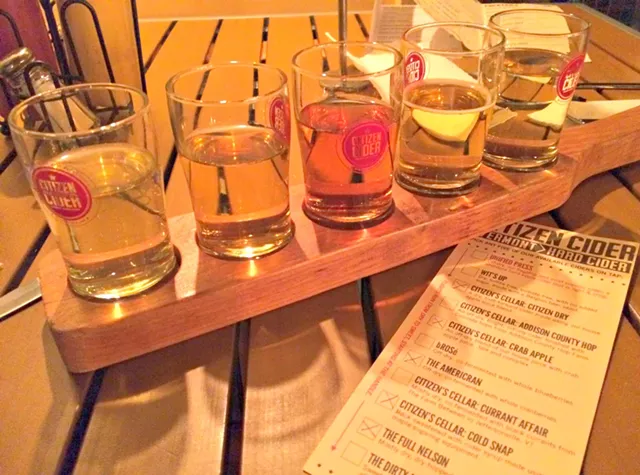 Alice Levitt
Cider flight, $7
Last night, the former warehouse was a warm, gold-bathed escape from the slush and chill outside. On a Monday, the tables weren't as full as I'm told they usually are. Still, I ran into more than one friendly face. It was hard to choose from the appealing dinner menu, divided into "Smaller Stuff" and "Substantial Stuff."
At $7, a flight seemed like a steal. We were instructed to pick any five of the 11 options listed on the card pictured above, in descending order of sweetness. We skipped the flagship Unified Press, having had it many times before. But when the bartender speedily brought us our tasting, he proffered a sixth glass of the most popular cider so we could compare the specialties we ordered against it.
Our first sip was of a Citizen's Cellar limited edition called Citizen Dry. The bartender explained that it was really just Unified Press without back-sweetening. On the card, it was described as "fruit forward" which was accurate. It tasted like a drier version of the Unified Press, but with a puff of pure apple at the end.
My other favorites were the Crab Apple, another limited edition, which benefited from the tartness of the tiny fruits without an overwhelming pucker. The American, fermented along with whole cranberries, was the grown-up answer to the Ocean Spray Cran-Apple juice I got in my lunchbox throughout my childhood. I already knew I wasn't personally a fan of the Full Nelson. To this non-beer drinker, its hoppiness is uncomfortably akin to being caught in a chain wrestling joint lock.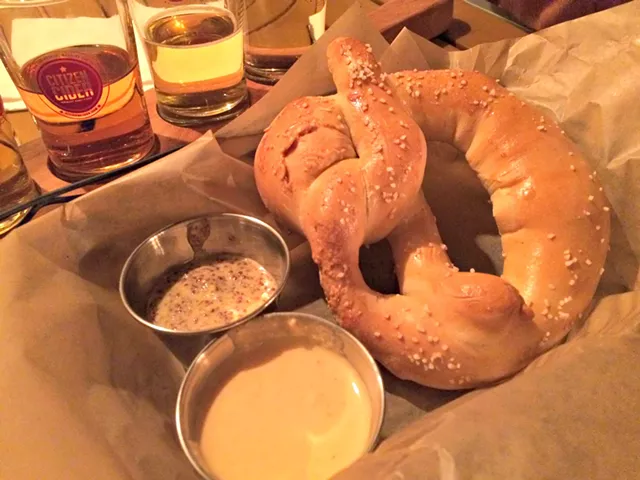 Alice Levitt
Pretzel with cider-cheese dip, $8
Ordering a soft pretzel was a no-brainer. It's a tradition we've carried over from our days visiting the Alchemist Pub to dinners at Prohibition Pig. The Citizen Cider iteration was visually a beaut, shining with egg wash. But despite a shower of rock salt, it was strangely bland. And not very soft. We had paid an extra $2 to add cider-cheese dip to the basic pairing of mustard. Though soft and insinuatingly sweet, the cider within wasn't cooked off, leaving an unpleasant finish of raw alcohol.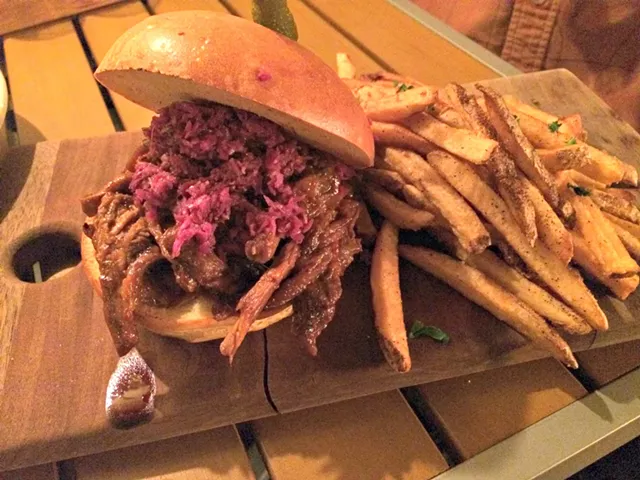 Alice Levitt
Cider-braised barbecue brisket sandwich, $10
The brisket sandwich was picture perfect — and perfectly huge — and served on a wood board with fries. The soft brioche bun was a boon to the braised beef. But the meat itself was disappointingly stringy. If I had made it at home, I would have given the meat another hour in the pot before serving.
The cider sauce revealed an interesting mix of sugar and heat, but this good Jewish girl couldn't help but feel a little insulted by the under-braised flesh. A red cabbage slaw added little besides crunch, color and a bit of a chill. The dish was redeemed by a pile of excellent fries. Skin-on, herb-topped and crisp, they were one of the meal's high points.
Alice Levitt
Buttermilk fried chicken plate, $16
We've all heard the adage that pizza is like sex — even when it's bad, it's pretty good. I've never had sex anywhere near as bad as some of the pizzas I've endured. But with fried chicken, well, the phrase can be dangerously true.
I don't presume to know how one can burn fried chicken. All I can say is that parts of both crust and meat were blackened with char when they were served to me last night. I can also tell you that I didn't mind that much.
Apparently, I'm a bit of a slut when it comes to a crispy crust wrapped around poultry, no matter how dry. And it wasn't damningly so, just not particularly moist. On the other hand, a sweet-potato latke on the side was slightly undercooked, perhaps due to its excessive thickness. A pile of arugula didn't help much. Dressed in spiced honey, the greens were obnoxiously sweet.
Though there was something off with everything we ate, the meal was still strangely satisfying. I thank the welcoming atmosphere, helpful staff and exceptional cider for that. If only the food had reflected the same intense care, I'd be looking forward to many happy returns.
Alice Eats is a weekly blog feature devoted to reviewing restaurants where diners can get a meal for two for less than $45. Got a restaurant you'd love to see featured? Send it to alice@sevendaysvt.com.