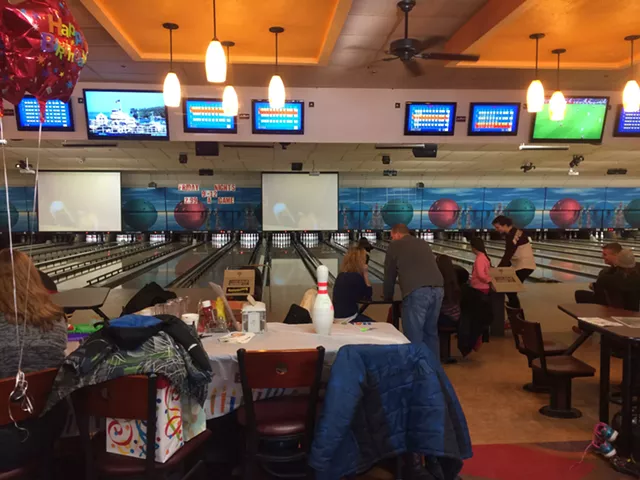 Alice Levitt
Soundtrack by Sammy Hagar
What kind of place is Twin City Family Fun Center on the Berlin-Barre border? It's a bowling alley that also plays hair-metal videos on large screens above the pins.
There's also an arcade, but don't look for cabinets or pinball. Twin City is home to big, bright, ticket-spewing, carnival-type games including a wall-sized digital version of Connect 4. In fact, the prize room is almost as big as the arcade itself.
Alice Levitt
For playas only
There's even a concession stand doling out pitchers of soda and pizza that's kept warm in a glass carousel. But just around the corner from that fast food, K's Korner awaits.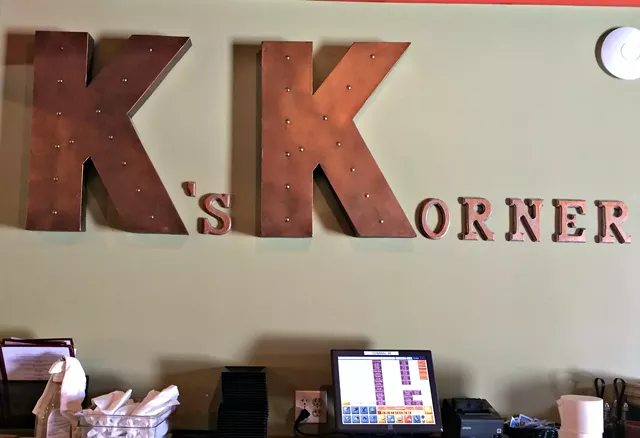 Alice Levitt
One more giant K and there might have been trouble
The sports bar opened last summer, a TV-lined oasis from the crash of pins. But the big surprise is a menu that shares little with that concession stand, despite the fact that one kitchen supplies both.
Alice Levitt
Szechuan rib fingers
Part of what drew me to try K's was the above dish. An item known as "Szechuan rib fingers" served at a bowling alley was just too weird to resist. The centerpiece of the app was four cleanly sliced pork ribs, deep-fried, then bathed in "Szechuan" sauce.
Said sauce blended sesame, sweet and heat in a way that reminded me more of the sauce one might find on Korean ddukbokki than anything Chinese. It turns out that deep-frying is a most agreeable way to serve a rib, allowing excess fat to become delightfully crisp.
Extra points for the house-fried potato chips served with the ribs. Though thicker than I prefer, they displayed another level of laudable attention to detail.
Alice Levitt
Reuben egg rolls
I don't really want to admit how much I enjoyed the monstrosity known as the Reuben roll. Picture this: Three egg roll wrappers filled with pastrami, Swiss and sauerkraut, then fried until the skin is bubbly. It is a terrible, terrible thing and it was so, so hard not to eat until every shred of edible matter was gone.
That was despite the fact that the rolls weren't properly drained and sat in puddles of grease. Which frankly, was no less appealing than the ultra-thick side of Thousand Island dressing that I avoided. The salty meat, stretchy cheese and tangy kraut within provided flavor enough.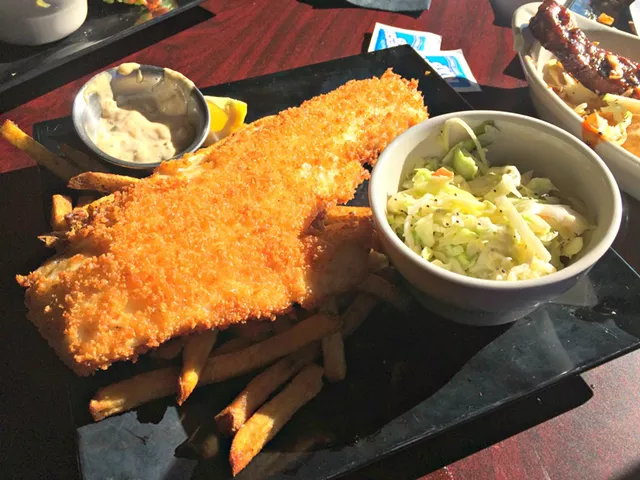 Alice Levitt
Fish and chips
A giant haddock filet filled the plate of fish and chips, covering the flaccid fries that I left uneaten. In an uncommon approach, the fish was both beer-battered and breaded, leaving it with the greasy beer flavor I look for but a more textural crunch.
Too bad the fish was over-fried to the point that I couldn't pick it up with a fork. The side slaw was strangely lacking in crunch, though to my relief it wasn't thick with mayo. The housemade tartar sauce was uncommonly tangy, but not as enticing as good old lemon.
Alice Levitt
Smoked salmon BLT
The biggest surprise was a wild departure from the world of fried food. A few of the sandwiches at K's use Red Hen Baking Company bread. On a base of lightly toasted slices of Mad River Grain, the BLT combined the expected basics with smoked salmon from Ducktrap River of Maine and avocado cream cheese.
There aren't many ways to get as many super foods and fats into one's body at once. If that's the goal, that BLT is a must. If a good eat is all you seek, it still wouldn't be a bad idea. The smoke-on-smoke of the bacon and salmon, combined with the earthy avocado, was a recipe worth stealing.
Who could have guessed that a bowling alley and arcade on Route 302 would be home to a restaurant far better than it needs to be, with homemade touches and local bread? It may not be a culinary destination, but if you're in Barre looking to play air hockey and grab some lunch, you could do far worse.
Alice Eats is a weekly blog feature devoted to reviewing restaurants where diners can get a meal for two for less than $45. Got a restaurant you'd love to see featured? Send it to alice@sevendaysvt.com.