Hannah Palmer Egan
Hulking Empire apples from Champlain Orchards in Shoreham
I went to
Neshobe River Winery
(also the home of
Foley Brothers Brewing
) a couple weeks ago and brought home a bottle of their cassis-currant wine. It's lovely as a dessert sipper, but I've also been thinking of poaching pears in the tart, purple-black liquid for a fancy dessert. There were no local pears at the co-op when I went, so I bought two huge, dark-red Empire apples from
Champlain Orchards
instead.
I don't usually "do" fancy desserts. But my cousin Asa has been visiting for a couple days, and he's a professional baker, cook and culinary school grad. When it came time for cooking, I handled the apples and Asa made the crunchies. I added allspice and a bit of fresh basil to the cassis, and he spiced up his crumbles with turmeric and smoked paprika. In the end, all of the spices lent a subtle extra layer of flavor.
The recipe also calls for cider, for at least two reasons. First, cassis is quite tart, so braising fruit in it alone would yield a very sour dessert, even with the addition of sugar. So using one part cassis to two parts cider makes for a sweeter dessert.
Second, cider contains pectin, which means it will thicken into a jelly if reduced enough. So blending the cassis with cider means that, after removing the apples, you can simmer the braising liquid until it thickens into a nice sauce.
Here's a shot of the apples braising face down.
Hannah Palmer Egan
Apples braising in cider and cassis
Crunchy, Creamy Cassis-Braised Apples
Serves 4 (or more, depending on plating and size of apples)
For the apples:
2 large apples, halved width-wise and cored

1 cup cassis

2 cups cider

5 allspice berries, whole

3 tablespoons confectioner's sugar

3 tablespoons butter

2 stalks fresh basil, washed

Combine the liquid ingredients and add the allspice and sugar.

Heat the butter in a large skillet over medium heat. Make sure your skillet is deep enough that you can fit all of the apples in and cover securely.

When the butter barely begins to brown, place the apples face down in the skillet. Increase heat to high and cook, uncovered, 2-3 minutes. Add the liquid and basil to the pan. Reduce heat to medium. Cover and cook 10-15 minutes until the apples are soft on the heat side but fairly firm on the tops. Cooking time will be shorter for smaller apples.

Carefully flip the apples, increase heat to high and continue to cook, basting occasionally, until the apples are soft, but still firm enough to handle, all the way through. This should take 5-10 minutes, depending, again, on the size of your apples.

Remove apples from the liquid, place on a plate, and allow to cool.

Continue cooking the liquid on medum-high heat until it reduces by about 2/3, or until approximately 1 cup remains. Upon cooling, the liquid should thicken to a jammy consistency. Pour the excess into a jar and spread it on toast!
For the crunchies:
1/4 cup rolled oats or quinoa

1/4 cup flour

1/3 cup brown sugar

1/8 teaspoon cinnamon

1/8 teaspoon turmeric

1/16 teaspoon smoked paprika

2 2/3 tablespoons cold butter

Preheat oven or toaster oven to 350 degrees.

Mix the ingredients in a bowl, using a fork or pastry blender to break up the butter.

Line a small, rimmed baking pan with wax or parchment paper.

Spread the oat/quinoa mixture evenly on the paper and bake 8-10 minutes, or until it browns but does not burn.
For the cream:
1 cup heavy cream

2 tablespoons confectioner's sugar
Whip until it forms soft peaks; reserve.



Hannah Palmer Egan
Cassis-braised apples: Asa's plating
Assembly:


Part of the fun with this dessert is the many final forms it can take. Asa and I each plated our own version, which made for two very different dishes!
Asa cut his apple into pieces, revealing a gorgeous purple stain creeping in toward the center of the fruit. Then, he topped each piece with a bit of cream and sprinkled the crunchies over the top. It looked lovely and was easy to eat daintily with a fork.
For my version of the dessert, I poured a couple tablespoons of sauce onto the plate, perched the cooked, halved apple in the sauce, flopped a dollop of cream on top, and scattered the crisp (about 3 tablespoons) over all. Far messier than Asa's version, but no less delicious.
The main thing is to use enough cream to balance the tartness of the wine-soaked apples, and enough crunchies to give it some toothy texture. If you have any other fun plating ideas, please let us know in the comments!!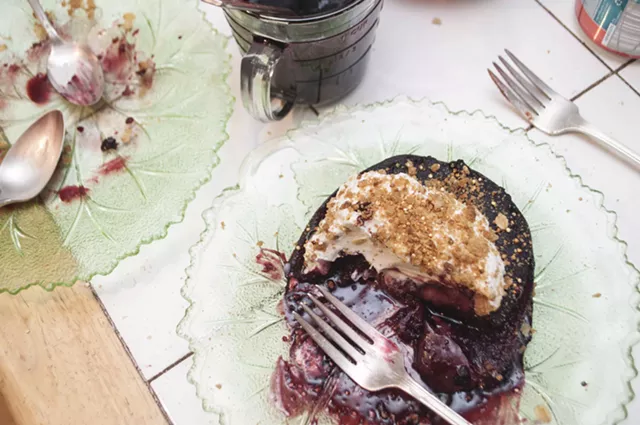 Hannah Palmer Egan
Cassis-braised apples: Hannah's plating