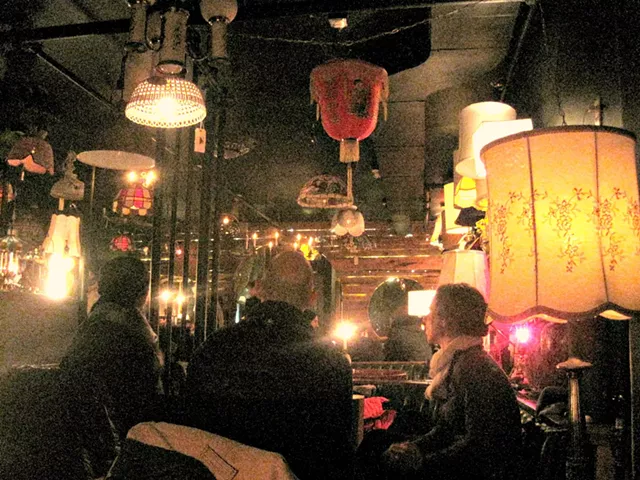 Alice Levitt
Yes, it's really a lamp shop.
I'm not really cool enough for the Light Club Lamp Shop. I'm the kid that didn't learn there was music other than musical theater and opera until I was 15. Even then, my idea of the latest hits was more Little Richard than top 40. The Radio Bean family, which includes the flagship bar and music venue, restaurant ¡Duino! (Duende) and the new Light Club, has always seemed to exist for people with a taste for the latest local music and fashion. That's not me.
But there's something about the Light Club. It doesn't judge. Dimly lit by an eclectic collection of lamps accrued over the years by owner Lee Anderson, the feeling leans closer to hanging out at a quirky collector uncle's apartment than being sniffed at by hipsters. Maybe the dim lighting helps. Whatever it is, I camped out at a table on Saturday night and would have been happy to stay entrenched at my banquette until closing.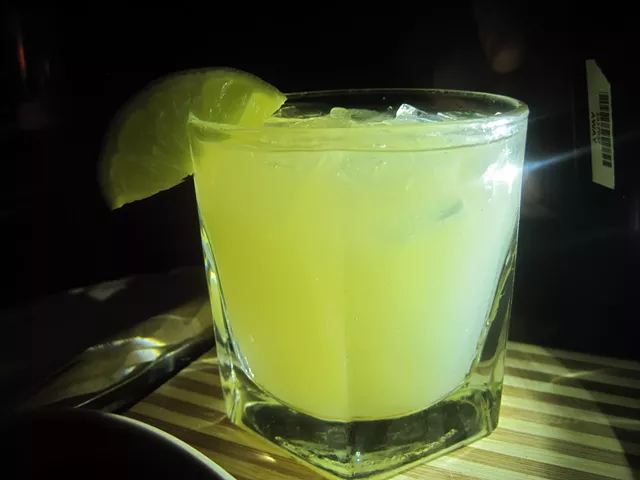 Alice Levitt
Damnation, backlit for appropriately spooky effect
Though I don't drink, I would not have been averse to finishing my friend's Damnation cocktail ($8). As a nondrinker, I tend to tolerate jalapeño-infused booze better than the straight stuff. The peppery burn covers up the alcoholic one. In this case, jalapeño masked the sizzle of tequila, combined with pear juice for a hint of sweetness and ginger beer for a little more bite. Lime juice lent the final, acidic balance.
We tried a few other cocktails, including the Irish Riviera ($10), a concoction of Irish whiskey, mint-infused syrup, ginger liqueur, Fernet-Branca and lemon juice. All were tastebud ticklers that were more about complex flavors than getting wasted. Still, they were strong enough to do just that after tasting just a few. I would have to become a long-term regular to even approach tasting my way through the stacked menu.
Alice Levitt
Cheese and charcuterie plate
Of course, one can drink more on a full stomach. We elected to try the standard charcuterie plate ($14), which allows diners to choose three meats and/or cheeses. Local fennel salami was a must, but my other two additions were both housemade. Duck prosciutto was suitably slippery with fat and packed just the right salty wallop. Unfortunately, it seemed to have all of the mineral that the bland mozzarella lacked. Additional fixin's of caramel corn, grapes, jam and water crackers combined for a fun way to graze, if not a mind-blowing culinary experience.
Alice Levitt
Liquid chocolate cake
But we were really there for dessert, anyway. I've long complained about the dearth of places to get dessert outside of a restaurant in Burlington after 5 p.m. My Little Cupcake has heard my plea, and now Light Club is the only other alternative. A full dessert menu was really the answer to my prayers.
But the Light Club won't be a dessert destination for me unless the sweets are refined. I'm a sucker for ganache-centered chocolate cake, but Light Club's "liquid chocolate cake" was as dry as meringue with only a trickle of liquid in the center. Tart raspberry-rhubarb compôte overwhelmed any taste of chocolate that may have been in the cake itself. With its price tag of $11, I felt like I was paying more for the striking, flower-topped visual than the flavor.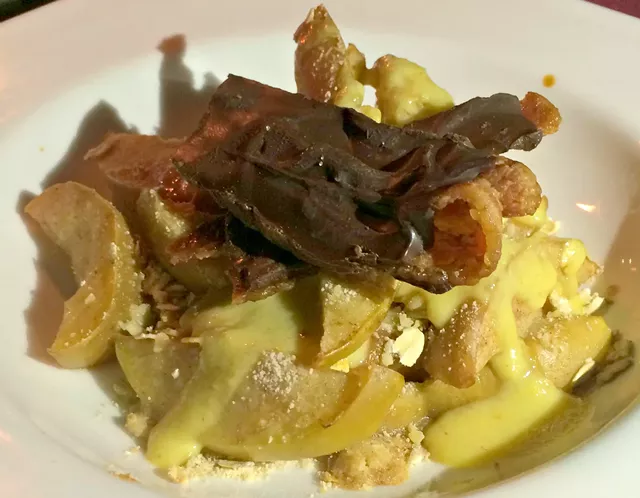 Alice Levitt
Apple crisp
On the other hand, there wasn't much attractive about the apple crisp ($9). With just a light shower of oats on top, there wasn't much crisp about it, either. Really just a bowl of roasted apples in a sweet, buttery sauce, the dessert tasted like a warm nap on a winter day. I really enjoyed that ugly little bowl of food. But it wasn't apple crisp. I also could have done without the cardboard-textured, chocolate-covered bacon on top.
Perhaps I would have been safer just ordering some beignets or one of the milkshakes long served as dessert at ¡Duino! But I don't want to be safe. I want a venue where I can enjoy desserts as well thought out and full of mystique as the cocktails and the room itself.
Alice Eats is a weekly blog feature devoted to reviewing restaurants where diners can get a meal for two for less than $45. Got a restaurant you'd love to see featured? Send it to alice@sevendaysvt.com.